Autumn is the undisputed champion season when it comes to tea. As soon as the first leaf hits the floor, the pumpkin chai latte parade launches and cinnamon sales rocket. Well, in my house they do. Before you start placing your order for your ol' favourite pumpkin spice tea blend, why not try something new?
No doubt you'll find something delicious here. These are my top 10 best autumn teas reviewed on Izzy's Corner at Immortal Wordsmith in 2019.
Taylors of Harrogate Sweet Rhubarb
Vibrant, tangy rhubarb tea to remind you of tart sticky sweet rhubarb crumble.
Yum, yum, yum. Fruit crumble is an autumn staple. Mostly we stick to apple crumble, maybe adding in some blackberries or trying pear crumble for a change. Rhubarb crumble certainly shakes things up!
I picked this tea for autumn because it's so real. The rhubarb is tart, tangy and juicy – a great way to shake up sugary, sweet apple chai blends that everyone drinks. It's available in loose leaf and teabag format (I reviewed the teabags) and you can find it on Amazon.
You'll also love this tea because it contains rosehips and hibiscus to play up the tartness and provide an insane amount of flu-fighting vitamin C and antioxidants.
Tim Hortons Apple Cinnamon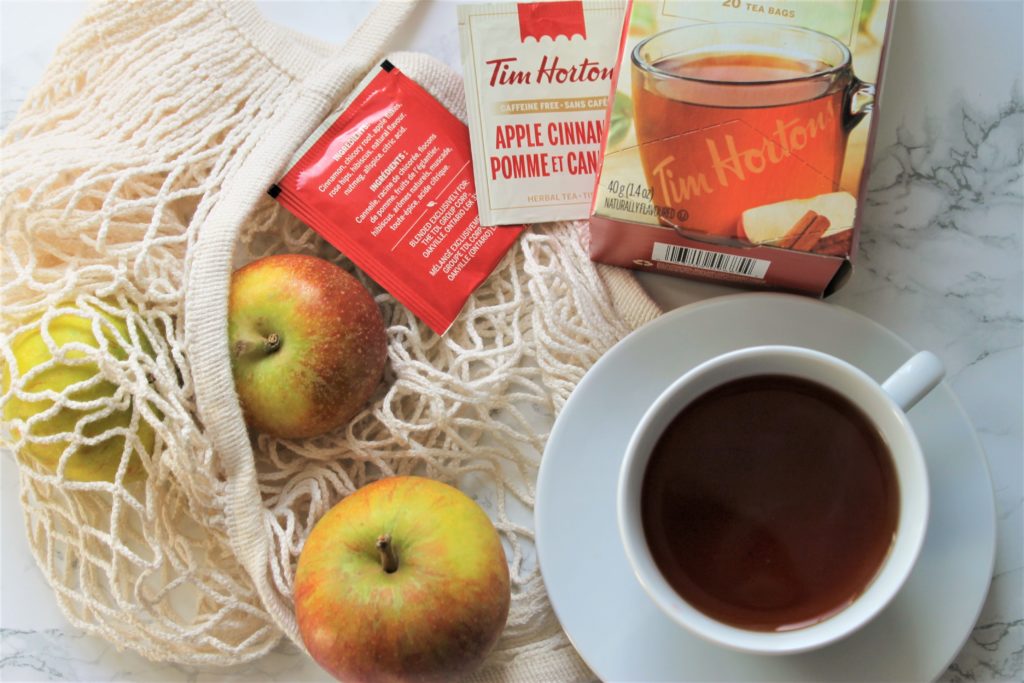 Authentic, tart and strong apple with subtle cinnamon and spices.
Real apple pie, with that strong acidic tartness and gooey sweetness – that's what you can expect from Tim Hortons Apple Cinnamon herbal blend. This is a tasty tea that uses a mix of fruit, herbal and spice ingredients to create a full-bodied blend. It fills you up and is excellent when whipped up into a Tim Hortons Apple Cinnamon fog (recipe in tea review). I really enjoy this one late in the evenings – it's better than a glass of warm milk.
It's available in teabags for quick brewing and a good one to try blending with your own black tea collection.
Adagio Autumn Mist Green
A light caramel dessert tea blend that mixes fresh green tea with sweet crème brulee flavour.
When it's got autumn in the name, you know it's going to be great. My goodness this one is sweet! The green tea base is so light and fragrant it creates the perfect base for sweet caramel crème brulee highlights. This is the dessert tea you have after feasting at Thanksgiving or a British Sunday roast – you're too full to eat more and yet you just want something extra sweet to finish you off.
Adagio Teas sell this in loose leaf and teabag options, both on the US store and UK store. Read my full Adagio Autumn Mist Green tea review for a longer, drool-worthy description of the caramel notes.
Eloments Bourbon Vanilla
Revitalising black tea with subtle vanilla notes to warm up your toes.
This autumn tea, Eloments Bourbon Vanilla, is actually a vitamin tea. It's the perfect pick-me-up when you're feeling a bit under the weather or don't have time for a full sit-down meal. It provides you with the vitamins you need (more about that in my Bourbon Vanilla Black tea review) and caffeine to get you back on your feet. And as for the flavour, the sweet vanilla and almost chocolatey black tea works just so well – and it's not too sweet!
This a good everyday autumnal tea. Not too sweet. Not too flavoured. Just cosy enough to keep you warm when you're feeling overloaded with autumn-ness from your Instagram feed.
Zest Tea Spicy Masala Chai
Smooth chai with subtle spices and one hell of a caffeine kick!
This is the energy tea you chug before a long day at work or a chilly autumn run. It contains more caffeine than 3 normal cups of black tea and tonnes (not literally) of L-theanine to keep you calm and focused at the task on hand – in my case, pumpkin carving.
It's available in tea sachets (the biodegradable, plastic-free kind) and loose leaf, both on Amazon. This is really just a classic chai flavour that everyone loves. You can try adding some apple pieces, peaches, maybe even mix up your own spice blend. Read my full review of Zest's Spicy Masala Chai for more.
Adagio Bonfire
Smoky, spicy and sweet, just like bonfire night.
Looking for an unusual autumn tea? You definitely need to try this one. Red peppercorns, smoky lapsang souchong, sweet spices and caramel apple are a match made in heaven. It's a weird flavour combo, I'll give you that. But it's good. Well-balanced. The fiery peppercorn kick at the end is awesome for keeping you warm while you wait patiently for the fireworks to start.
I was also surprised at the honeybush element – it added a really smooth nutty tone to the tea that you can read more about in my full review. This tea is a visual stunner too, you've been warned.
Teakruthi Two Seasons
Smooth Ceylon black tea with juicy dried peaches and earthy, fiery ginger.
Two seasons meet. The last of the summer sweet juicy peaches meet earthy autumn ginger, complimented with a smooth Ceylon black tea base. If you want something super fresh this autumn, you should definitely try Teakruthi. They source their tea fresh to meet orders, rather than blending in advance and letting it sit in a warehouse for months on end.
Anyway, back on topic. Teakruthi Two Seasons is fiery and sweet – great if you have a cold or are feeling a little sick. The ginger is very soothing. Add some Assam black tea for bready notes and a sprinkle of cinnamon and you've got your very own peach cobbler tea!
What-Cha India Assam Mancotta
Smooth, sweet, malty and rich black tea with natural notes of raspberry jam.
If flavoured teas aren't your thing, or you just want to get a little sophisticated this autumn, my recommendation is What-Cha's India Assam Mancotta tea. It's an SFTGFOP-1 Clonal black tea (basically, it's the best of the best) that you can enjoy black or steep it dark and add a good splash of milk. It's rich and warm with notes of cinnamon, sultanas, raspberry jam and baked bread.
Those flavour notes are subtle (more about them in my full What-Cha tea review) and this is a good black tea that you can comfortably serve to anyone. Even if the subtler tones are lost on your friends and family, they'll certainly appreciate the hearty, richness of this classic black tea.
Zest Tea Cinnamon Apple
Apple pie in a mug. Without the calories.
Another Zest tea! Cinnamon Apple is exactly what it says on the tin. Or tea packet.
Sweet stewed apples meet comforting cinnamon with a slightly bready, light black tea base. It's very autumnal and honestly, quite simple. Unlike the complex spices of apple chai blends, this tea is one that you can rely on. You don't need to sip slowly or focus on the flavour, you can just enjoy it. Hell yes.
I'll be drinking this one on Halloween morning to power me through putting up the décor. Check out my full Zest Tea Cinnamon Apple tea review.
Adagio Honeybush Pumpkin Chai
Light spiced caffeine-free honey and pumpkin tea. Not too rich, not too sweet.
I love love love this tea, more than I love pumpkin pie. When I bake it, the pie always comes out rich and heavy and oh so sweet. It's lovely, but after all that Halloween candy I'm usually feeling a bit sick. This is where Adagio Honeybush Pumpkin Chai saves the day.
I explored honeybush as a great base for this tea in my full pumpkin chai review, and I highly recommend it as a caffeine-free alternative to the heavily sweetened, sticky pumpkin chais you can buy from the likes of Starbucks.
As a tea base, it's gentle and soothing with notes of honeyed nuts amidst the pumpkin spice. Drool.
If you know of any other delicious autumn-themed teas, let me know in the comments below.