Adagio Masala Chai Tea Review
It's Halloween eve and I'm curled up with a pretty good book and craving a cup of tea. What do I reach for? Adagio Masala Chai. Of all the chai teas Adagio has available this year (and there are quite a few, trust me) this one is possibly one of the best.
Sometimes it's the simple things that are the most satisfying. Less is more.
Here's my full review of Adagio's simple spiced chai!
Adagio Masala Chai at a Glance
Blend: Black tea with ginger, spices and natural flavourings
Flavour: Mellow spices and sweet black tea
A classic chai tea with a mellow and complex mix of spices and gentle natural sweetness from the black tea. It's not the strong, spice-heaving chai you have with milk – this one is best without anything added.
Full Review – Adagio Teas Masala Chai
Type: Loose leaf
Tea: Premium Ceylon black tea
Additives: Cardamom, ginger, cloves, cinnamon, natural cinnamon flavouring
Flavour Notes: Cloves, mellow spices, sweet, warming black tea
Aroma: Classic chai, allspice, cinnamon, ginger, cloves, sweet, Christmas incense, apple
Milk or Lemon: Neither
Where to Buy: Adagio Masala Chai
Opening the generous packet Adagio sent me (if you're reading this, thanks again!) I'm hit with the usual chai suspects. I can detect the cinnamon, ginger and cloves immediately with a hint of sweetness that may be from the flavouring or the black tea itself. There's also a hint of allspice in there, even though none is included.
I brewed it into a light honey gold colour. Traditional chai tea is strong, heavily spiced and dark. Drinking it with plenty of milk is the norm (see this authentic masala chai recipe for example), but you don't want to do this with Adagio's chai. It's so light and fragrant, which is just perfect for drinking black.
The flavour is really soothing. The spices create that classic chai flavour, but the light Ceylon tea makes it so much fresher. It's not overpowering in the slightest. It's mellow and gently spiced with cloves being the only detectable independent spice.
It really reminds me of the spiced Christmas incense we use at home, so this tea is quite nostalgic for me. Personal feelings aside, it's still a well-balanced and very pleasant tea.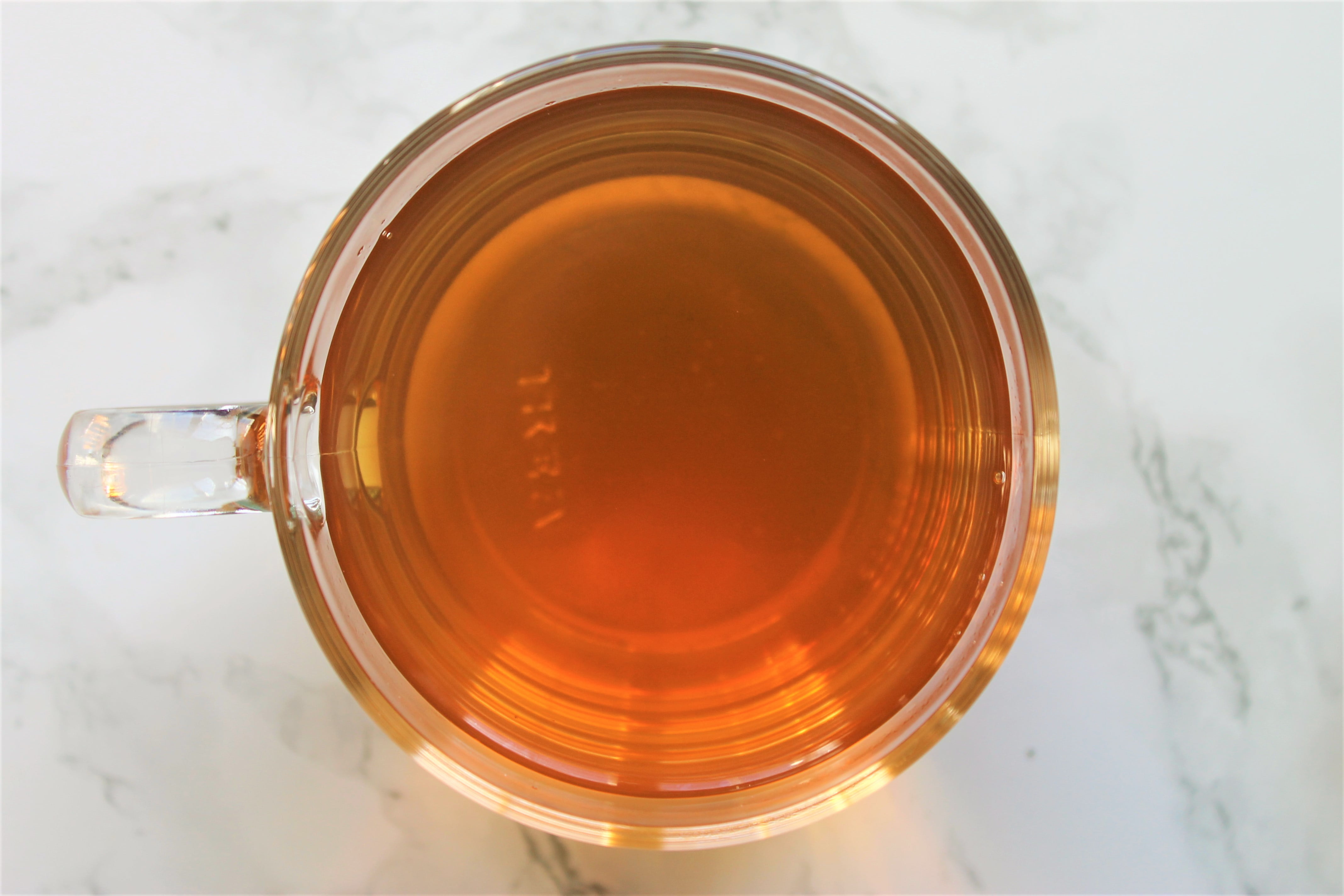 The instructions are clearly printed on every packet from Adagio. For this Masala Chai, the instructions are to brew at 100°C for 7 to 10 minutes.
I stopped at 7 minutes exactly. The colour doesn't develop much in those last few minutes so you do really need to time it rather than go by eye.
I'd dunk biscuits in this tea without hesitation. Gingerbread is a good choice if you want to be seasonal. It's not too sweet that it's banished to the dessert tea pile. I could drink this in the mornings or between meals too.
Adagio sent me a large box of tea samples to try, all perfect for the cool autumn and winter months. Overall, I've been impressed with the quality and flavour of the teas. Spices are usually whole pieces or at least large chunks (a whole cinnamon stick wouldn't be a good idea in a single cup of tea) wherever possible. The tea quality is great too – not quite whole leaf but still large pieces and there's usually information about the origins of the tea on Adagio's website.
This Masala Chai blend in particular is well-balanced and pretty much perfect. There's cinnamon flavouring included – I'm not sure why – but it doesn't make the tea taste unnatural or artificial in the slightest. Thumbs up from me.
This is a smooth, light and classic masala chai. I'd recommend it if you're looking for a good chai to have in the cupboard for when you're in the mood. Unlike some of the heavier flavoured Adagio chai teas, this one is mellow and forgiving at longer brew times. You don't have to focus too hard to drink it and enjoy it!
Looking for a masala chai with a bit more oomph? I recommend checking out my review of Adagio Spiced Apple Chai for extra juicy sweetness and apple notes amidst the spices and black tea. Is your mouth watering yet?