Adagio Bonfire Tea Review
Hands up, who else is looking forward to gathering around the bonfire this year? The temperature is dropping and that just makes me crave a cup of tea even more. I chose Adagio Bonfire Tea as today's drink because we're finally lighting the wood burner in the living room to heat the house. It's so cosy – having grown up in a house with a fire I know I'll never be able to live in a house without one.
Following the fiery theme, this Bonfire blend is deliciously smoky… which caused a tiny dilemma for me. Adagio counts this tea as herbal, as most of the tea base is caffeine-free honeybush. It does contain smoky Lapsang Souchong tea to give it that distinct flavour, however, there's so little included that the caffeine level is insignificant.
After several cups and much debating, I'm classifying this as a black tea. Despite there being very little tea in it, the smoky Lapsang Souchong was the dominant flavour and gave the tea a distinct character. It tastes like a great black tea and it contains black tea, so that settles it!
Adagio Bonfire Tea at a Glance
Izzy's Rating: 3.7 out of 5
Blend: Honeybush tea with smoky Lapsang Souchong, spices and fruits
Flavour: Sweet and smoky tea with bold peppery notes
Smoky black tea meets sweet warming spices and tongue-tingling peppery notes. It's a tasty and distinct tea perfect for special autumn occasions. The aroma is particularly amazing.
Full Review – Smoky Bonfire Tea
Type: Loose leaf
Tea: Black Lapsang Souchong (a tiny amount)
Additives: Honeybush, apple pieces, aniseed, cocoa nibs, cinnamon, rosehips, cloves, orange, red peppercorn, safflower, natural orange flavour, natural cinnamon flavour, natural hazelnut flavour
Flavour Notes: Sweet, smoky, complex spices, smooth, warming
Aroma: Smoke, popcorn, toffee apple, cinnamon, bread, honey, red peppercorn, complex spices
Milk or Lemon: Neither
Where to Buy: Adagio Bonfire
Ripping open the packet impatiently, I'm hit with the aroma of smoke, popcorn, toffee apples, cinnamon, baked bread, honey and bright spice from the red peppercorns. All wrapped up in one, it's the smell of the stalls you wander around while waiting for the fireworks display to kick off on the 5th of November.
Make sure you mix up the tea in the bag so you can get some of those sweet apple pieces that fall to the bottom. Brewing this tea was a real treat. The ingredients instantly float to the top before gently floating back down again like snow.
It brews into a clear but very dark red-black colour. The wet aroma is more blended with just smoke and a complex sweet-spicy note coming through.
The flavour is wow. Sweet and smoky black tea assault your senses while spicy notes from the red peppercorn tingle the very tip of your tongue, intensifying in the aftertaste. It's incredibly smooth with complex spices reminding you it's autumn.
I found this tea very enjoyable and quite soothing; my only wish is that the toffee and popcorn aromas translated into the flavour.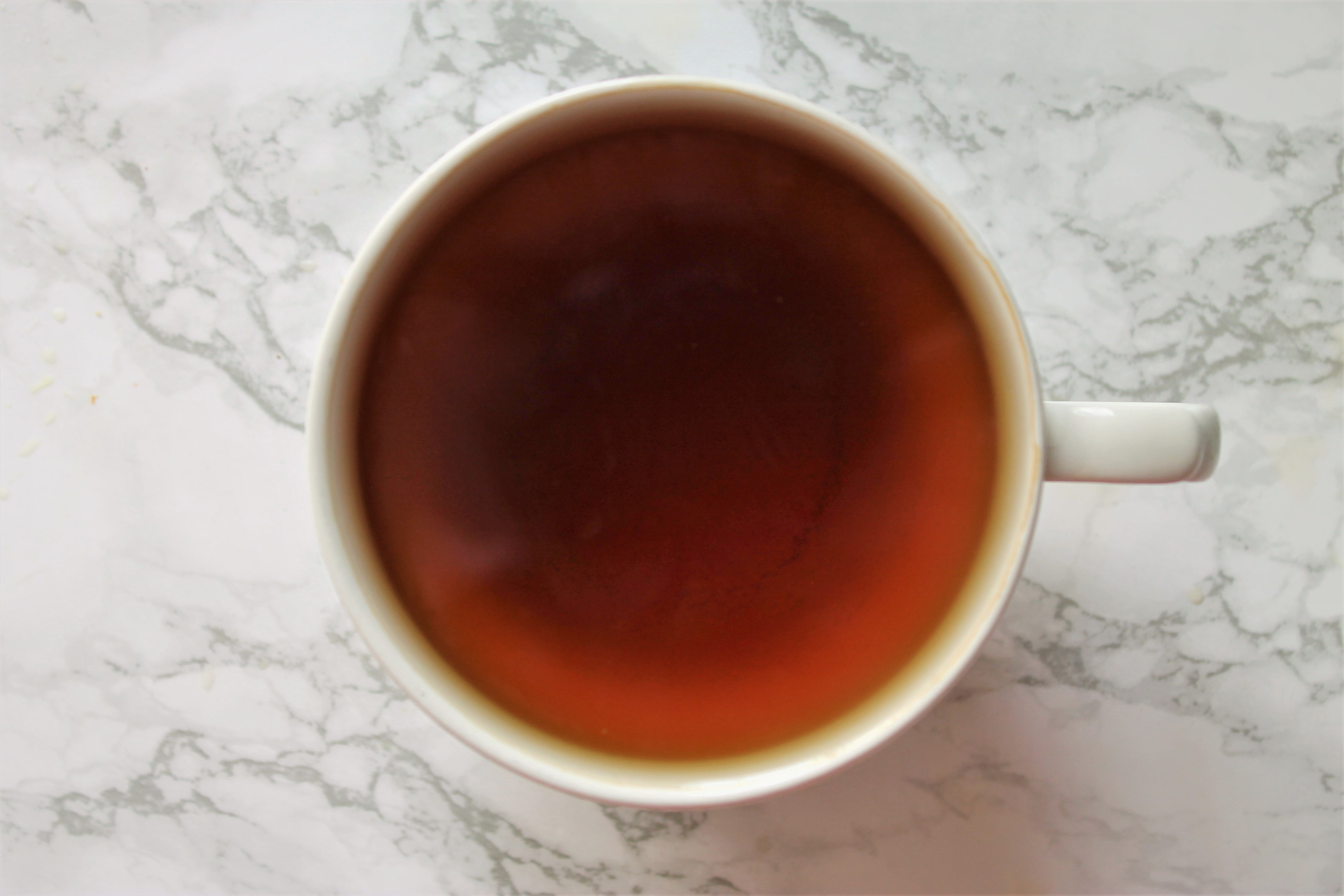 Instructions for Adagio Bonfire Tea are 100°C water for 5 minutes. This is perfect for the black tea and sweetness, but it does also enhance the spicy peppercorns, so don't scoop up too many on your spoon!
I used the Adagio ingenuiTEA brewer, filling it with 2 heaped teaspoons as it holds 2 teacups worth of tea.
I made a slightly shaky video to show you just how easy it is to get the tea from the brewer into your teacup – just be careful not to overfill it.
I'd fill a flask with this tea drink on the go. It's good for washing down sugary bonfire night treats and warming yourself up with that fiery spiciness.
Adagio Teas UK are the pros at flavoured teas, especially for autumn and Christmas. They also have free UK delivery on orders over £30 – it's shockingly easy to get that much tea in your basket when you start browsing what's available.
The Bonfire blend is well put together. The tea and ingredients are fresh and whole, they're also well-packaged and arrived in perfect condition.
Yes, I know this tea isn't labelled Fair Trade, but this doesn't bother me. Check out Adagio's Roots Campaign for more info on the grower of the Lapsang Souchong and all their other teas.
Lapsang Souchong lovers will enjoy this… those that know smoky teas aren't to their taste won't enjoy it at all. It's no subtle in its smokiness! I highly recommend trying at least a sample of this tea to make a few cups while the fireworks go off.
If you love the fiery, spicy notes of pepper in your tea and want to try something that will take your taste buds to the next level, check out my review of Teakruthi Two Seasons. The earthy, fiery ginger sets your mouth alight while sweet peaches and smooth black tea put out the flames. Perfect for spicing up the cold months.