Zest Tea Cinnamon Apple Review
Zest Cinnamon Apple Tea is like apple pie in a mug. I love apple pie, apple crumble, apple strudel… any apple bake with cinnamon has me drooling. This tea is no different.
Of course, you probably won't want to drink this as a dessert tea! Zest Teas have very high levels of caffeine (more than a cup of coffee, even) and are designed to help pick you up in the mornings and improve your performance.
I know from experience to never drink these teas after midday. If you're highly sensitive to caffeine, you might want to avoid them altogether – in which case, I direct you to my English Tea Shop Ginger Bread Man review which is an excellent alternative without the 150mg of caffeine that's in Zest.
So, if you enjoy the buzz of an energy drink but want something warming for those cool Autumnal mornings, this is for you!
Cinnamon Apple Tea at a Glance
Full Review - Zest Tea Cinnamon Apple
Type: Tagged pyramid sachet
Tea: South Indian Flowery Orange Pekoe Black Tea
Additives: Cinnamon chips, apple pieces, cinnamon flavouring, apple flavouring, natural caffeine
Flavour Notes: Light black tea, rich, warm, malty, syrupy apple, subtle cinnamon
Aroma: Sweet stewed apples in an apple pie
Milk or Lemon: Neither
Where to Buy: Amazon
Opening the packet, I love that I can see the dried apple chunks and cinnamon chips amongst the tea leaves in the sachets. It has an apple pie aroma – specifically of the apple pie filling. The apple aroma is definitely real, but more stewed or baked apple than fresh apple. It's sweet and syrupy without any sour or crisp bite.
It brews into an enticing dark amber golden syrup colour that smells of sweet stewed apples. It's mouth-wateringly simple. It doesn't need 101 different spices and bread flavourings to make it apple pie. It just needs apple, cinnamon and black tea.
The texture is thick and syrupy with bubbles holding in the centre and edges of my teacup. The black tea is slightly bitter but mostly warm, malty and rich. My theory is that the extra caffeine added creates that bitterness, as it's something I've noted happens in each Zest Tea blend even when cold brewed.
How to Brew Apple and Cinnamon Tea
I used boiling water and brewed it for 4 full minutes. Unlike many black teas where the sweet spot is between 2 and 3 minutes, this one does remarkably well with longer steep times. It intensifies the syrupy apple and cinnamon without creating an overpowering black tea base.
In theory, you could drink this instead of your morning coffee on the way to work. For me, I need to eat some toast at least before drinking this tea as the tannings upset my stomach a little. So fill up a thermos with this tea and grab a pastry from Greggs on your way into the office. Perfect.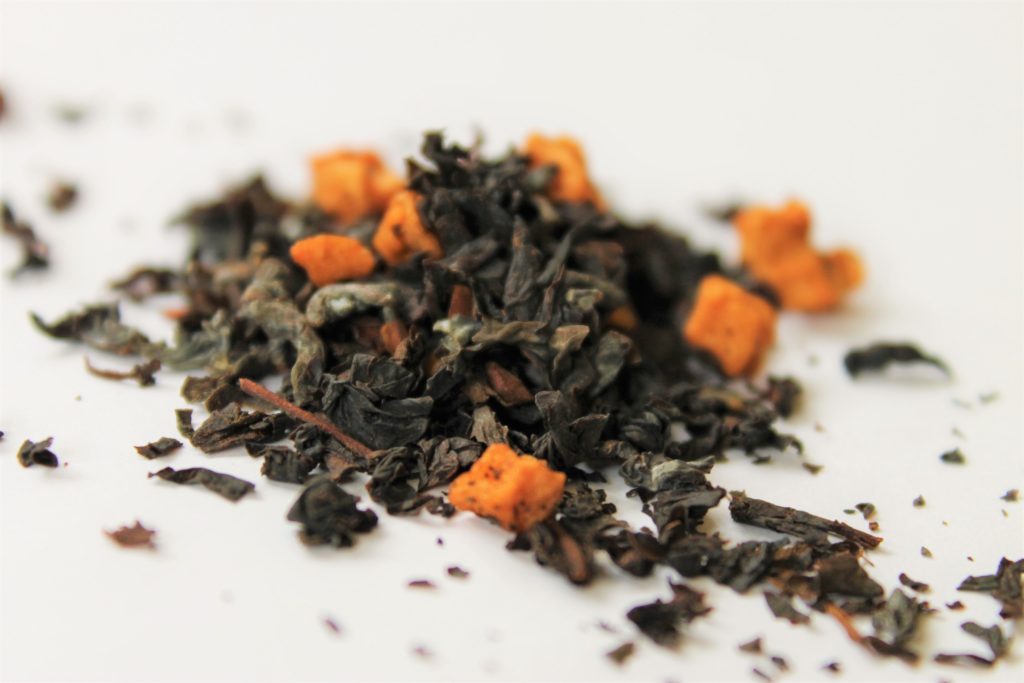 Why Zest High Caffeine Tea?
One cup of average black tea contains 50mg of caffeine. One cup of Zest Tea Cinnamon Apple contains 150mg of caffeine. The recommended limit for caffeine intake daily is 400mg of caffeine for adults (200mg of caffeine for pregnant women), so you could have 1 Zest Tea and 1 other tea per day and just reach the 200mg caffeine limit.
150mg of caffeine is on the level of many energy drinks, but without the added sugar. Sure, this tea is sweet but it doesn't have extra chemicals, extracts and sweeteners added. That alone makes it a whole lot healthier for you.
Anyway, back to why I reviewed this tea. It's mainly because they're offering something unique that tastes good. Health drinks that are designed to boost metabolisms, offer extra energy etc. often sacrifice on flavour at least a little bit. Zest Tea doesn't.
The tea quality is good, not great. The tea sachet offers plenty of space for the roughly chopped leaves and real fruit pieces. It's a big step up from fine, dusty tea bags.
Summary
I'd recommend this tea happily. It's smooth, syrupy, energising and comforting all wrapped up with Autumnal vibes. There's a little bitterness, but it's not enough to turn you off the tea. The price is great too, for both sachets and loose leaf, and it's finally available in the UK as well as the USA! Click the button below to go to this tea on Amazon for your country.
About Me
When I'm not enjoying hot teas in the winter, I'm working on a new iced tea recipe for the summer. You can scroll back through all my reviews or use the Tea Review Index to find what you're looking for. If you have a tea you're desperate for me to review, consider donating to Immortal Wordsmith! You can donate as much or as little as you want through PayPal and request a tea in the campaign comments.