10 Tasty Teas to Ice in Summer 2021
Even when the weather is swelteringly hot and uncomfortable, I still need my cup of tea! So, I pick some of my favourite teas to ice and serve them chilled in the summer months. In this short guide, I've compiled 10 of my favourite tasty teas to ice this year.
You can also cold brew these teas, if you have time.
To make cold brew tea – add 4g of tea (or 2 teabags) per cup of water. Mix the tea with cold water, then leave in the fridge for at least 12 hours.
To make iced tea – add 2g of tea (or 1 teabag) per cup of water. Brew your tea with hot water, like normal, but make sure it's strong. Once brewed, pour over ice to instantly chill it.
Iced tea is very quick to make and you can add honey/sugar to sweeten it instantly. Cold brew takes longer, but it usually results in smoother and sweeter flavours without any bitterness.
But back to my list. Here are my 10 favourite tea blends to ice!
Tea Musketeers Badger Brew
This is a tea from a very new tea brand, Tea Musketeers. I've had it hot and cold – it's delicious either way. What I love about this tea is that it's so refreshing but also quite luxurious. It's a blend of smooth black tea, rich vanilla, and spicy candied ginger.
It's syrupy sweet, so you don't need to add any additional honey when you brew it. The ginger gives it a nice kick too!
Janat Paris Peach Black Tea
Peach! One of the best summer fruits and utterly delicious cold brewed with black tea. This teabag option from Janat Paris has one of the best peach flavours and scents I've ever had the pleasure of reviewing.
I recommend adding honey to this tea. It's so good with a little extra sweetness. You can add fresh peach slices as well, or some spearmint. If you want to make this a mocktail, mix the iced tea with lemonade and pour over ice and crushed raspberries.
Ahmad Mixed Berries & Hibiscus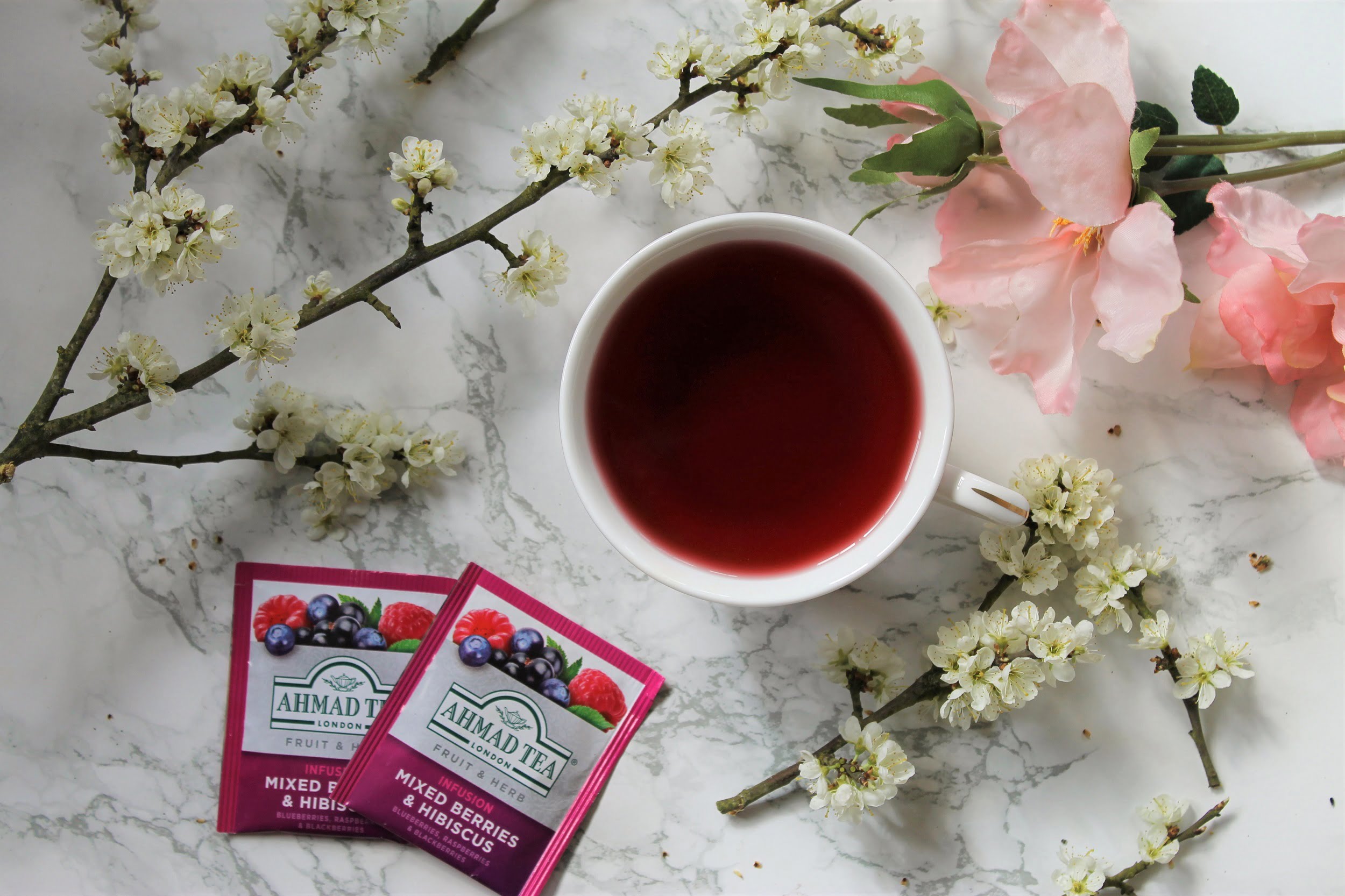 The first caffeine-free tea on my list. Ahmad Tea London's Mixed Berries and Hibiscus blend is tart, sweet and juicy. It's full-bodied too and makes a really nice iced tea. When summer berries are in season, don't be afraid to add a handful of these to your iced tea glass, along with ice of course!
I, personally, don't drink gin. But I have been told that this tea makes a lovely mixer for a gin and tonic once it's cold brewed for roughly 8 to 12 hours.
Clipper Organic Earl Grey
Earl Grey is a refreshing yet refined blend of black tea and bergamot (a kind of citrus fruit). It's wonderful as an iced tea too. This tea bag option from Clipper is organic and very easy to brew.
I like my iced Earl Grey tea one of two ways:
Iced, with a teaspoon of honey and slice of lemon.
Cold brewed, with lime cordial and a sprig of mint.
Both ways are delicious if you use a high-quality Earl Grey as the base.
This will be one of my evening teas this summer. T2 Just Peppermint is pretty self-explanatory. It's just peppermint leaves in a tea sachet! I brew a few of the pyramid tea bags in a pitcher of water and leave it in the fridge. Every evening, I have a glass after dinner.
Mint is a brilliant way to refresh your palate and settle your stomach. It's naturally sweet, but it goes nicely with both sugar and honey if you want a little extra.
Kusmi Green Tea with Strawberry
I received this tea in my Kusmi tea advent calendar one year and instantly fell in love with it. Personally, fake strawberry flavours aren't my cup of tea. However, Kusmi Green Tea with Strawberry has such a natural strawberry flavour and delicious green tea base that I'm making an exception.
You don't need to add any sugar or honey to this one when you ice it. Mint goes nicely with strawberry. If you have mango, add a few slices to a pitcher along with ice, mint, and fresh strawberries. Top with this tea and you've got a delicious fruity tea to serve throughout the afternoon.
Teakruthi are a brilliant tea brand if you are looking for very high-quality tea leaves. They source all their tea from Sri Lanka and it's always exceptional. This blend, Teakruthi Zen Mint, is my favourite tea to ice. It's a blend of smooth, light black tea and invigorating peppermint.
It's a really nice summer tea when you're feeling sleepy and need something to pep you up. The caffeine and menthol combination does a fantastic job of brightening your day.
My favourite way to ice this tea is to brew it really really strongly, fill a glass with ice, pour the tea halfway up, then fill the rest with sparkling lemonade. The citrus lemon notes and sweetness work perfectly well with the sharp lime and fiery ginger flavoured black tea.
BOH sell their Lime and Ginger tea as part of the Seri Songket collection. All the teabags in this collection are nice iced as well as served hot.
Twinings Blackcurrant and Blueberry
This is a caffeine-free herbal tea by Twinings. If you were a fan of Ribena blackcurrant squash as a kid, you'll love this as a tea to ice. It's sweet and juicy with distinct notes of blackberries, blueberries, and hibiscus. The colour is gorgeous too.
I recommend adding some honey to this tea. A sprig of rosemary, mint or other refreshing herb will brighten it too. Serve it iced in tall glasses. You can try squashing some fresh blackberries in the bottom of your glass too, like a cocktail.
Basilur White Moon is what is known as a milk oolong. It's a Taiwanese type oolong tea that has a naturally milky flavour that goes really well with the soft green tea-tasting base. It's also lovely iced. So, if you've been craving milk tea during the summer months, this is a good tea to ice or cold brew.
Remember to use 80°C water to brew it before you pour it over ice, to prevent it becoming bitter.