Ahmad Mixed Berries & Hibiscus Tea Review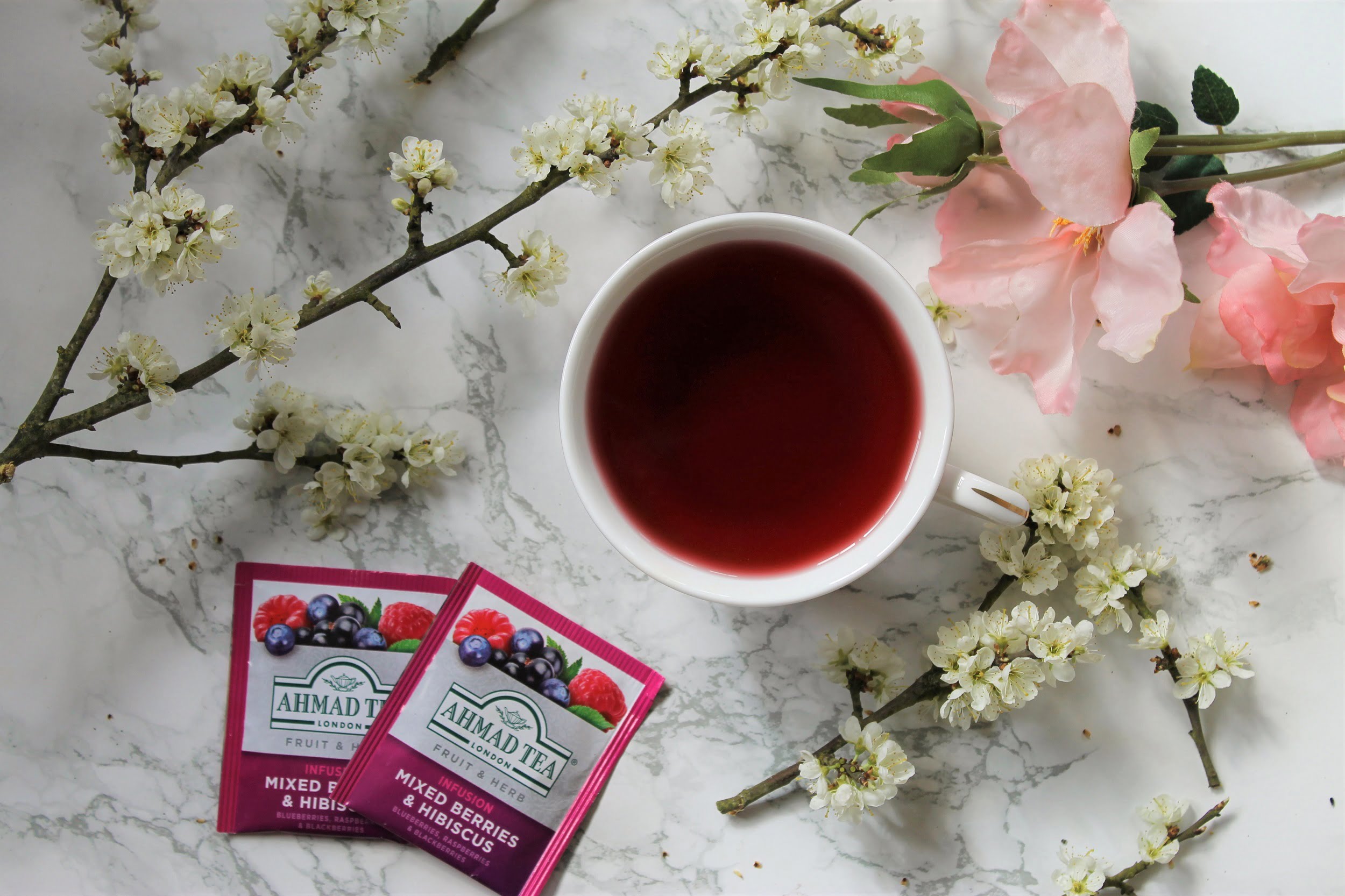 I love hibiscus and I even have a hibiscus tea guide in the works, to help you find the most delicious hibiscus teas available. But I'm aware that there are many people who don't like hibiscus. Will Ahmad Hibiscus Tea with Mixed Berries be a success for everyone, or will the hibiscus take over?
I'm tasting and reviewing this tea to find out. Read my full report below to find out what this tea tastes like, what berries are included, how best to brew it, and where to buy it.
Have Ahmad Tea London created another berry infusion masterpiece?
Ahmad Hibiscus Tea with Mixed Berries at a Glance
Full Review – Ahmad Hibiscus Berry Tea
Type: Tagged paper filter teabags
Ingredients: Hibiscus, blueberries, raspberries, blackberries, elderberries
Health Benefits: Boost immune system with vitamin C
Flavour Notes: Light berries, sweet, juicy, tart
Aroma: Strawberry sweetness, mixed berries, chemicals, berry pie filling
Milk or Lemon: Lemon or honey
Where to Buy: Amazon
What a delicious tea! From the moment you rip open the packet, you're hit with a medley of berry scents. There is a hint of chemicals in the dry aroma, but mostly you can just detect strawberry sweetness and general mixed berries.
It brews slowly and don't be afraid to walk away and forget about it – this tea will keep on brewing nicely in the kitchen until you're ready for it. It brews into a stunning magenta colour with a hint of purple. It's totally natural too!
Once brewed, the berry notes intensify until they're sweet, rich and tart. It reminds me of berry pie filling.
As for the flavour, it's not going to shrivel your cheeks up with tart hibiscus notes. In fact, the hibiscus is quite subtle. The berries take centre stage, with juicy flavours and a mouth-watering sensation.
After every sip, your mouth floods with moisture. It's very refreshing and extremely pleasant. I can't wait to cold brew this tea in the summer months!
How to Brew Berry Hibiscus Infusions
I brewed for 5 minutes, using boiling water from the kettle. I've said this before but it's worth repeating: use fresh water, don't just re-boil whatever water is left in the kettle. It does make a difference to the flavour of the tea.
Ahmad Hibiscus Tea with Mixed Berries is great for the evenings. It's sweet and warming but caffeine-free, so I like to think of it as a low-calorie dessert.
A teaspoon of honey could be nice in this tea, but it doesn't need any sweetener to taste good. Obviously, don't add milk.
Ahmad is a good brand, they're very reliable and you can find their teas sold worldwide. What I have loved about Ahmad Tea London in the past is that they usually give you a general idea of where their teas are harvested from.
Unfortunately, Ahmad don't do that for this hibiscus berry tea.
Nonetheless, it's good quality. With tisanes, you don't need to have large pieces of fruit to ensure a good flavour. Finely chopping the ingredients so they infuse quickly isn't such a bad thing as it is with traditional Camellia sinensis tea.
Berries are full of vitamins, but what really stands out in this blend is the vitamin C and A content. Hibiscus is incredibly high in vitamin C but exposing it to heat is risky, according to Nature World. Vitamin C is very sensitive to heat, so the best way to get the most health benefits from this tea is to cold brew it.
Leave the teabags (use 2) in water overnight in the fridge, then sip it cold the next day.
Vitamin C is a great anti-inflammatory and antioxidant ingredient, but it's more well-known for boosting your immune system.
As far as caffeine-free teas go, Ahmad Hibiscus and Mixed Berry tea is not bad at all. Ahmad sells their teas internationally, so the best place to find them is Amazon. You can also find them on Ahmad's official website, but Amazon usually offers better delivery options.
If you're looking for more hibiscus, or less hibiscus, then my Tea Review Index is the place you should go. This is where I've logged all my tea reviews over the years. Just use the hibiscus tag to find all the teas at Immortal Wordsmith that contain hibiscus. Simple.