My Top 10 Biggest Punchers in Heavyweight History
In boxing, one division has always captured the attention more than any other, whether it be because it is the highest weight class or because the spotlights seem to shine a little brighter, the heavyweight division has always been lit. (Okay not always, there have been lulls, but you get the picture!)
Heavyweight boxing isn't the most graceful, it isn't necessarily the most profitable division, but one thing it has in abundance is brutality and knockouts. If you're looking for a knockout then the heavyweight division is where you will likely find them most frequently.
Comparing the Biggest Punchers Through History
There will always be an issue comparing who is the biggest puncher in boxing history and that is because it is hard to agree with a method by which boxers should be compared. A lot of it is subjective and I find that even those who have tried to apply a methodology have applied methods with bias to get to their chosen fighters.
I'm not going to do that. For my list, I am going to simply give you the 10 boxers who hit the hardest in my opinion and why I have that opinion. Before I do so I will tell you why I haven't tried to apply a pseudo-scientific method to it by breaking down why these methods are flawed.
Knockout Percentage – In my opinion, a higher knockout percentage will typically point towards a heavier puncher but KO percentage is not the be all and end all. Firstly, the calibre of opponent needs to be factored in and a fighter with 100% could have knocked out loads of fighters with bad chins.
Likewise, a fighter with a lower percentage might have only faced opponents with solid chins. Another problem with KO percentage is often a fighter's KO record will include technical knockouts, and retirements (either in the corner or when the towel has been thrown in) which some will argue in the purest sense aren't actual knockouts and others would argue they are.
Other Boxers – Many people put a lot of weight on the words of boxers. I will give you an example, Muhammad Ali always said that Ernie Shavers was the hardest puncher that he ever faced. That is all well and good but Ali also faced George Foreman who many said hit incredibly hard. So did Shavers hit harder than Foreman? Possibly, or maybe Shavers caught Ali clean with his best punch and Foreman didn't. Maybe Ali didn't want to give Foreman any credit as there was a longstanding and bitter rivalry there.
Other boxer's opinions are as subjective, although a little less speculative, than us fans. Often though, boxers will get knocked out and insist that so and so who they didn't get knocked out by hit harder. It is a matter of pride in most cases.
In my opinion, the only way to get a true and accurate measure would be to create a hugely complex (it would have to be worked out by computers after months of data entry) algorithm and I haven't got the time or patience for that. Besides, I like my list. So here it is!
Number Ten – Sonny Liston
I am a big retrospective Sonny Liston fan. Unfortunately, I am far too young to have seen his career. After watching the fights that are littered about on YouTube (aside from the infamous Ali fights) one thing is clear, Liston packed a heavy punch.
How heavy? It is hard to tell, and frankly, his level of opposition wasn't always spectacular. He did, however, manage to intimidate everyone that was put in front of him (including the mouthy Ali) and there was a lot of menace in his punches. Maybe he didn't hit all that hard, maybe he hit hard enough to put the fear of God into you. Either way, Liston knocked out thirty-nine of his fifty-four opponents and intimidated his way onto my top 10 list.
Number Nine – Rocky Marciano
Marciano has an unblemished record with forty-nine wins and zero losses. Forty-three of those coming by way of knockout. Marciano has to make the list of all-time biggest punchers because I can't reasonably argue why he shouldn't be on the heavyweight boxer list.
Unreasonably arguing though, Marciano fought a lot of journeymen in his career. In fact, until he fought Joe Lewis (Number thirty-eight) he was always the bookies favourite. Of the forty-nine fights, only seven of those were scheduled for more than ten rounds.
My personal opinion is that from watching his knockouts, his punching power doesn't seem overwhelmingly impressive but as is the case in boxing, sometimes you have to trust that the record is a good indication and so he makes number nine. Half-begrudgingly.
Number Eight – Vladimir Klitschko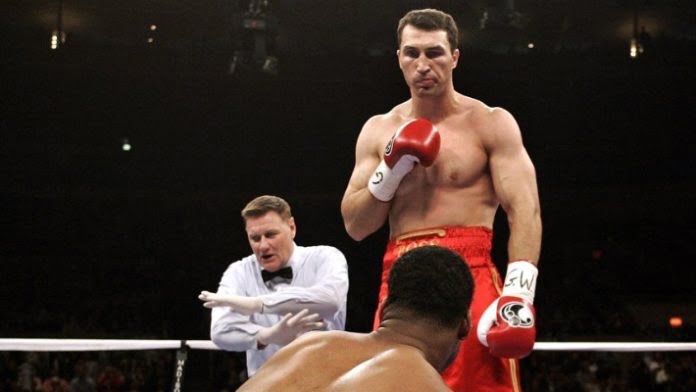 Another can't argue reasonably with the record entry on my list is big Vlad. Who managed to bore us all to tears nigh on every single time he entered the ring despite knocking out a large percentage of his opponents. His grab and hold technique earnt him the moniker of "Clinchko" and the sceptical part of me suspects he wore many an opponent down before each KO rather than hit really hard.
There is a part of me though that does give props to Klitschko's right hand and he makes my list at number eight. In years to come, I think he might be joined at eighth place by Anthony Joshua who might now box in a similar style to Klitschko after his loss to Andy Ruiz Jr.
Like Marciano, it is hard to gauge Klitschko's true punching power as he reigned supreme with little in the way of matched opposition.
Number Seven – Lennox Lewis
At this point in time, Lennox Lewis is one of my all-time greatest heavyweight boxers. He also had a decent knockout ratio as well, with thirty-two knockouts from forty-one wins.
Lewis wasn't a one punch KO machine and I would actually say that Klitschko's right was better than Lewis' right. Instead, he peppered opposition with a strong and snapping jab that would be followed at intervals with either overhand rights or combinations. Lewis' jab was his key weapon and he snapped it with a lot of precision and power, dominating Vitali Klitschko with it the entire length of their controversial fight.
When considering both hands, Lewis edges out Vladimir to the number seven spot.
Number Six – Ronald Lyle
Evander Holyfield, Shannon Briggs, Michael Moorer, Joe Frazier, Ken Norton all have one thing in common, despite all possessing fearsome punches, they couldn't knock down George Foreman. From memory, Lyle had Foreman down twice in their fight that won Ring Magazine's Fight of the Year.
Foreman later recalled that Lyle hit him with such force that the power carried through his guard with no trouble and reverberated at his core. Power that Foreman said was so heavy that he didn't feel it. It simply rocked him and took him down. Foreman isn't the only fighter to earmark Lyle as one of the heaviest hitters in boxing history and with thirty-one knockouts from forty-three fights his record is almost on par with others on this list.
For me, he is number six because I can recall watching Holyfield land heavy punches cleanly over and over on Foreman's chin and not even get so much as a wobble. To have dropped big George, Lyle must have hit like a hammer.
Number Five – Ernie Shavers
Ask any boxing historian who the biggest puncher in boxing is and they will likely say Ernie Shavers. Ask any boxer or commentator or fan who has a knowledge of the sport and you will likely elicit the same response.
It stands to reason then that he be on my list. But why so low down? Well here are the reasons why he makes the list, followed by the single reason he only makes number five.
Shavers has an awesome 91.8% knockout/win ratio and knocked out sixty-eight other boxers. Twenty-three of those sixty-eight were knocked out in the first round. That sounds really impressive!
But; of Shavers' eighty-nine fights, any time he faced decent opposition he lost. He only has two notable wins of the sixty-eight wins (Norton, Young).
Shavers has some remarkable numbers that easily give him his place on the list with a lot of anecdotal evidence to give him fifth place. But on closer inspection, I am not sure if he hit harder than my next four fighters.
Number Four – Archie Moore
Boxing is a sport that when competing at the highest level it takes a lot out of you, even if you're winning all the time. The human body isn't designed to throw heavy punches and after a while, things just don't work as well as they used to (a prime example of this is the many surgeries Deontay Wilder has had on his arm) and alongside the wear and tear, age catches up.
Archie Moore is one of those rare-bred fighters that are almost mythical because of how unobtainable their records are now. Fighters who fought hundreds of bouts. There are others like Moore who had extremely unusual careers that spanned hundreds of bouts and some of those even having hundreds of rounds. Though they maybe unicorns with hindsight, Moore was a prolific and highly successful heavyweight boxer.
He easily makes number four on my list because of the sheer volume of people he knocked out. One hundred and thirty-one to be exact. That is more knockouts than some of the fighters on this list combined.
Number Three – Joe Lewis
Fifty-two wins by knockout, sixty-six wins in total and only three defeats in his career. That isn't spectacular on the face of things and certainly, there are other fighters with comparable or better records.
Joe Lewis frequently tops all-time great heavyweight boxer lists because he was the longest reigning heavyweight champion of all time, holding it for twelve years in total.
Lewis also stuck to a no fixed fight rule, something that was highly questionable back in the day and potentially others on this list were helped along by. There is plenty to be said about a certain boxer and his ties to the mafia as well as the fact that some of his knockouts were glancing blows or landed cleanly, on the arms, etc (and I'm not talking about Liston who's mob connections were well documented).
Either way, speculation aside. Lewis boxed no fixed fights and this meant his KOs were genuine which is impressive given the length of time he was the champ and maintained that record. It's easy for a contender to face lesser opposition more regularly, it is much harder as a champion to do so, so a great knockout record over a long period of time as champ is a big accomplishment.
Number Two – George Foreman
Big George was a huge puncher with either fist. Like Lewis, he boxed from behind a very heavy left jab, but he could also swing and club with the left and KO. Foreman possessed anvils in each hand and was very precise with his punches.
In his second career, he wasn't the fastest cat around but still he managed a significant KO ratio by knocking out boxers with clean, targeted, bombs.
Foreman benefitted from facing some quite tough opposition and although his record like every other fighter's record is padded along the way, Foreman had enough world level opposition to be more than credible when it comes to KO power. Many fighters say he hit the hardest with Evander Holyfield claiming that he hit harder than Mike Tyson.
Foreman possessed all the menace and malice of Liston (who mentored him early on in his career) and combined it with all of the technical ability of Lennox Lewis. Foreman is still my favourite heavyweight boxer of all time, though I feel his punching power has now been surpassed.
Number One – Deontay Wilder
Whenever Deontay Wilder enters the ring there is no way as a bookie that you could make him the underdog. For all he lacks for (and he lacks plenty) in boxing ability, Wilder has the equaliser that is his right hand.
A right hand that only needs to land once to completely incapacitate a fighter. A right hand that could turn a fight at any moment and is as deadly in the twelfth as it is in the first.
I am not sure if I am right, but to my knowledge, Wilder is the only boxer to ever go into a heavyweight championship fight with a 100% KO percentage. He is also going to have an extremely high knockout percentage when he is finished and he hangs up the gloves.
If I had to measure fighters by how powerful they are in combinations or punching flurries then Foreman might give Wilder a run for his money. Certainly, Foreman hurt his opponents more consistently over the course of a fight.
Wilder has the ability to hurt anyone in a split second. Blink and you miss it, lightning quick and the lights go out. That is why he is now my number one most powerful puncher of all time.
Big Names That Didn't Make the List
By now you're either happy because your preferred fighter made the list or you're seething with rage that I omitted your man from my list. There are four names that I considered when compiling the list that were dropped from my list.
Jack Dempsey
A true fighting man but unfortunately, he wouldn't have weighed in as a heavyweight by today's rules so I have excluded him for that partially. Also, Dempsey's record is good, but alongside anyone in my list above and I would still struggle to include him.
Mike Tyson
Iron Mike Tyson didn't make my heavyweight boxer list because apart from an aging Holmes and arguably Frank Bruno, there wasn't anyone truly world class on his record that he beat. I did say arguably Frank Bruno as I like many feel Bruno wasn't quite there, but in a gesture of goodwill to Tyson fans I included him. By all means, comment Spinks and Berbick below but…meh. Tyson was good at knocking out average at best opposition. When he faced good opposition, Tyson lost.
Vitali Klitschko
The elder Klitschko and now Mayor of Kyiv has a better knockout ratio than younger brother Vladimir. Vladimir has the better opposition on his record and that is why the younger brother made the list. Like Mike Tyson, Vitali benefited from beating a lot of okay fighters.
David Haye
This is probably one you didn't think of, but I did consider putting Haye in my heavyweight boxer list, his KO per win ratio is really good and on par with others on my list. Overall though, Haye didn't face enough good/great opposition and win by KO to be considered.
I hope you enjoyed reading my thoughts and by all means feel free to comment your opinion below, as stated at the beginning, it is a very hard metric to actually measure and inevitably personal opinion will enter into the equation at some point. Let me know if I missed anyone obvious or if your top fighter is someone else!