Basilur Love Story Volume III Tea Review
Basilur very kindly sent me a big box of sample teas this month for the Izzy's Corner blog, which included the Basilur Love Story Volume III tea mini-book. I must admit, after tasting it I am completely hooked on Basilur teas. And no, it's not just my love of pretty, shiny tea containers that has me so enthralled with this brand.
This tea is so well-thought-out. The ornate tea book is just the icing on a very magnificent, 3-tier tea cake with masses of sugar flowers.
Basilur Tea Love Story at a Glance
Blend: Ceylon green tea with amaranth, pineapple, and coconut
Flavour: Tropical punch with coconut sweetness and a delicate floral perfume
A subtle, romantic tea blend with tropical vibes. It hits you with a heady perfume, light sweetness, and refreshing fruity notes. There's not a tropical fruit tea lover who wouldn't be absolutely thrilled to receive this as a gift.
Full Review – Basilur Love Story Volume III
Type: Tagged pyramid tea sachet
Tea: Pure Ceylon green leaf tea
Additives: Natural amaranth, pineapple flavouring, coconut flavouring
Flavour Notes: Tropical punch, coconut sweetness, thick, drying, subtle floral notes
Aroma: Rum, sweet coconut, juicy pineapple, and mango juice
Milk or Lemon: Neither
My favourite aspect of the Basilur Love Story Volume III tea was the dry aroma. It's strong and envelopes your brain in a thick perfume – not unlike falling in love. When you think of romantic flavours, the obvious choices would be rose, lavender and maybe even chocolate. But this romantic tea takes on tropical vibes. It's refreshing and new, yet the combination of sweet fruits, coconut, rum, and floral notes is undeniably romantic.
It's blended exceptionally well, in my opinion.
The tea liquor is a very pale yellow rum/pineapple colour and has a subtler aroma than when dry. It's less alcoholic and heady, but sweeter and coconutty with more complex fruit notes.
I take a sip. And then another. In the end, I finish the teacup with a very satisfied, relaxed feeling. The flavour is as you'd expect, floral high notes with subtle tropical punch flavours and a coconut sweetness that isn't too cloying. I recently reviewed a coconut and berry blend in the July Teapro subscription box which was incredibly cloying with coconut sweetness, so this was a relief. Coconut can be a tricky ingredient to work with, but Basilur has mastered it.
The texture is slightly thick and has a drying aftertaste that leaves you reaching for another sip.
How to Brew Basilur Flavoured Green Tea
We're dealing with green tea here, so 80°C water is essential. Use 1 teaspoon of loose leaf or 1 tea sachet (depending on the book you choose) for 2 to 3 minutes. I brewed for the full 3 minutes to get a full yet subtle flavour profile.
I would definitely drink this with afternoon tea, sandwiches, and cakes, or just by itself. It's certainly flavourful enough to be drank alone. Vanilla ice cream springs to mind as a good companion to this tea on a warm summer day.
Why Basilur Tea Books?
You will adore the tea books. The outer tin is metal that seals tightly (albeit not airtight). Inside is a plastic yet still high-quality bag with an airtight seal. Within that is your tea sachets or loose leaf. That's the functional part out of the way.
The aesthetics are mesmerising. I am debating whether to put up a new kitchen shelf solely so I can collect these tins. I'll definitely be reusing them to hold knick-knacks and things once the tea is all consumed.
I won't spoil the beautiful script inside the tin for you, but it's fair to say that the inside is as lovely as the outside.
5 stars for packaging.
Tea Quality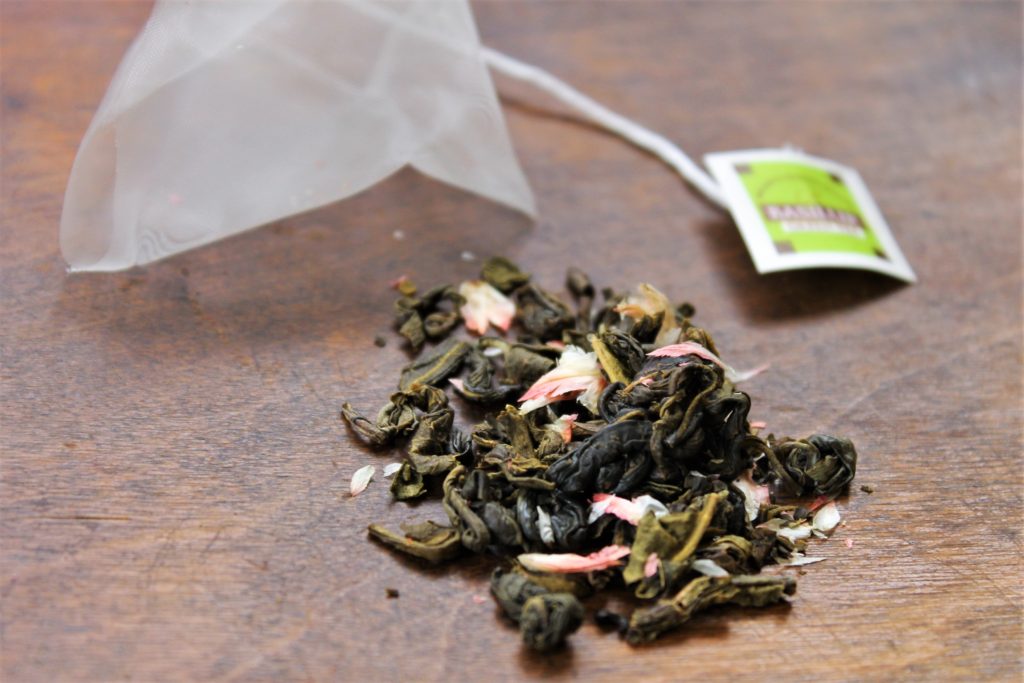 The pure Ceylon green tea is produced and packed in Sri Lanka. The amaranth is natural and you can see beautiful petals in the tea sachet. Unfortunately, the pineapple and coconut are flavouring. I'm a big advocate of using natural, real dried fruit pieces in tea, but in this case, I can let it slide. Although they're added flavourings, they taste exceptional, well-balanced and real.
Besides that, the quality is very good overall. The green tea leaves aren't all whole within the tea sachet, but they're far more intact than most brands. It's a league above the large cut leaves in Teapigs, Zest, and English Tea Shop sachets.
Summary
Overall, this is a beautiful, mesmerising tea that's romantic, gentle, delicate, sweet and fragrant. So why isn't it 5 stars? I have a few reasons:
The flavour doesn't quite live up to the initial aroma. I'd say the aroma is 'exceptional', while the flavour is a step down at 'excellent'.
This blend has a green tea base, yet I couldn't taste it at all. It would have been nice to taste the green tea playing with the tropical and floral notes.
It could be very hit and miss if you're buying it as a gift. The flavours are distinct and strong. What I find to be delicate, floral and mouth-watering, another person might find too perfumed and soapy. If you're buying this as a romantic gift, you definitely need to find out if they enjoy floral and tropical flavours first.
4.2 out of 5 is a very high score with just a little room for improvement. It's one of the highest scores on the blog, at the time of writing this article, and the Basilur Love Story Volume III tea book has earnt it.
About Me
I'm a tea enthusiast. I won't tell you how many cups I drink a day because that might scare you! All you need to know is; I'm unbiased, honest and ready to review each and every tea I find with an open mind.
If you've read several of my jasmine green tea reviews, you'll know I'm a big fan of floral flavours. Whether you love florals too or are just searching for a romantic tea to try, check out the Tea Review Index to find something perfect.