Novus Citrus Chamomile Tea Review
I can't remember where I picked this tea up. It might have been gifted to me, or it may have arrived in the box of teas that Novus kindly sent me. Regardless, this is a very intriguing tea to try. I had just one pyramid tea sachet of Novus Citrus Chamomile to play with, but let me tell you this – I enjoyed every single sip!
Find out what this tea is about in my full review below, including how to brew it, the health benefits you may experience, and where it is best to buy it.
Novus Citrus Chamomile Herbal Tea at a Glance
Full Review – Chamomile and Lemongrass Tea
Type: Tagged pyramid sachet
Ingredients: Lemongrass, chamomile flowers, lemon verbena, malva, marigold, rose
Health Benefits: Soothe anxiety, help you get to sleep, relieve digestive problems
Flavour Notes: Full-flavoured, full-bodied, bright, chamomile hay, lemongrass
Aroma: Mellow, hay, chamomile, acidic, lemon zest, lemongrass
Milk or Lemon: Neither
Where to Buy: Amazon UK
Opening the single-serving sachet, I'm instantly met with big and bold flavours. That's something I love about Novus teas – they're always so fresh and bright. It's testament to the high-quality ingredients they source for their blends. This herbal Novus tea had strong, mellow chamomile notes with a hint of lemongrass acidity.
Brew it gently to create a dark egg yolk yellow colour tea that has more depth and golden hues than typical chamomile tea. The lemongrass notes dominate the brewed tea aroma, with lemon zest highlights and rich complex undertones thanks to the chamomile.
The flavour has the full-bodied depth of a chamomile tea, with the bright and zesty highlights of lemon herbal ingredients. In the first sip, this tea seems to be at war with itself. The invigorating and bright lemongrass battles with the calming warm notes of hay and honey from the chamomile.
An intriguing cup indeed!
As you get accustomed to the new flavour combo, it becomes a truly flavourful and enjoyable tea to drink.
How to Brew Novus Chamomile Infusion
I brewed this tea for 5 minutes in freshly boiled water at approximately 95°C to create the right strength for me. You could certainly brew this tea for longer, especially if you want to get the most from the health benefits of these herbal ingredients. I would say 10 minutes is the upper limit on the brew time.
Don't add any lemon or milk to Novus Citrus Chamomile tea – it just doesn't need it. Novus have perfectly balanced the ingredients for you, so you don't need to add anything extra to bring it to life.
I love this brand! Supporting British tea companies is effortless when they're as high-quality as Novus Tea. This blend contained whole chamomile flowers and dried lemongrass stalks in the tea pyramid, along with beautiful marigold, rose and malva petals that create a subtle aroma and brighten the cup.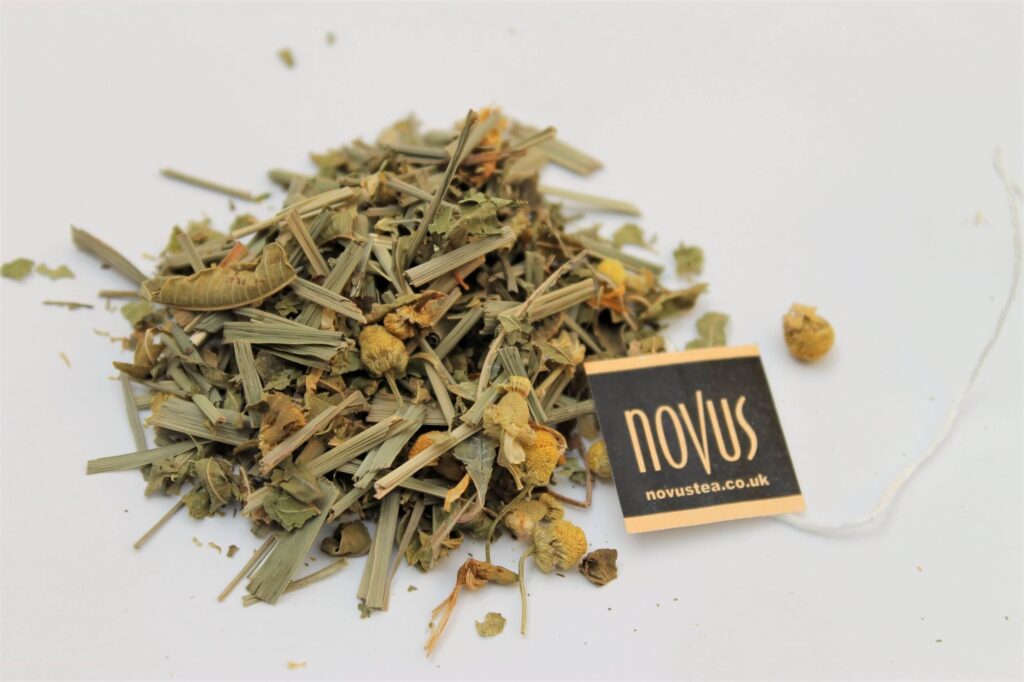 Chamomile, Lemongrass and Lemon Verbena Health Benefits
The three main ingredients in Novus Citrus Chamomile tea pyramids are:
Chamomile – the great soother! Excellent for reducing anxiety and insomnia.
Lemongrass – perfect for digestive problems and women's health (reduces menstrual pain).
Lemon Verbena – also great for digestive problems, insomnia, and stomach cramps, according to WebMD.
Together, these benefits make this tea a brilliant choice for women suffering menstrual pain, people with digestive complaints, and anyone struggling to sleep (perhaps because of those problems!)
I highly recommend this tea. The ingredients are fresh, flavourful and just so damn beautiful to look at, let alone taste! If you usually find herbal infusions boring, then this is a great tea to add to your collection. Find it on Amazon or buy it directly from Novus Tea online.
Light, fragrant teas are divine in the summer… or just late at night when you need to soothe your nerves. My tea recommendation to drink after this one just has to be Kusmi Strawberry Green Tea. It's just as calming and bright but with a little extra caffeine.