English Tea Shop White Tea Coconut & Passion Fruit Tea Review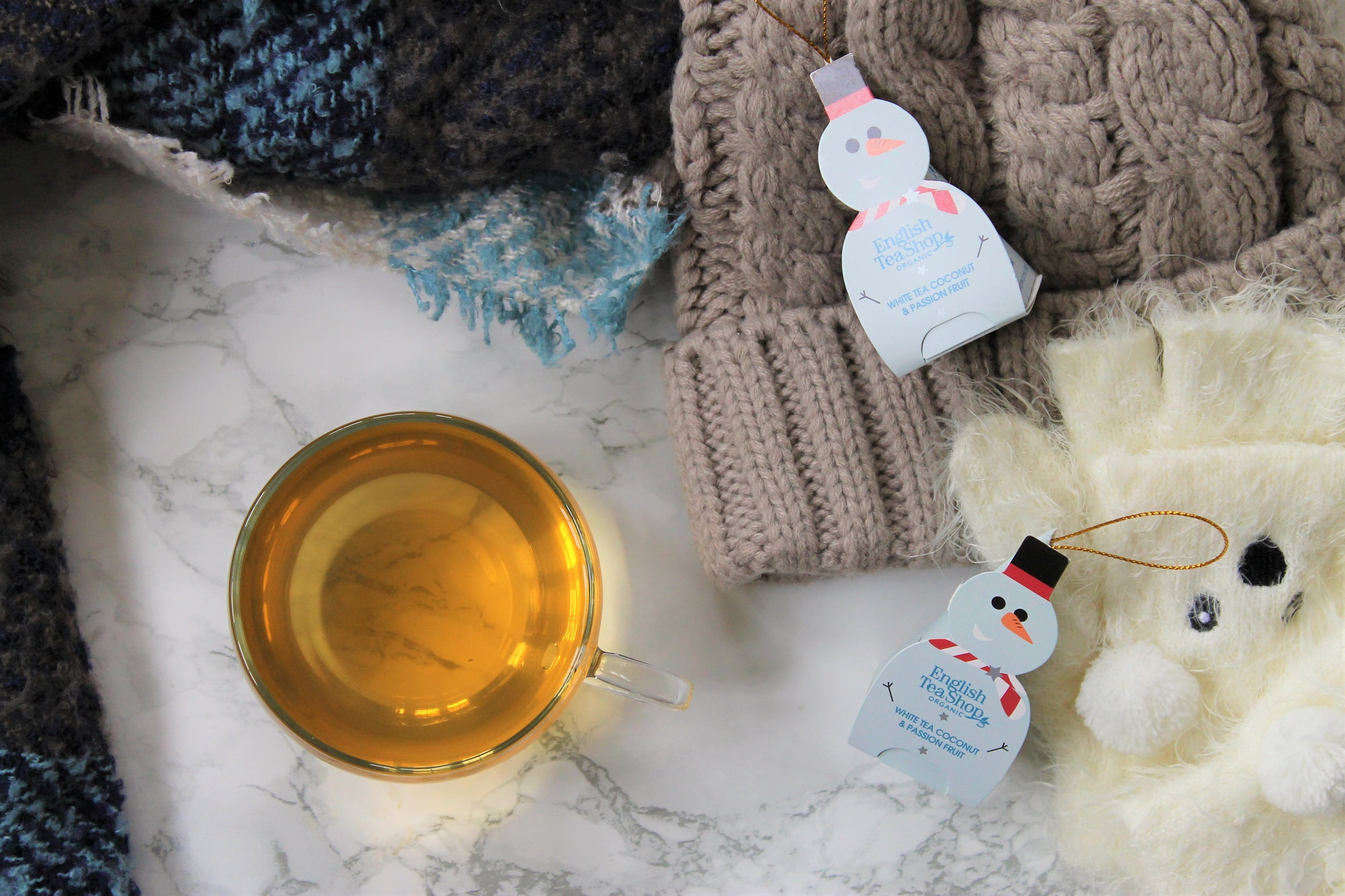 Christmas time is often a time of heartily spiced black teas and indulgent hot chocolates. That's why English Tea Ship White Tea Coconut and Passion Fruit really caught my eye. In a sweet snowman hanging tree decoration, this tea sachet promises to be sweet, tropical and refreshing. Just what you need after stuffing yourself with Christmas treats.
In this full tea review, I'll cover what this tea tastes like, what the ingredients are, how best to brew it, and where to buy it online. I stumbled across this tea collection in a TK Maxx, so check there too!
White Tea Coconut and Passionfruit at a Glance
Blend: White tea with lemongrass, cocoa, ginger and flavourings
Flavour: Grassy green tea with passion fruit notes and coconut sweetness
A super pleasant tea. The white tea base is the most prominent flavour, with passion fruit notes overlaying it and a coconut sweetness that sweeps into the aftertaste.
Full Review – ETS Christmas-Themed White Tea
Type: Tagged pyramid sachet
Tea: Organic white tea
Additives: Lemongrass, cocoa, ginger, passion fruit flower, coconut, natural flavouring
Flavour Notes: Smooth, grass, green tea, passion fruit, coconut, sweetness
Aroma: Passion fruit, roses, lemongrass, coconut
Milk or Lemon: Neither
Where to Buy: Amazon
Opening the packet, this is a delicately fragranced tea. The passionfruit is the dominant, juicy note but there's also a floral and citrus quality that reminds me of roses and lemongrass. It's very pleasant, slightly tropical, and promises a sweet and hydrating cup.
You can brew this one very quickly into a soft clear gold tea. After brewing, the aroma of the tea is decidedly sweeter, with more coconut notes peeking through. The coconut and passion fruit combination is mouth-watering.
As for the flavour, you will love how green and grassy the tea base is. If you didn't know this was a white tea, you'd assume it was a green tea. It makes the perfect base for the punchy passion fruit flavours and doesn't drown the cup in astringency.
After each sip of this thick-textured tea, a rush of coconut sweetness follows that coats your mouth beautifully. It's really a lovely sensation.
Not only does this tea taste like its name, but it tastes really good. Thank you, English Tea Shop!
How to Brew Flavoured White Tea Blends
English Tea Shop direct you to brew this tea blend for 2 to 3 minutes with 80°C water. Like green tea, white tea is happiest being brewed at slightly lower temperatures to prevent scalding the leaves which creates excess bitterness.
Use 1 tea sachet per cup or mug. Mine holds 250ml, but there's enough tea per sachet to brew a 300ml or even 400ml mug. Just let the teabag steep for an extra minute to bring it up to the right strength.
This tea is sweet enough without any added sugar or honey. I wouldn't add lemon either – the lemongrass in ETS White Tea Coconut and Passionfruit has that covered.
Why English Tea Shop Christmas Tree Collection?
I always select a festive English Tea Shop collection around this time of year because they do Christmas teas so well. This one is a snowman hanging decoration that's part of the Christmas Tree Collection. You get two of each tea per box, so I've saved the other one for my personal Christmas tree.
The quality is pretty great. You can see the whole chunks of lemongrass stalks, ginger and coconut. However, this tea does contain natural flavouring. I imagine this is for the passionfruit, as I'm not sure how including pieces of the actual fruit would work in a tea.
Nonetheless, this tea is totally organic and is a lovely gift to give. The only thing I should mention, is that English Tea Shop White Tea Coconut and Passionfruit is far better as a pyramid sachet. My experiences with ETS teabags have not been positive, so avoid that tea format whenever possible.
I highly recommend this tea. It's well blended and balanced, plus it tastes exactly how you would imagine it. You may be able to find it on Amazon, but if not, don't panic. Sometimes English Tea Shop are stocked in TK Maxx and other odd stores across the country. You'll come across it when you least expect it!
One tea that I always enjoy around Christmas is Teakruthi Vanilla Earl. It's not you standard Earl Grey! With smooth Ceylon black tea, vanilla essence, and soft bergamot notes, it's truly delicious. It has just the right level of sweetness to be a treat without becoming over the top.