Eloments Summer Orange Tea Review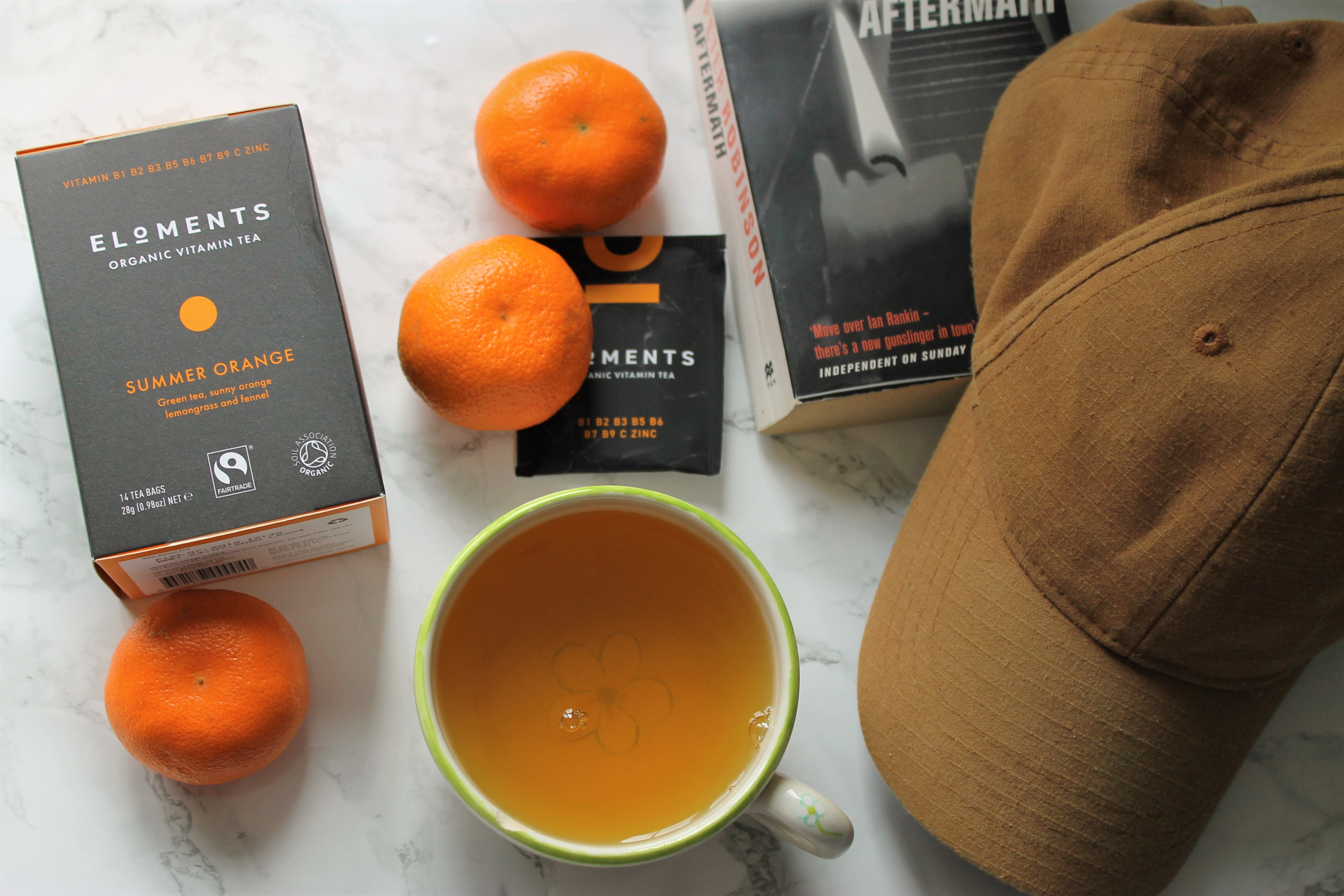 As the sun sets on summer, I'm enjoying those last few sips of my summery teas before I delve into warm, spiced autumnal blends. Eloments Summer Orange Tea falls somewhere in the middle, for me. It's designed for summer but something about hot citrus tea is comforting in the cooler months too.
Eloments very kindly sent me a box to review for the blog so I've been thoroughly enjoying an Eloments vitamin tea a day. I'm happy to report that this is possibly my favourite breakfast tea when I don't have time for breakfast – it's like the tea version of OJ, but better because it contains 9 vitamins!
Orange Eloments Vitamin Tea at a Glance
Blend: Green tea with orange, lemongrass, and fennel
Flavour: Gentle green tea with light, sweet and slightly tangy orange notes
Click the pic to find it on Amazon…
A gentle, soothing citrus tea that's great in the mornings. The green tea body is in the background as the orange notes take over – you can enhance this by adding a splash of orange juice.
Full Review – Summer Orange Green Tea
Type: Tagged paper filter teabag (unbleached)
Tea: Green tea from Xitou co-op, Wuyuan, China
Additives: Orange peel, lemongrass, fennel, natural non-organic orange flavour, lemon extract, holy basil extract, guava extract, amla extract, sesbania extract, annatto extract
Flavour Notes: light, sweet, slightly tangy orange, gentle green tea, subtle herbal notes
Aroma: Orange squash, sweet, musty, herby, citrus zest, coriander seeds
Milk or Lemon: Splash of orange juice
Where to Buy: Amazon or Eloments Official Website
The first thing that happens when you open an Eloments tea bag is you sneeze! There's a lot of dust inside the bag which I quickly shake off before brewing. The dry tea aroma is of sweet concentrated orange squash, musty herbs and a hint of lemon zest.
Brewed, the orange squash aroma settles down and becomes less concentrated and more natural. The musty herbs become more refined and remind me of dried coriander seeds. Lemon zest aroma brightens the whole cup.
I take a few sips before I've got a grasp on the flavour (I brewed it quite lightly until it was a dull, almost burnt, orange) because it's quite light. There's a sweet and gentle orange flavour that's closer to satsuma, with a tangy edge that comes into play when you let the tea linger on your tongue.
The green tea does come through, but it's not distinct. It forms a body and adds a level of depth that lets you know that you're drinking a tea rather than hot diluted orange juice. There are some herby sweet hints from the fennel too.
Overall, it's very pleasant and simple.
Instructions on the box are to brew for at least 3 minutes between 80°C and 100°C. Brewing at the lower temperature is better for the green tea base, while the higher temperature brings out the herbal notes more and the vitamins – although you do risk making the green tea bitter.
Decided to review this tea primarily on flavour, I brewed for 3 minutes at 80°C. 1 tea bag per cup, of course.
You could drink Eloments Summer Orange tea with breakfast, toast, or just a snack throughout the day. It might also be quite nice iced for hot summer days – just remember to brew hot and then chill, rather than cold brew from the start. It's the heat that draws out the vitamins, which is the whole point of vitamin tea.
The big draw for me is that Eloments tea is natural. They add all those extracts you can see listed above to provide those vitamins instead of artificially adding those vitamins. These are vitamins in their natural plant forms that are extracted when you pour boiling water over them. They don't use solvents or chemicals to extract the vitamins.
I also love that the green tea in this blend is Fairtrade and it is a genuinely well-blended cup of tea. You could take all the vitamins out and I'd still be raving about it. It tastes good and is unique – I haven't come across an orange, fennel and lemongrass tea elsewhere on my tea adventure yet. There also aren't many green teas I can drink at breakfast because the astringency upsets my stomach that early in the morning – but Eloments Summer Orange tea with a splash of orange juice mixed in like it's milk really does the trick.
Although it's a lovely summery orange tea, it works well at any time of year. It's also versatile. If you like your tea gentle and citrusy, brew at 80°C. For herby and nutritious, brew at 100°C. It's well worth a try, especially if you're deficient in one of the 9 vitamins packed into each tea bag.
If you want another summery drink that's delicious hot and very fast to brew cold in the fridge, I'd have to recommend Loyd Cranberry & Raspberry infusion. A good berry tea is great to switch up with orange teas in the summer to get your 5-a-day of fruity tisanes!