Eloments Double Lemon Tea Review
I have a cold. It's not surprising considering the time of year and the chilly weather outside. Alongside my usual honey, lemon and ginger herbal tea, I've decided to have this Double Lemon blend from Eloments too.
As well as a range of delicious natural ingredients, Eloments use natural extracts to provide a range of vitamins too, including the holy grail of cold-season vitamins – vit C.
Here's my full review of this tea.
Eloments Double Lemon Tea at a Glance
Blend: Chinese green tea with lemon, lemongrass and ginger
Flavour: Subtle green tea and lemon with herby undertones
A nutritious take on the classic green tea with lemon! Extra vitamins aside, this tea contains lemongrass and ginger which are awesome for your immune system. A tasty, subtle blend from Eloments.
Full Review – Lemon Vitamin Tea
Type: Tagged paper filter teabag (unbleached)
Tea: Chinese green tea
Additives: Lemongrass, ginger, lemon verbena, lemon extract, holy basil extract, guava extract, amla extract, sesbania extract, annatto extract
Flavour Notes: Subtle green tea, lemon, herby
Aroma: Musty, acidic lemon, lemongrass
Milk or Lemon: Neither
Where to Buy: Amazon
Ripping open the packet, I love how the lemon is instantly in your face. Yes, most of Eloments teas have a musty quality that's unavoidable, but this one has an acidic element that really cuts through it. Notes of lemon zest and lemongrass tingle my nose pleasantly.
It brews into a green-yellow colour with a lot of dust that will settle to the bottom of your cup if you have a little patience.
Wow. That has some strong acidity once it's brewed! The aroma is very sharp and I'm salivating just remembering it.
The flavour is quite subtle, depending on how you brew it (more below) which is how I like it. The green tea is mellow and melts beautifully with the herbal edge of the vitamin extracts, while lemony notes play in the background and into the aftertaste.
It's a refreshing experience but with the lemon and green tea flavours, I wouldn't drink this in the morning on an empty stomach.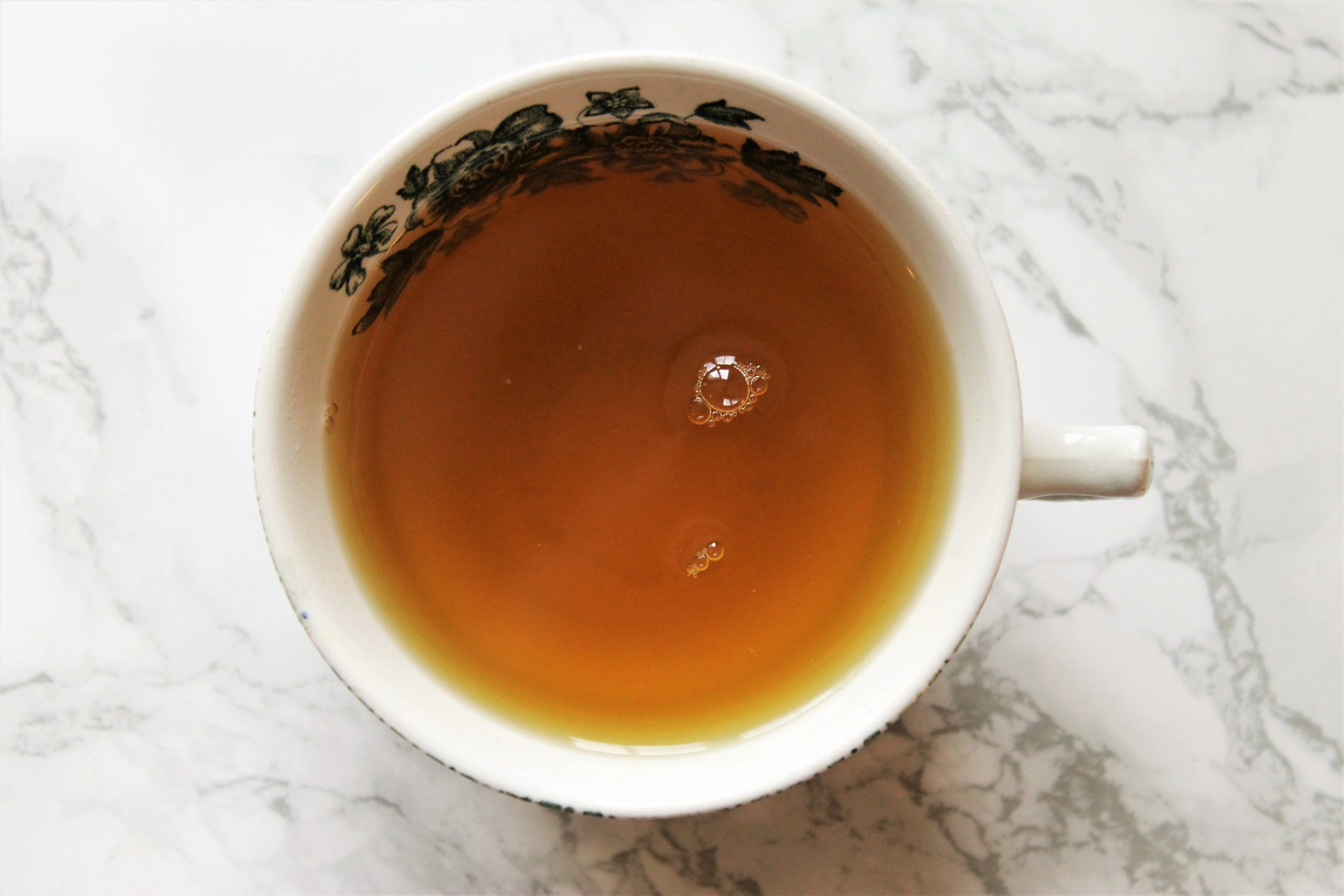 How to Brew Lemon Green Tea
Eloments use the standard 80°C to 100°C recommendations. Most green teas would need brewing at the 80°C mark, but if you want to extract all the vitamins from this tea you'll need to brew it at hotter, boiling temperatures.
100°C – strong lemony tea with notable herby notes and all the vitamins you bought the tea for.
80°C – light, mellow green tea with only a hint of lemon. Smoother and pleasanter to drink, but not so many vitamins.
I prefer the cooler brewing temperature but it's really up to you. Try both and let me know in the comments below what you found best.
Why Eloments Vitamin Tea?
I'm a strong believer in using natural ingredients wherever possible and avoiding plastic use. Eloments ticks both those boxes. The unbleached, papery materials used to package the teas are matte black – proof that you can use eco materials and still achieve that luxury feel and design.
The vitamins are provided through extracts. Lemon extract for vitamin C, for example. One on hand, this is a more natural, less chemical-based way to get those extra vitamins in… on the other, these natural extracts also add flavour notes to the tea. This is what gives it that herby note – it's common across all of the Eloments range.
The tea bags are usually quite dusty, inside and out. This does come out in your cup, but if you just wait 30 seconds or so after removing the bag, you should find the dust settles to the bottom.
I highly recommend this tea. Double Lemon is a flavourful classic that Eloments have taken to another level by adding their vitamin-rich extracts. These teas are particularly useful if you have a vitamin deficiency or simply don't get enough variety of fresh produce in your diet.
Are you going to see huge changes in your everyday health? Probably not. But you'll be enjoying a really nice, hot cup of tea that's going to do you good.
Even though this is a very nice green teabag, it's not a fantastic loose leaf green tea. If you want to get into green tea and try some truly exceptional green tea types, check out my full review of the Shades of Green Teapro Subscription Box.