Teapro Subscription Box: 'Fruit Cooler' July 2019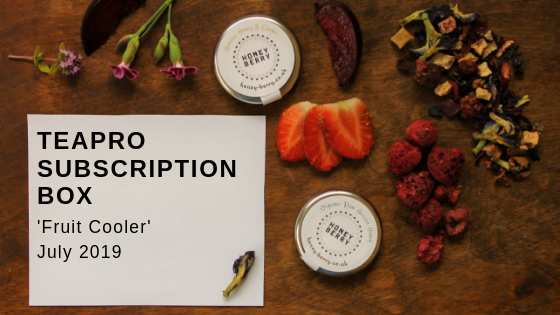 This is my second month of the teapro subscription – it could be your third if you joined for the very first month in May. We're heading into hot weather season (well, hot for the UK) and I love that this subscription is following suit.
July is all about fruity, refreshing teas to liven up the summer months. When it's 30°C+, the last thing you want is a hot cup of tea, so an iced fruit tisane is perfect.
This is what I thought of the teapro July 2019 'Fruit Cooler' subscription box.
Quick Summary
Another great tea subscription box from teapro. The right mix of comforting, all-time favourite flavours like strawberry, raspberry and orange meet some new and exciting tea combinations like coconut and chokeberry.
I'd recommend it for: people who enjoy fruity flavours and want an easy solution for summer tea cravings.
Pros – delicious tea and honey.
Tea blends include some classic flavours and crazy combinations to keep you excited at times, comforted at others.
Teas taste great hot and cold.
Honey included is also delicious.
Cons – a few silly things.
The ice lolly mould is not well-designed and leaks.
Orange Sunshine blend is a little hibiscus heavy.
Last month, teapro took my pros and cons on-board! They were eager to improve, even though there is very little room for improvement in this already awesome tea subscription. It just shows how much they care. The pros far outweigh the cons, every time.
What's in the Box?
My box arrived on the same day as last month, the 12th of July. Except this time I wasn't expecting it as I didn't receive an email notifying me that it had been shipped. Yes, I have checked my spam folder.
It arrived via Royal Mail in the same box as last time, completely intact. No damage during transport. Nothing to complain about here!
In the box:
30g Strawberries & Cream
30g Jungle Berry
30g Orange Sunshine
30g Raspberry Breeze
Raspberry shaped ice lolly mould
2x organic raw acacia honey pots from Honey Berry
1x sticker for July subscription
Fruit tisane booklet with details about the 4 specific teas included
If this is your first teapro box, you'll also receive a tasting wheel, sticker booklet and 3-piece glass infuser included. Read my review for those in the June 2019 teapro subscription review.
Detailed fruit tisane reviews are below.
Fruit Cooler Leaflet
It gives a short description of what's in each tisane, plus brewing instructions, plus some information about the health benefits of each of the ingredients.
It's less useful than the previous leaflet, which had different brewing instructions for each tea, but on the other hand it's way more interesting. Who knew orange peel can reduce the appearance of wrinkles by promoting collagen production?
This leaflet would come in handy if you wanted to blend your own tisanes for therapeutic purposes.
Ice Lolly Mould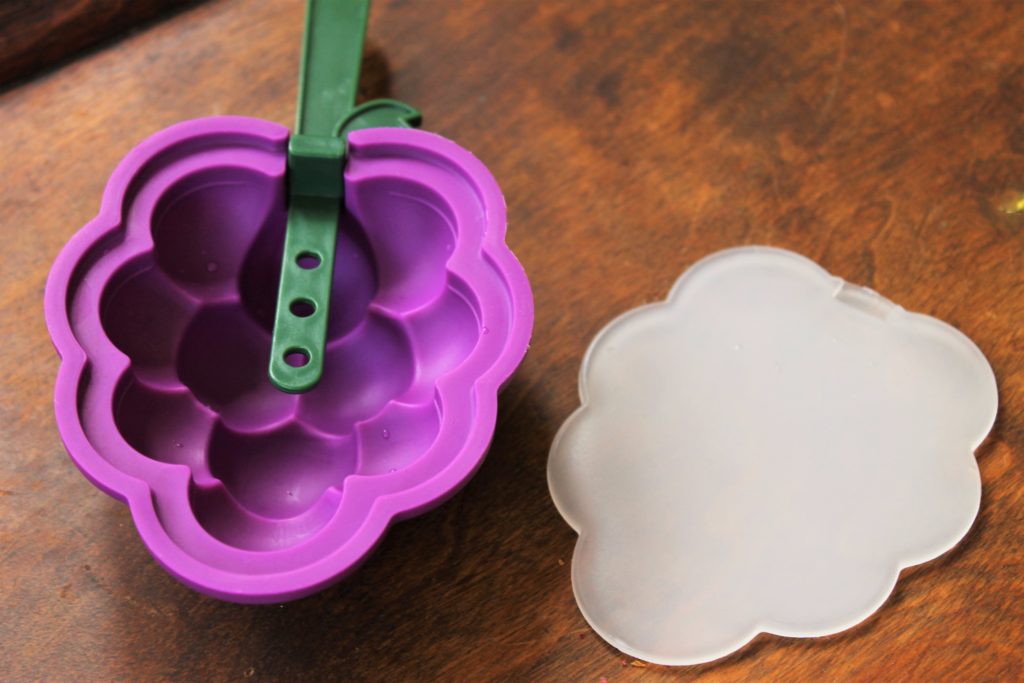 The lolly mould is disappointing. In theory, frozen tea lollies in the shape of a giant berry sounds like delicious fun. Unfortunately, it's very poorly designed. I've used it 4 times (once for each tea) and every time it has leaked. It comes out the top if filled to much… but even when you underfill, it still leaks out around where the stick attaches to the base.
The teas taste great when frozen (apart from Orange Sunshine, which I'll explain below), but the lolly mould is utterly useless. I'd recommend freezing double concentrate tea in ice cube trays to melt and dilute for drinking instead.
Honey Berry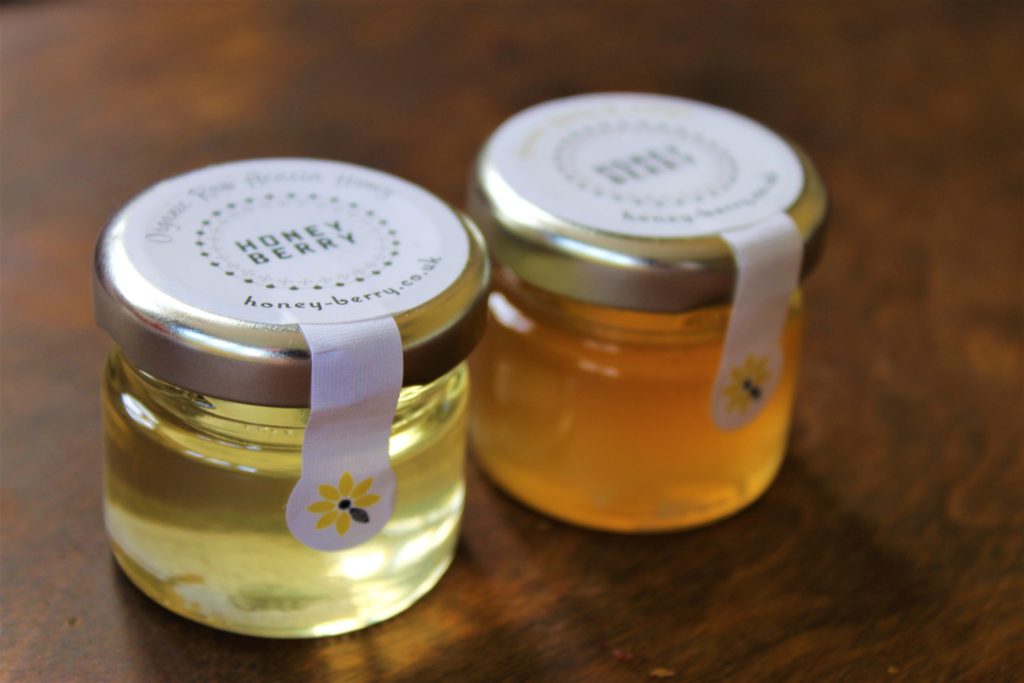 This honey is absolutely delicious. There are 2 small pots included in the box, one plain acacia honey and the other acacia and ginger. I can't taste much of the ginger (I really love ginger) but it's still delicious.
It's a monofloral honey made from the blossoms of the American Acacia plant – but the honey in the box is from Bulgaria. Sure, it's not as great as British honey but at least we're still getting produce from Europe. That's a bit better than the other side of the world.
You can read more about it on Honey Berry's official website.
Teapro Tea Reviews
There's more tea than last month in this box. 30g of each blend. That's a decent amount although it is a little awkward.
For example, 30g of Raspberry Breeze has the bag stuffed to the top. But 30g of Strawberries & Cream only fills about half a bag.
If we were brewing fruit tisane based on weight (2g per cup) then that would be fine… but we're going on teaspoons. 1 teaspoon of Strawberries & Cream or Orange Sunshine makes a notable dent in the bag but Raspberry Breeze (full of large freeze dried raspberries) and Jungle Berry (filled with light butterfly pea flower) and 1 teaspoon barely gets you 1 piece of each ingredient.
So, I'm going to run out of the smaller-pieced teas a lot quicker than the others.
I'm not really complaining, I just want to point that out to those people who want to be cautious and ration the fruit tisane so it lasts all summer.
Strawberries & Cream
Amount: 30g
Ingredients: Strawberry, apple, rosehips, currants, mallow flower, hibiscus flower, natural flavouring
Brewing Instructions: 2tsp, 100°C, 5-8 minutes, add honey to taste
Quality: Great
Starting with my new favourite. Strawberries and cream is very good. Slightly creamy, nicely tart and just the right amount of sweetness.
The milky flavour is only really present in the aroma and when it's brewed hot. It's very tart with fresh strawberries and a milky sweet aftertaste.
Cold brewed (2tsp, 24 hours in the fridge) and it's very sweet and light with strawberry flavours. Easy drinking!
Frozen, it's tart and not creamy at all. Still nice and strawberry-rich but I won't use up the rest of mine by freezing it. Hot and creamy or cold and sweet is better.
Amount: 30g
Ingredients: Blackberry, elderberry, chokeberry, raspberry, apple, hibiscus, coconut, butterfly pea flower
Brewing Instructions: 2tsp, 100°C, 5-8 minutes, add honey to taste
Quality: Excellent
This one was surprising and easily the one I was most intrigued by. The aroma is of slightly sour (in a ripe way, not an off way) and creamy coconut. It's a real mix of berries but blackberries pop out the most to me.
You don't want to over-brew it when using hot water. I brewed it for 5 minutes as instructed and struggled to finish the cup. The coconut gets very very sweet and cloying in the back of your tongue, making it hard to drink. Stop 2-3 minutes in and it's much better.
Cold brewing gives it a stronger berry flavour with the coconut settling a bit more into the background.
The only ingredient on here that I'd never heard of before was chokeberry, also known as aronia berry. Either there was so little of it that I couldn't taste it, or it worked very well with the other berries and blended right in to the fruit tisane.
Amount: 30g
Ingredients: Hibiscus, orange peel, candied orange, rose peel, orange blossom, papaya
Brewing Instructions: 2tsp, 100°C, 5-8 minutes, add honey to taste
Quality: Excellent
Yes, it's the lowest rating I've given for a teapro tea so far. But that's not necessarily because it's bad tasting. It's low for 2 reasons: it doesn't taste much of orange at all, and it just doesn't taste as complex as the other blends.
The aroma is pure candied orange peel but the flavour is very hibiscus dominated. Freeze it and it's pure hibiscus. Cold brew and it's pure hibiscus with orangey aroma. Hot and it's mainly hibiscus with citrus orange notes.
So Hibiscus Sunshine would be more appropriate. I like hibiscus but this is a bit too much. It needs more flavours and more complexity to be a great tea.
Amount: 30g
Ingredients: Freeze-dried whole raspberries, hibiscus flower, linden blossom
Brewing Instructions: 2tsp, 100°C, 5-8 minutes, add honey to taste
Quality: Excellent
Raspberry breeze has a gentler aroma than the other fruit tisanes. The freeze-dried raspberries are whole and mixed amongst hibiscus and linden blossoms. I enjoyed this immensely because it's still tart and strong. Real, whole raspberries taste infinitely better than pre-chopped or natural raspberry flavouring.
Brewed hot and it's quite tart on that first sip but as you get towards the bottom of the cup it gets sweeter and sweeter.
Cold brewed and it's very strong. Very very very strong! Make sure you add 1 or 2 teaspoons of acacia honey to sweeten it up. It takes ages to dissolve in the cold tea but it will be worth it.
Is This Tea Subscription Worth the Cost?
Once again, I find myself thinking that this is good value for money if this is your first box. The free glass tea-ware makes it great value for money. Without that, I still think it's priced fairly but you could probably find similar tisanes for lower prices elsewhere.
The real value of this tea subscription is not monetary. It's about the time you'd save finding these teas by yourself, doing the research to learn about the ingredients, and discovering which tea flavours you enjoy.
One thing you should notice is the amount of tea you get in this box is more than in the last one. That makes complete sense as white tea costs more and can be reinfused a lot more, so less was included. Teapro could have kept the samples the same size at 20g for the tisanes and enjoyed more revenue, but instead they've increased it to 30g. To me, that indicates that this subscription really cares about your experience and makes sure you get your moneys worth.
You also have 2 small pots of honey and the lolly mould. The honey samples taste nice and are good quality. The ice lolly mould looks like it belongs in a Happy Meal. Nonetheless, I do feel like this box was worth the £24 cost.
Another great one from teapro. There's definitely enough fruit tisane variety in here to keep everyone happy and the honey is a lovely bonus. If you haven't already signed up, you really should. August is ready to order on teapro's website and it's all about yerba mates – with a traditional bamboo bombilla and natural authentic gourd included too. That one will definitely be worth the cost, I can tell you now!
Purchase the Fruit Cooler box from Teapro, or search Amazon for fruit teas.