Ahmad Tea Strawberry Sensation Review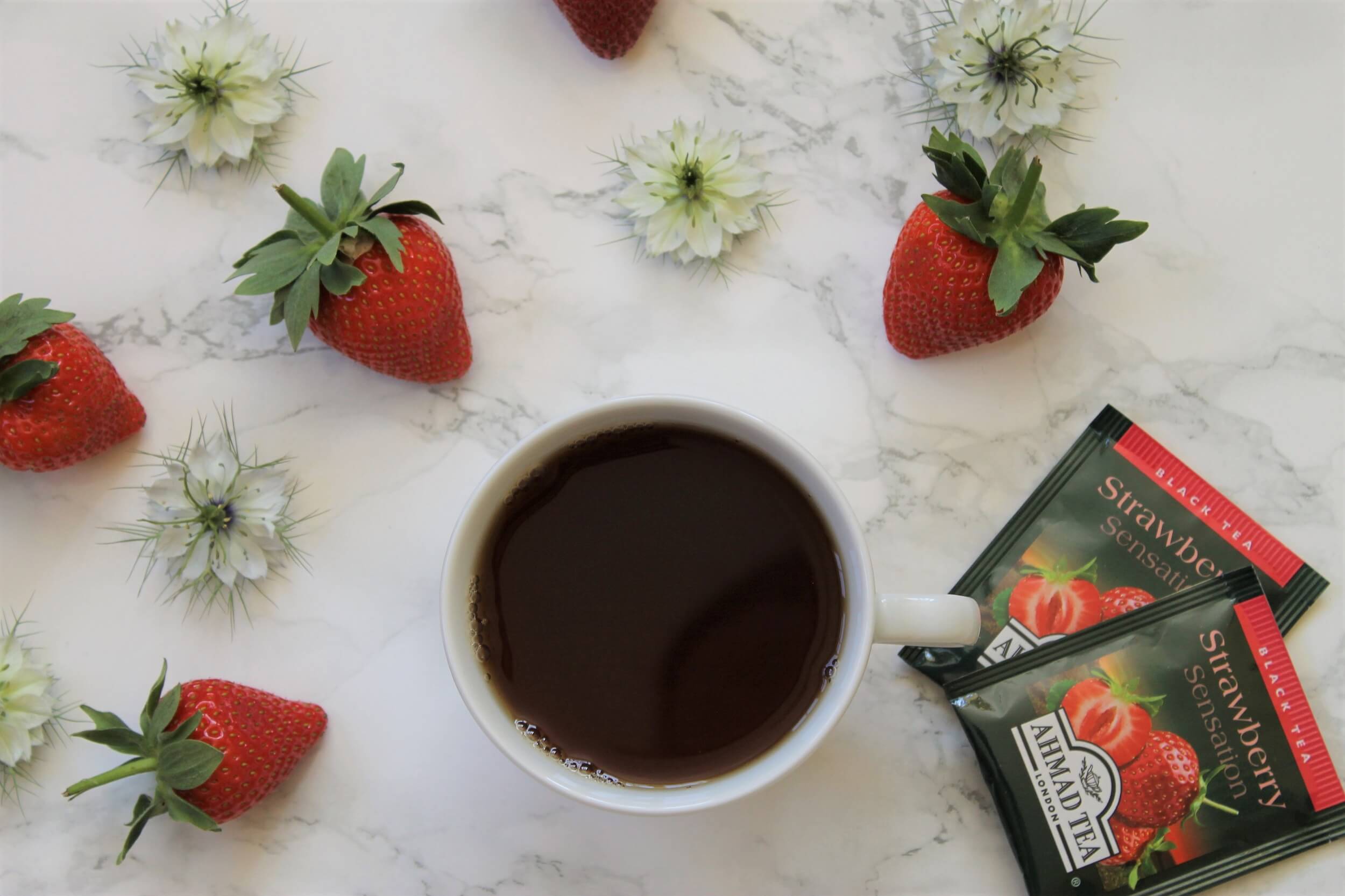 Having made a pretty spectacular Fraisier cake (Mary Berry's recipe, of course) I wanted to extend my love affair with strawberries by brewing up a strawberry tea. Ahmad Tea Strawberry Sensation is a black tea with real strawberry pieces plus added flavouring and is part of the 'Twelve Teas' box selection that I've been working through.
It took a little experimenting, but I finally found the best way to brew this tea. So, if you enjoy strawberry flavours and want to make the most of this African black tea with strawberry notes, my full review will be extremely helpful!
Ahmad Tea Strawberry Sensation at a Glance
Blend: African black tea with strawberry pieces and flavourings
Flavour: Bitter black tea with hints of artificial strawberry
A tea that is severely lacking. The black tea has no body, just bitter high notes, and the strawberry is sweet, fake, and too subtle. To get the best from it, try cold brewing or pouring over ice with a teaspoon of sugar!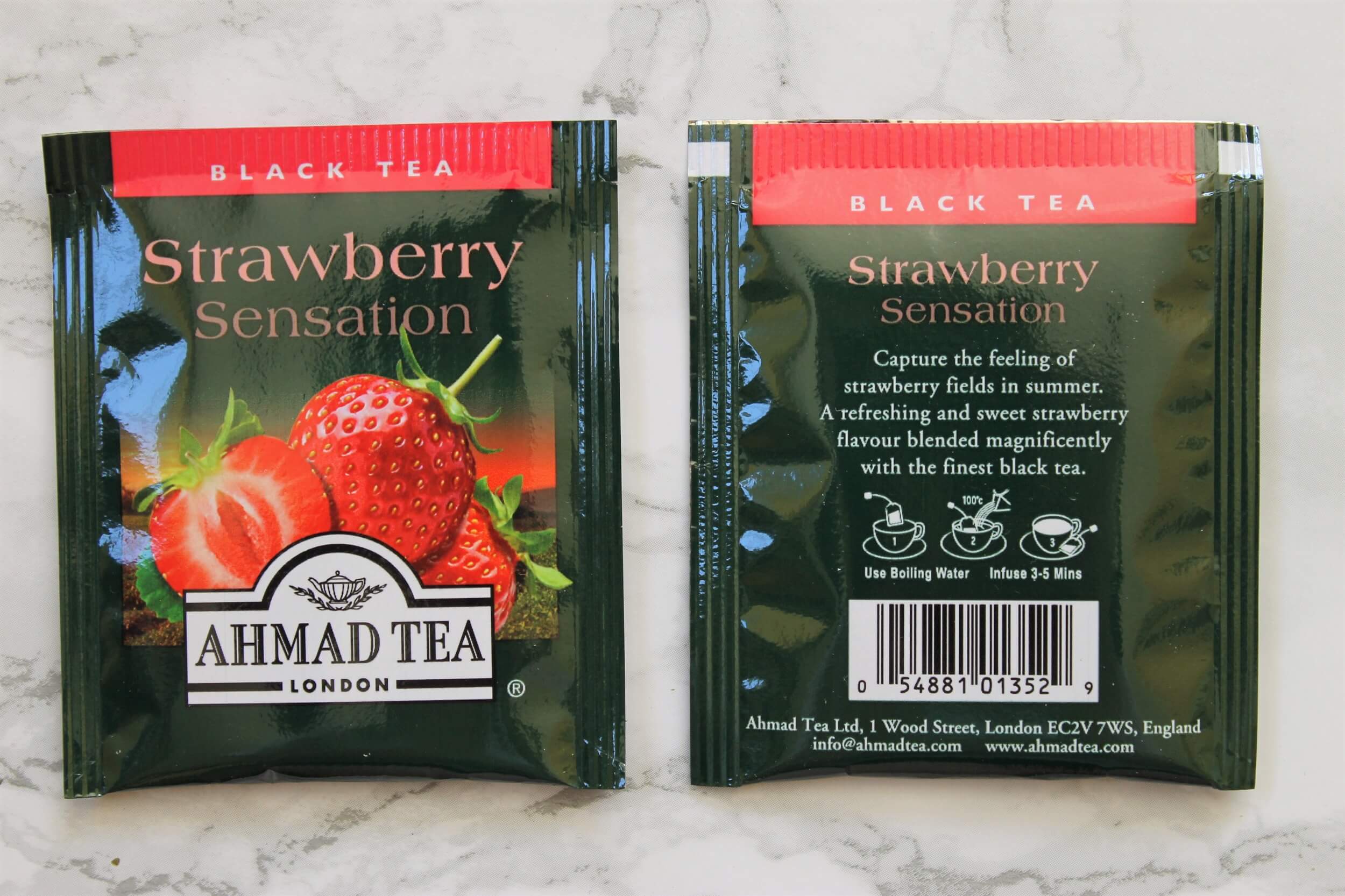 Full Review – Strawberry Sensation Tea
Type: Tagged paper filter teabag
Tea: East African black tea
Additives: Strawberry, strawberry flavouring
Flavour Notes: Bitter, burnt black tea, hint of strawberry, weak body
Aroma: Fake strawberries, rich African tea
Milk or Lemon: Sugar, honey, and/or milk
Where to Buy: Amazon
Ripping open the foil packet, I'm happy to announce that the aroma is super-rich and utterly delightful. The black tea has a typical African black tea aroma – very rich and strong. The strawberry notes are also strong… but unfortunately fake too.
It brews into a dark and dirty brown peat colour that's just begging for a drop of milk (more about that later). The steam has very VERY sweet strawberry notes in it. If you like strawberry laces and gummy sweets, this scent will really appeal to you.
As for the flavour… meh.
The black tea has bitter and burnt high notes that tingle your tongue, and yet no body at all. It's a weak tea with an odd burnt flavour. The strawberry is lacking too, although still present.
Altogether, I wasn't very impressed with this tea. But as I found out, you can revive it a little with different brewing methods.
How to Brew Strawberry Black Tea
I brewed Ahmad Tea Strawberry Sensation at 100°C for 3 full minutes, to drink it black. When adding milk, don't hesitate to brew for 4 minutes instead.
You should try it with milk and sweetener (sugar and honey both work well) as that enhances a 'strawberries and cream' type flavour. It's still a little bit too lacking, in my opinion, so I added half a teaspoon of Teakruthi Colonial Mornings to add a little more body to the black tea.
You can also ice this tea, which is pleasant but requires quite a bit of sugar to brighten it up. Instead of adding milk to make it creamy, consider adding slices of lime or mint to give it a more refreshing edge along with the fruit.
Ahmad is a decent British brand offering mostly teabags but also some loose leaf blends. I like the quality and sourcing of the teas. Ahmad Tea London gives you an indication of where the tea came from on their website. At the time of my review, this black tea is sourced from East Africa, but that changes with the seasons and depending on availability.
There is some strawberry flavouring in this tea, resulting in that artificial flavour. If that bothers you, you might want to avoid Ahmad altogether as they aren't afraid of using flavouring in their blended teas. You should be fine with their plain black and green teas, however.
Yes, I would recommend this tea. It's not the best and it's certainly not a great drink without adding milk and/or sweetener, but it definitely has potential. Furthermore, it's cheap! Check it out on Amazon using the button below to find out for yourself if it's your cup of tea.
For a sweet black tea that's not just great for the summer months, why not try reading my review of Teakruthi 'The Vanilla Earl' for refreshing bergamot, Ceylon black tea, and rich vanilla notes.