Pukka Elderberry & Echinacea Tea Review
Have you tried echinacea? Actually, do you know how to pronounce it?
That was the main hook that got my attention. Trying a new flavour is just too hard to resist! So, I set out to write a Pukka Elderberry and Echinacea tea review to find out what this new ingredient was all about.
Echinacea is an herbaceous flower close to the daisy family. After a little digging I found that it's actually been researched quite a bit. There's little evidence of it preventing or treating cancer, but there is some indication that in small amounts it can ease anxiety.
Combined with elderberry, a flavour I already know and love, this sounded like a great tea for me, personally, to drink.
Elderberry and Echinacea at a Glance
Full Review - Pukka Elderberry and Echinacea
Type: Tagged paper filter tea bag
Ingredients: Liquorice root, ginger, echinacea (root and leaf), beetroot, aniseed, elderflower, peppermint, orange, rosehip, elderberry, acerola fruit, orange essential oil, natural blackcurrant flavour
Health Benefits: anxiety-soothing, flu and cold fighting, immune system boosting
Flavour Notes: Summery, fresh berries and wine notes with subtle anise sweetness
Aroma: Juicy berries and a hint of wine
Milk or Lemon: Neither
Where to Buy: Amazon
Opening the single serving packet and I get a dry berry aroma, with an unnatural sweetness from the liquorice-like aniseed and a tartness that promised a realistic berry experience. It's a little musty, but I usually get that from Pukka herbal tea bags.
Once brewed, it's a delicious fruity red colour with a hint of coral pink at the end of the cup. It smells very juicy and fruity, with notes of anise and wine. A rich red wine. I don't drink a lot of wine, but this certainly smelt inviting.
In that first sip I didn't get much flavour from the tea, but I did get a lot of juiciness. With the berries and wine notes, I was expecting it to be quite drying on the tongue. Instead, it was very moisture-replenishing and left my mouth feeling refreshed and juicy with lingering berry tartness.
As I sipped more and let the tea roll over my tongue, I get fresh berry flavour. Not dried berries or fake berry flavour, real berries. A mix of sweet raspberry, blackberry and tart currents. A summer fruit mix.
There's also a very subtle herby quality to this tea and some extra sweetness with an anise tinge. I'm not a fan of anise usually but in this tea it feels natural – it would taste lacking without it.
How to Brew Pukka Echinacea and Elderberry
I brewed this tea for 4 minutes and 16 seconds, submerging it in freshly boiled water straight from the kettle. Pukka recommend brewing for 'up to 15 minutes', which is the longest recommended brew time I've ever come across.
Personally, I wouldn't recommend brewing for 15 minutes. Start with around 5 minutes and adjust to taste. 15 minutes would have blown my socks off with tart berry-ness!
Why Pukka Herbal Tea?
Although I knew the tea contained elderberry and echinacea, I hadn't checked the ingredients list before I brewed this tea. It just helps me be a bit more unbiased and rely more on my tasting skills.
I was surprised at the long list of ingredients. It's a nice tea but it isn't overly complex, so I wasn't expecting it to be that extensive. Another interesting thing I noticed was that elderberry and echinacea are pretty lowdown on the ingredient list. Echinacea makes up 10% and elderberry makes up 8%.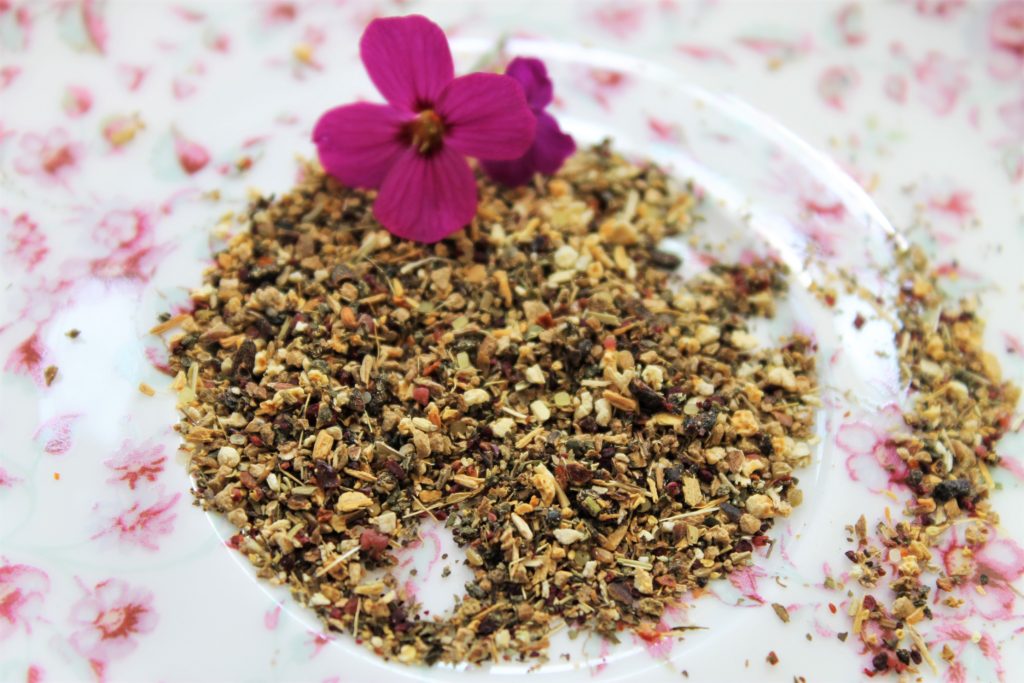 Inside the tea bag I can see the finely cut ingredients. They're all natural and Pukka only use ethically sourced, 100% organically grown ingredients. I'm happy with that. Unlike traditional teas, it doesn't matter so much that the herbs are in bits rather than whole.
Pukka Elderberry and Echinacea Tea Health Benefits
I noticed a lot of vitamin-rich ingredients in this tea. Both elderberry and beetroot are bursting with vitamins A and C, plus there's extra vitamin C from the rosehip. And then there's anise and ginger, two tea ingredients I know are good for soothing away nausea and common ingredients in cold/flu remedies.
So, I'll definitely be giving this tea a go the next time I'm feeling under the weather and need to boost up my immune system or fight a cold!
Summary
I would recommend this tea if you like summer berry flavours and want something that will pick you up when you're feeling down. I can't say that I really detected any distinct elderberry or echinacea from this blend, however.
I like my teas fruity, although I try my best not to be biased. I write tea reviews regularly at Immortal Wordsmith, so keep browsing my blog to find a new tea to your tastes! If you like the sound of Pukka's Elderberry and Echinacea, you might also like:
Twinings Intensely Raspberry & Dragon Fruit (another slightly winey, sharp fruity tea)
Zest Tea Superberry Samba (bright berries and passionfruit with a green tea caffeine kick)
Lipton Strawberry Black Tea (sweet and syrupy with a warm black tea base)