Lipton Strawberry Tea Review
When it's sweltering hot and I'm tired of water, I usually pick up a bottled Lipton iced tea. They're just so refreshing! So, when I found a handful of Lipton strawberry tea bags lingering in the back of the cupboard (pinched from a hotel I stayed in last year), I was excited at the prospect of enjoying the delicious Lipton refreshing flavour hot.
It didn't happen quite like I expected.
Read my full Lipton Strawberry tea review below to find out if their tea bags live up to expectations.
Lipton Tea Strawberry at a Glance
Blend: Black tea with artificial strawberry flavouring
Flavour: Strong, sweet artificial strawberry with a hint of black tea body
This was an enjoyable strawberry juice drink, like a sugary sweet strawberry soft drink but hot. The flavour is undeniably artificial and the black tea struggles to break through, so as a tea it is pretty poor.
Full Review - Strawberry Tea Lipton
Type: Tagged paper filter teabag
Tea: Black tea
Additives: Strawberry flavouring
Flavour Notes: Strong artificial strawberry and brisk black tea
Aroma: Artificial sweetness and stewed strawberries
Milk or Lemon: Neither
Where to Buy: Amazon
Opening the bag (a standard single serving paper wrapper) I'm hit with that fake strawberry aroma. On one hand, artificial flavours are cheap and just don't taste as good as the fresh alternatives… but on the other, the tea bag smells exactly like the strawberry laces. One of my favourite strawberry flavoured sweets.
Once brewed, the aroma moved from an artificial sweet strawberry to more of a stewed strawberry aroma. Not quite the same as fresh strawberries but edging towards strawberry jam.
I can tell it's going to taste sweet just from the smell. It has a slightly syrupy consistency and the strawberry flavour is nothing but artificial. I manage to drink half a cup before I've had my fill of the flavour. It's starting to make my throat a little sore.
The black tea really struggles to break through the strawberry, but every now and then you get a hint of a bold, brisk black tea body.
How to Brew Strawberry Black Tea
I brewed the tea bag in freshly drawn boiled water for 2 minutes until it was a bright amber with a hint of rich strawberry red. The colour is not dissimilar to an Assam, in fact. This just fits with the recommended brew time, but the next time I brew this I think I'll under brew a little to reduce the strong flavour. Even with the just boiled water, there's no bitterness or astringency so don't worry about the temperature of your water when brewing Lipton Strawberry Tea.
I'd drink this to replace a dessert after a meal. It's so sweet and strong that you can't really drink this to relax or have it with food or it will clash horribly.
Ironically, I'll be drinking this tea when I'm craving fruity flavours instead of tea.
Why Lipton Tea Bags?
Opening the tea bag to take a closer look, I can see that although finely chopped the black tea is not dusty and I can still make out a few stalks that have made their way into the blend. In comparison to my recent Twinings Assam Tea Review, the tea is of a higher quality. Unfortunately, it's dotted with perfectly round glowing amber blobs, that I'm guessing are the strawberry flavour that melts into the tea and gives that syrupy texture.
I do like Lipton as a soft drinks brand, but when you start to get serious about tea you realise just how poor their ingredients are. They should stick to the chilled, soft bottled drink market!
Summary – Lipton Strawberry Tea Bags
If I was judging this beverage as a soft drink, my rating would be considerably higher. It's sugary, sweet and strongly flavoured. As a flavoured black tea, it's poorly balanced, too strong and it's quite difficult to finish an entire cup.
If you like Lipton bottled ice teas, I recommend their strawberry Lipton tea bags. Try them both hot and iced!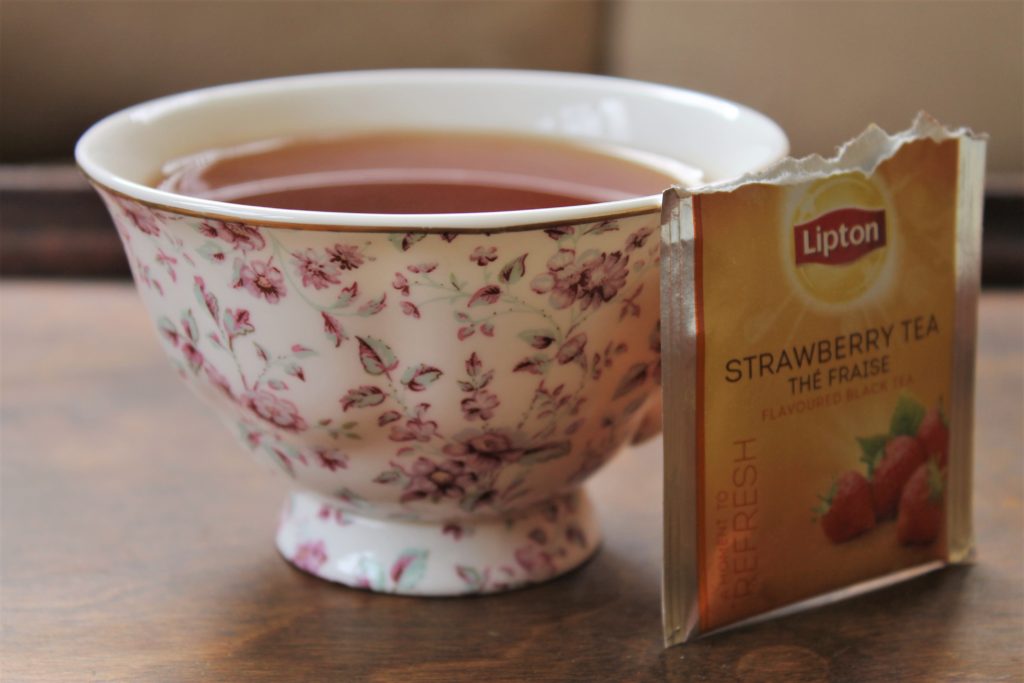 About Me
I'm a tea lover who really can't handle hot temperatures. No, really, I just can't. So, get ready for some iced tea recipes and reviews this summer! Follow our Instagram at Immortal Wordsmith for updates or jump straight to Jon's recount of our trip to Venice to get in a summery mood.