Basilur Music Concert Romantic Tea Review
Before you scroll down, spot the ingredients list, and faint with shock, let me just say this – it really does work!
Yep, you've unknowingly stumbled onto a coftea review. Coftea is that weird combination of coffee and tea that you thought would never work. It's like fusion cuisine. Lovely in theory but a bit hit and miss when you actually try it!
Luckily, Basilur knew what they were doing when they combined their high grown Ceylon green tea with sweet coffee flavourings. Read my full review of Basilur Music Concert Romantic Tea below to find out more.
Basilur Music Concert Romantic at a Glance
Blend: Green tea with pineapple, flower petals, and sweet coffee flavourings
Flavour: Smooth green tea with coffee warmth, sweetness and bitterness
Let me say, the coffee is NOT overpowering. So, if you're a die-hard tea drinker then you have nothing to fear – the delicate green tea remains the dominant flavour. The coffee just adds another tasty dimension.
Full Review – Basilur Green Tea & Coffee
Type: Loose leaf sample sachet
Tea: High grown Ceylon green tea
Additives: Pineapple, rose petals, marigold, cornflower, coffee flavouring, vanilla flavouring, cream flavouring
Flavour Notes: Smooth green tea, coffee hints of bitterness, full bodied, warm
Aroma: Coffee, chocolate, rich, bitter, sweet, green, fresh
Milk or Lemon: Neither
Where to Buy: Amazon
The little sample packs that Basilur so kindly sent me don't have a list of ingredients on them, so when I opened the packet to find coffee and tea together, my eyebrows were almost permanently lost in my hairline!
The aroma of the dry leaf is very coffee-dominant. It's rich with bitter chocolate and sweet notes that will have you wondering if there's any tea included at all.
But fear not. It brews into a slightly murky caramel brown colour that's more tea-like than coffee-like. While the aroma still has that rich and inviting coffee smell, it also has a green freshness to it where the Ceylon green tea finally breaks through.
The flavour of Basilur Music Concert Romantic tea is very smooth, like a gunpowder green tea, with hints of coffee that add bitterness to your tongue, especially in the aftertaste. The coffee flavouring also gives a more full-bodied feel and invigorating warmth that's at odds with the refreshing qualities of green tea.
All in all, it's surprisingly nice once you're over the initial shock.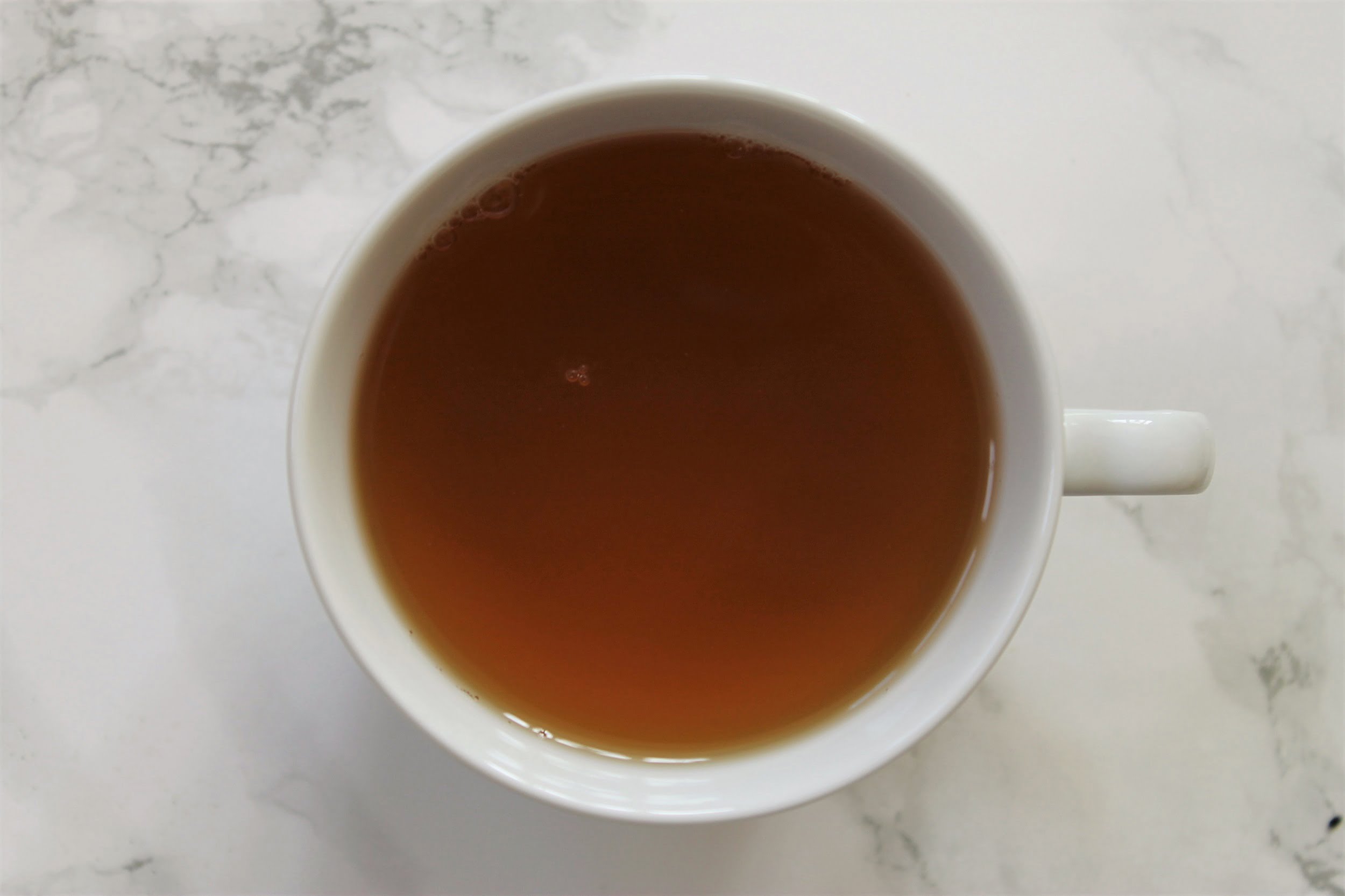 I found that brewing at 90°C for 3 minutes hit the spot with this blend. Like cooking a new food, there will always be an element of trial and error when you first make a "coftea". You won't know how you like to brew it until you try it!
I wouldn't add milk to this tea, however. With the cream flavouring added and the brightness of the green tea, it would just be too much to add a splash of milk.
Deceptively high in caffeine (despite the coffee only being flavouring), you don't want to drink this as an evening green tea. For your mid-afternoon work slump, however, it's ideal.
Basilur were extremely generous when they sent me a pack of samplers to review, and while I never would have selected this blend myself, I'm incredibly glad that Basilur included it.
The quality is excellent, as always. The loose leaf you see in my pictures is the same that you'll find in the pyramid sachets of Basilur Music Concert Romantic tea. The green tea is high grown and the flower petals make brewing this tea more of an experience than an impatient waiting game.
If you buy the tea caddy (Amazon link below and above) it will also play music for you while you brew. How ingenious is that? I'm a little bitter that Basilur didn't send me the caddy as well as the tea! But I daren't complain and I never turn away free tea, especially from a brand as excellent as Basilur.
I highly recommend this tea. It's a very flavourful and masterfully balanced blend that anyone with an adventurous palate will be bubbling with excitement at. Thanks to Basilur's beautiful and detailed packaging, not to mention high quality of tea, the entire Music Concert selection is perfect for gift giving. Check if it's available on Amazon using the link below, or you can buy it directly from Basilur's official website.
If you have some time to spare and you want to learn more about the wonderful teas that I have the privilege of reviewing, take a look at Teakruthi Cinnamon Chai next. This is another high-quality Ceylon tea blended with a warm, sweet ingredient to create a full-bodied cup.