My Top 5 Films About Relationships
I should probably caveat this blog post to say that I have a bit of a jaded view about relationships – but at heart I am a romantic.
The film choices will no doubt be more bittersweet or "interesting" than the traditional girl meets boy formula so here goes. Oh, and this is spoiler free… so enjoy viewing them with fresh eyes;
Blue Valentine
Blue Valentine is at its core actually a film about fatherhood. Something that is normally earmarked for comedy in most Hollywood films (Mrs Doubtfire being a prime example) gets a raw and unfiltered lens in Blue Valentine. Ryan Gosling is superb and watching his stoic character unravel is worth watching the film for alone.
The film hits home many times and most often without too much dialogue. There are many moments of silence that create a void in your mind waiting for emotional responses to flood in. The film is candid, showing the beautiful side of love (although fleeting) and hammers down the daily routine of "love" that most relationships become.
The way it deals with the bonds of fatherhood and then places them against the precarious backdrop of fragile relationships is exemplary. Most of all, this film addresses the really taboo subject – that people change even when their circumstances haven't. We love the fairy-tale "they fell in love and lived happily ever after" …normally the "ever after" has as much drama as the falling in love.
Love Actually
Love Actually is marketed as a "chick flick" in the same way that Bridget Jones' Diary is – but it isn't really a comfortable story (or specifically eight stories) about love.
Often silly, mostly funny and a little bit weird in places, Love Actually, actually hits some good notes about love and relationships. Dealing with infidelity, new relationships, old relationships and relationships that can never be (unrequited love).
The ultimate Christmas love film to cosy up and watch during the festive season, but also a film that leaves a few unanswered questions that if you dwell on them too much might make you see a more cynical view of love creep through. Questions like would a relationship survive infidelity? Or were they only sorry because they got caught?
Unlike Blue Valentine, the glossy humour and festivities coat over the darker tones of the film and Love Actually is enjoyable from start to finish. I am not so sure it deserves to be classed as a truly romantic film though – a nod made by the writers in the title no doubt.
The Great Gatsby (2013)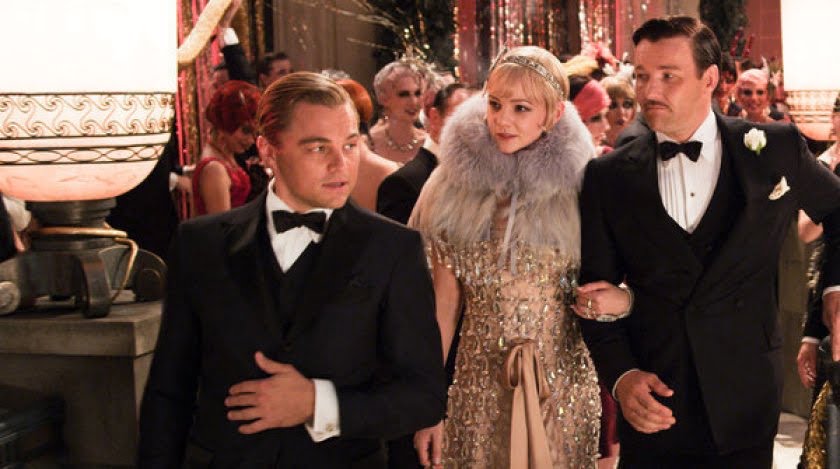 There have been a few adaptations of Gatsby over the years, but none capture the decadence, the wealth and the vacuous frivolities of the roaring twenties like the Baz Luhrmann version. His Gatsby is in your face, brash, unashamed to throw a whole lot of glitter at the great story.
But, underneath the glitz and glamour of the staging are three fantastic performances from Leonardo DiCaprio as Jay Gatsby, Carrey Mulligan as Daisy and Tobey Maguire as Peter Parker (no… wait).
Seriously though, does Tobey Maguire only have one persona in his acting range? Either way, it fit the happy sappy Nick Carraway perfectly.
The Great Gatsby is a story about passion, unrequited love and adoration that knows no bounds – and that is just the story of Nick and Gatsby…
When it gets to the main story it is even more so and you yearn for closure throughout which is exactly what Gatsby wants in many ways. I recently wrote a blog post answering one of the questions you will be left with, why does Daisy cry over Gatsby's shirts? Which you should make sure you bookmark for when you have finished the film. If you haven't seen it, surely the idea of a grown women crying over linen has piqued your interest?
Gone with The Wind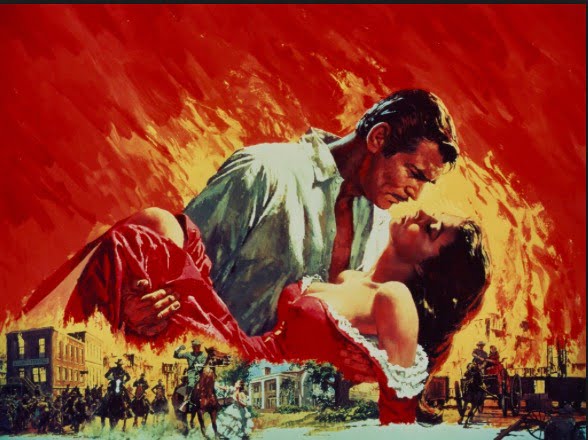 Gone with The Wind is a film that I watched as a teenager and admittedly haven't watched since (it is a long film). It is also probably the best early foundation for modern romantic movie making there is and it was a massive commercial success when it was released.
The film was released as World War Two was beginning and given its age, it has aged very well and is even in colour. Adjusting for inflation it is also, staggeringly, the most financially successful film of all time.
You might be thinking Gone with The Wind is a happy affair which distracts people from the bleak outlook following the economic recession and the outbreak of war. Be prepared for a few surprises as this film definitely has its share of agonising moments as well as an unforgettable ending.
The themes of hope and overcoming adversity is prevalent in Gone with The Wind and you will be glad for the experience of watching it. The ambiguous nature of the lead character also makes it a little different to your normal tried and tested love story.
It is soppy and sentimental in parts, but beyond that, it is also a great piece of movie making and deserves its place in cinema history.
Closer
By far my favourite of all films about relationships on this list and rounding out my five is Closer. A film that is raw, human and endearing in so many ways. A film that touches on almost all aspects of love and relationships and then rips them open for us to inspect.
The resulting beautiful mess is a tragedy where no one turns out to be who they claim to be and although the feeling felt inevitable – it was satisfying none-the-less.
Brutally honest and nuanced dialogue highlight the completely different spheres that the sexes move in when it comes to relationships, attitudes to sex and life in general. Some of the exchanges will hit chords and nerves with viewers everywhere and there are bits and pieces that seem all too familiar along the way that make Closer very relatable.
Closer is an intimate snapshot of four people's lives in a certain place and at a certain time. As the name suggests, it draws you into a very personal space and grips you from start to finish.