Novus Egyptian Mint Tea Review
When I stroll into the village (AKA, arrive in a puddle of sweat and collapse on the floor because yes, I am that unfit) this is one of my favourite teas to order from the café. They stock several of the Novus tea pyramids and there's just something about sipping tea outside of your own home with a good slice of cake and free WiFi that just makes it taste so much better!
Here's my review of Novus Egyptian Mint Tea, tested and consumed in my own home rather than the café for accuracy.
Novus Mint Tea at a Glance
Blend: Pure Egyptian peppermint
Flavour: Medium strength mint with woody and herby notes followed by classic sweet menthol
A very lovely mint tea – one of the best I've tried. The foil wrapper and large leaf size drastically improve the flavour. If you're a big mint tea drinker, this is a fantastic option. Novus also sell it in a loose leaf version.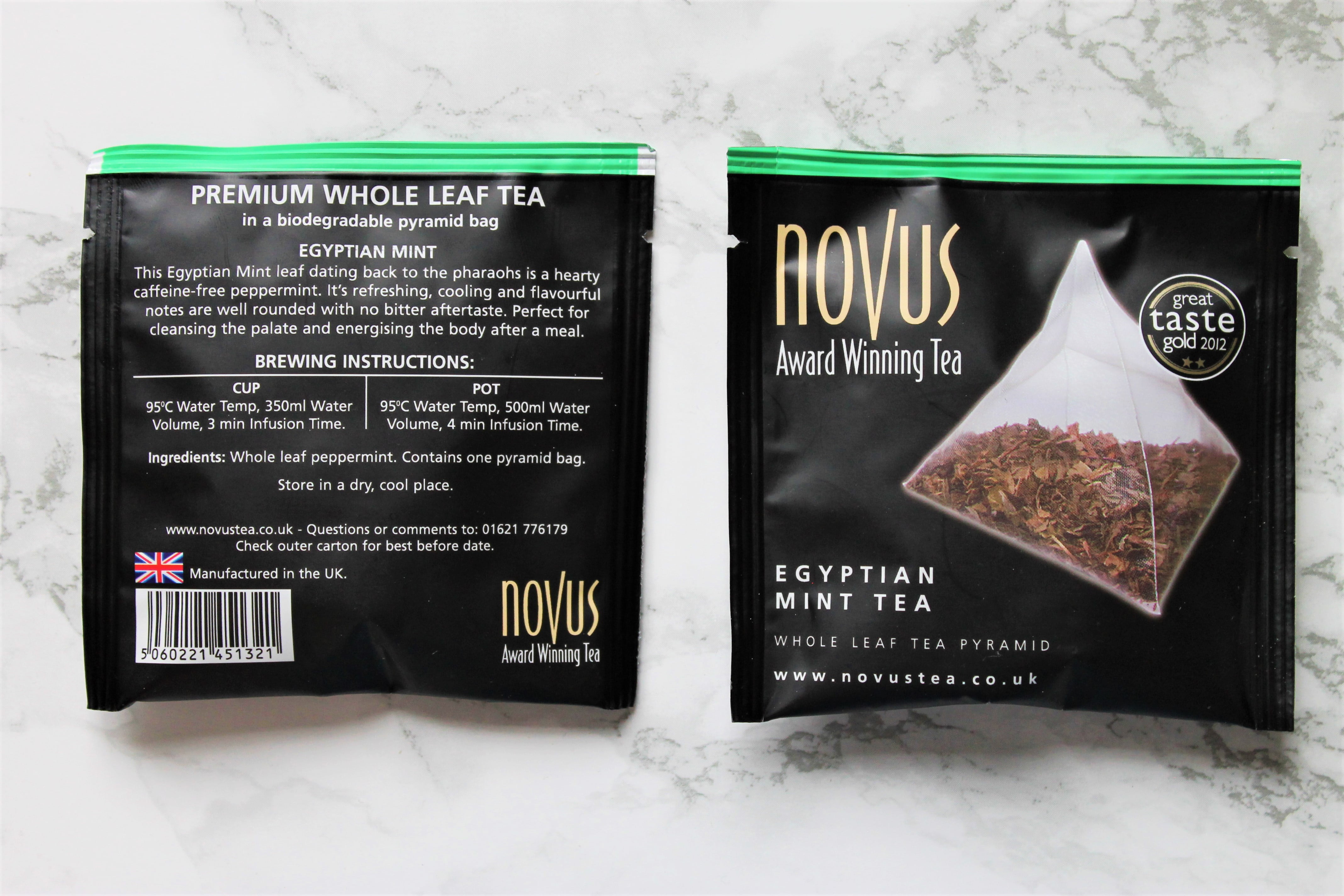 Full Review – Egyptian Mint Tea Bags
Type: Pyramid tea sachet
Ingredients: Egyptian peppermint
Health Benefits: Unclog noses, soothe headaches, appease upset stomachs
Flavour Notes: Sweet, menthol, herbal, woody
Aroma: Peppermint, After Eight Mint Chocolate Thins, sweet menthol
Milk or Lemon: Neither
Where to Buy: Amazon
The aroma this peppermint tea pyramid gave off was incredible from the moment I opened the wrapper (I'm reviewing the individually sealed version you find in hotels) and only got better. It's peppermint, but not the stale, slightly musty peppermint you usually find in teabags. It's fresh and oh so sweet. If you are a fan of After Eight chocolate mints, you'll instantly find the same minty aroma in this. It was probably psychological, but I could swear I could smell dark chocolate too!
It brews into a caramel gold colour – slightly burn with green. Very appealing.
The aroma is classic peppermint now. Less sweet, slightly more bitter and quite herbal. Still lovely.
As for flavour, it falls midrange on the minty scale. It's not subtle, but it's not searing your mouth with menthol coolness either. The first sip gives off herby and woody notes with sweet menthol rushing in after.
A few sips in, your tongue begins to tingle pleasantly and lasts into the aftertaste. All in all, a very pleasant experience from an easy to drink tea.
How to Brew Peppermint Tea
I followed the instructions, brewing at 95°C (an unusual temperature for an herbal tea) for 3 minutes. If you like a strong minty tea, aim for the 4 to 5 minute mark.
You don't need to add anything or eat anything alongside this tea. It's complete. The flavour is just right and anything else would clash with it.
It's a good evening drink, being caffeine-free, but sometimes mint can be quite invigorating so perhaps save it for the mornings instead.
Novus Tea is a UK brand with headquarters not too far from my home county. In general, I've found that the quality of their teas is very good, and that includes this Novus Egyptian Mint Tea. The leaf size in the pyramids and loose leaf pouches is large and in generous portions. Their flavours are well-balanced and the single origin/single ingredient teas are exceptional whether they're herbal or caffeinated.
Besides labelling their tea as award-winning (quite rightly so), and having plastic-free tea bags, there's not much to find out about this brand. Most of their teas are sold in wholesale to businesses, including the café I stop by and many hotel chains.
Egyptian Mint Tea Health Benefits
Mint is a good tea for general unwellness, I find. Any bug or sickness that affects your stomach and head can be soothed a little with peppermint tea. The menthol is good for headaches and clearing blocked noses, while it also calms your stomach and freshens up your palate in a way ginger tea can't.
It should be your go-to sick tea if you don't like ginger, honey, and lemon (the all-time sick tea in my home).
I highly recommend this tea to anyone. Yes, anyone. If you've been turned off by mint teas in the past, take this as a sign that you should give them a go once again. An excellent offering from Novus and one that you should never turn down when offered! Check it out on Amazon.
A more unusual tea to fight off general unwellness is elderflower. Unlike ginger and peppermint, it's most subtle and not so easy to get your hands on. For more info on how it can help you and where to buy it, check out my Bion Elderflower Tea Review.