English Tea Shop Ginger Cranberry Tea Review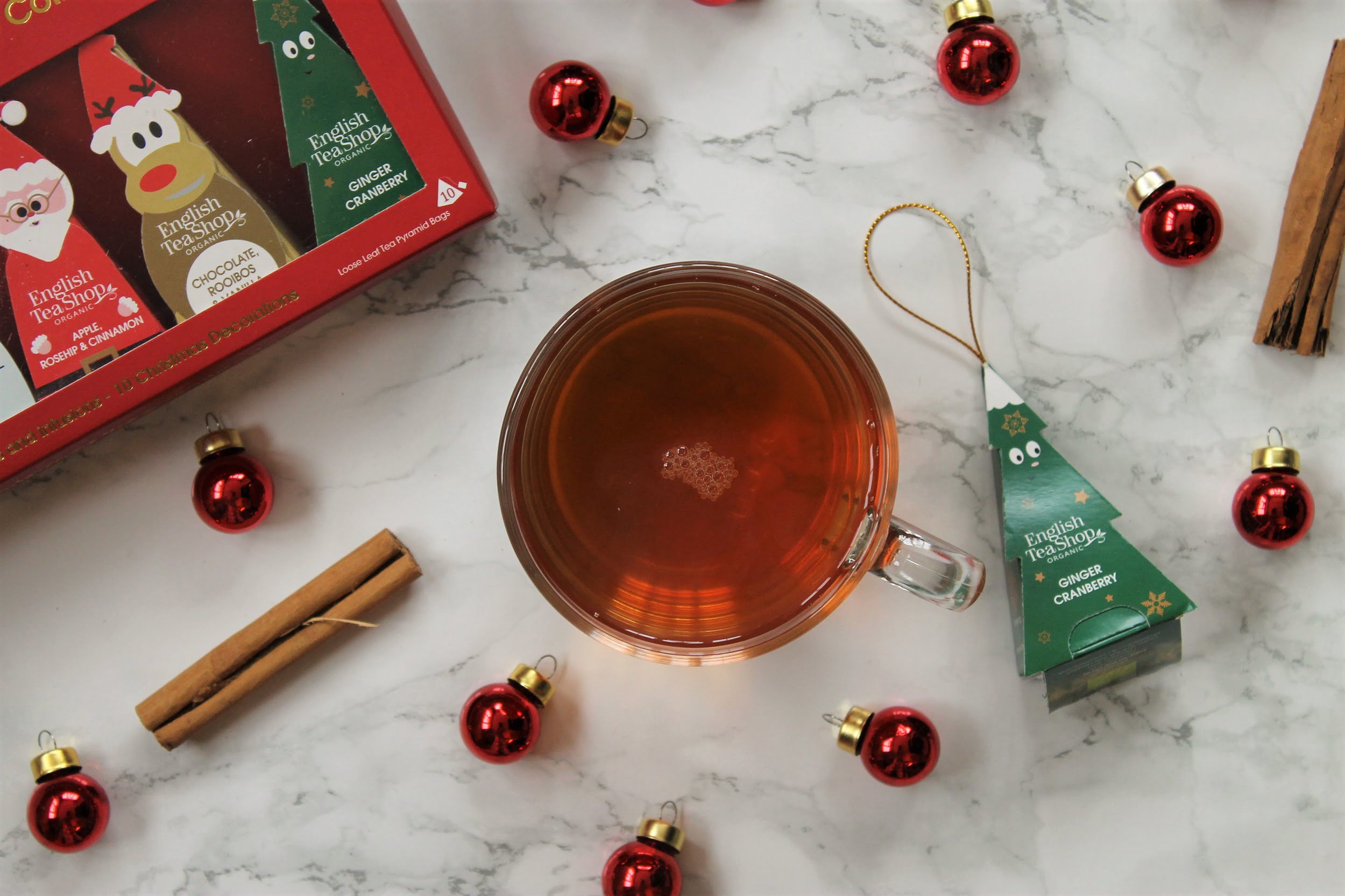 Yep, I'm digging into the festive collections and starting with English Tea Shop Ginger Cranberry tea. It's one from the Christmas Tree Collection set and it comes in a little triangle box that hangs off your Christmas tree.
I've had some mixed results from English Tea Shop in the past. In general, their pyramid tea sachets are pretty good, while their teabags are a let down.
So, let's dig in! This review covers my tasting notes, how best to brew the tea, a little info about the brand, and a link for you to buy this tea to try at home.
English Tea Shop Ginger Cranberry Tea at a Glance
Blend: Black tea with ginger, cinnamon and cranberry
Flavour: Smooth black tea with Christmas fruits and light spices
The ginger is quite light, but the cranberry and black tea notes are utterly delicious. The fruity notes of cranberry, satsumas and figs are the real stand-out aspect of this English Tea Shop blend.
Full Review – ETS Ginger Cranberry Black Tea
Type: Tagged pyramid tea sachet
Tea: Ceylon black tea
Additives: Cinnamon, ginger, cloves, cranberry, natural flavouring
Flavour Notes: Smooth black tea, Christmas fruits, figs, satsumas, cranberries, cinnamon, warmth
Aroma: Sweet berries, ginger, jam, cinnamon, cloves
Milk or Lemon: Neither
Where to Buy: Amazon UK
Opening the little card box, this tea is immediately fragrant and is just so Christmassy. From the pyramid tea sachet, notes of sweet berries, ginger and cinnamon reach your nose. There's also a jammy type sensation to it, thanks to the fruits and sweetness.
It brews into a slightly cloudy warm-amber coloured tea. The black tea tannins pop up a little more in the aroma once brewed, along with cinnamon, cloves and more sweetness.
The flavour is surprisingly light on the ginger notes. Usually with a ginger tea, you get a tingling warmth that rolls over your tongue and a slightly fibrous texture. But that's not at all the case with this tea. The main flavour is smooth black tea with Christmas fruits – figs, satsumas and cranberries – plus a slight hint of cinnamon spices.
I love sipping this tea on a cold December evening. It's beautifully festive and so tasty!
How to Brew ETS Ginger Cranberry Tea
This is a black tea blend with flavouring, so you can use boiling water straight from the kettle to brew this. Use a single 2g tea sachet per mug or cup, pour over the water, and let it brew for 4 to 5 minutes.
I brew mine for 4 minutes because I like my tea quite gentle in flavour. You can brew it for up to 6 or 7 minutes if you like your tea very strong.
It doesn't need any milk or sugar, but you can certainly snack on some biscotti as you drink English Tea Shop Ginger Cranberry tea.
When it comes to Christmas time, English Tea Shop and Whittard of Chelsea do festive teas best of all. I really love the flavours they select – some blends like this one pick very classic Christmas tastes, while others are a little more unique. This mix and match, like you'll find in the Christmas Tree Collection, prevents things from getting boring.
ETS Ginger Cranberry tea is made from large leaf pieces and whole ingredients – all are organic and ETS has the Soil Association Organic seal on their boxes. I also really like that the flavouring used is natural.
Overall, this is a really decent tea both in flavour and quality.
This is a really pleasant, smooth and easy-to-brew tea that I love. I highly recommend it for anyone that enjoys a fruity tea at Christmas. I found my box in a TK Maxx store but sometimes you can find the Christmas Tree Collection on Amazon too. Use the button below to check Amazon UK and see if it's available.
If you're looking for more Christmas-themed teas, then you can use the "Christmas" tag below to search all my articles for the season. Don't forget, you can also use my Tea Review Index to find all of the teas I have reviewed over the years here at Immortal Wordsmith.