Eloments Egyptian Mint Tea Review
The second box of vitamin teas in the generous sample set that Eloments sent me! Eloments Egyptian Mint Tea is an inviting blend of peppermint and spearmint. That combination of sweet menthol from the peppermint and gentle warmth from the spearmint is always a winner.
It's also super good for your digestive system and just generally relaxing. A cup of this tea could do the trick when you're feeling stressed or have a headache.
All Eloments teas contain vitamin B1, B2, B3, B5, B6, B7, B9, C and zinc to give your day a boost.
Egyptian Mint Tea at a Glance
Blend: Peppermint and spearmint with herbal extracts
Flavour: Strong herbal tea with minty high notes and menthol
A warming herbal tisane with light minty high notes and menthol to clear your palate and aid digestion. The flavour, although minty, is very herbal and quite intense – not everyone's cup of tea!
Full Review - Eloments Mint Tea
Type: Tagged paper filter tea bags (unbleached)
Ingredients: Egyptian peppermint, Egyptian spearmint, lemon extract, holy basil extract, guava extract, amla extract, sesbania extract, annatto extract
Health Benefits: Aid digestion, soothe headaches
Flavour Notes: Strong herbal flavour, minty high notes, lingering menthol
Aroma: Dried mint, menthol, warm musty dried herbs and seeds
Milk or Lemon: Lemon
Where to Buy: Amazon or Eloments Official Website
Opening the packet, something about the tea dust and herbs always makes me sneeze! The aroma is quite musty and herbal with unmistakable menthol minty-ness tingling my nose. That herbal base reminds me of cumin seeds or coriander seeds.
Brewed hot and the mint starts to come out. The menthol intensifies and the herbs become warmer and softer as they fade into the background of the aroma.
I take a sip and I can't deny that I was a little disappointed. The main flavour, body and soul of this tea are herbal. It's not dissimilar to a Pukka herbal blend like their Night Time tea or Feel New tea. The mint is a nice addition… but it feels like just that. An addition.
I think the problem here is that mint, the main flavour, has very little body. Both spearmint and peppermint are light and sweet. They don't mask the pungent herbal notes you get from the extracts Eloments use to lock in those vitamins. Instead, they sit on top of the herbs and add another dimension.
It's pleasant to drink but it's not as minty as I'd have liked.
How to Brew Eloments Egyptian Mint Tea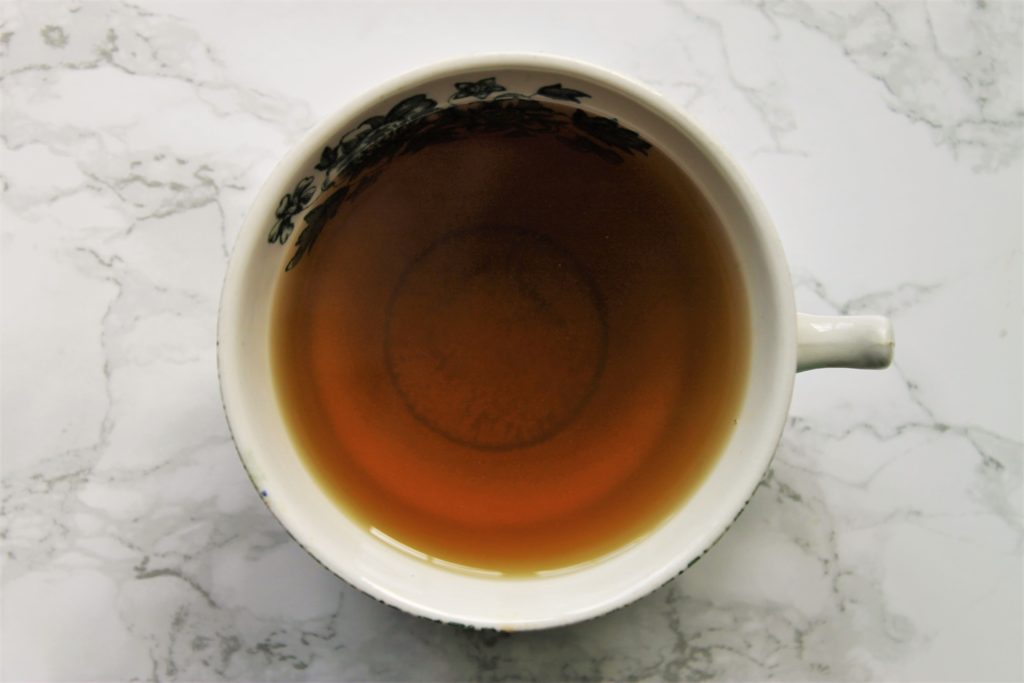 There's no tea in this herbal tisane so don't hesitate to pour over boiling water as recommended. I let it brew for 2 minutes, as at that point it was much darker than I normally brew to, albeit clear with green-brown notes.
Eloments recommend brewing for a minimum of 3 minutes to release the vitamins completely. That will intensify the mint, but it still won't be strong enough to dominate the cup. Cold brewing could do a lot for the flavour, however, it just won't draw out the vitamins from the extracts which defeats the point of Eloments vitamin tea!
You could drink this with food, no problem. Sweet or savoury would go well. It's caffeine-free too, so you can have this late at night if you've not managed to eat much during the day.
I am tempted to experiment with this tea by brewing it with green tea leaves. I feel like that would create a smoother body that hovers between the deep herbal notes and light mint notes, creating a bridge. It certainly needs something to unify the flavours.
A squeeze of lemon juice would be great in this.
Why Eloments Vitamin Tea?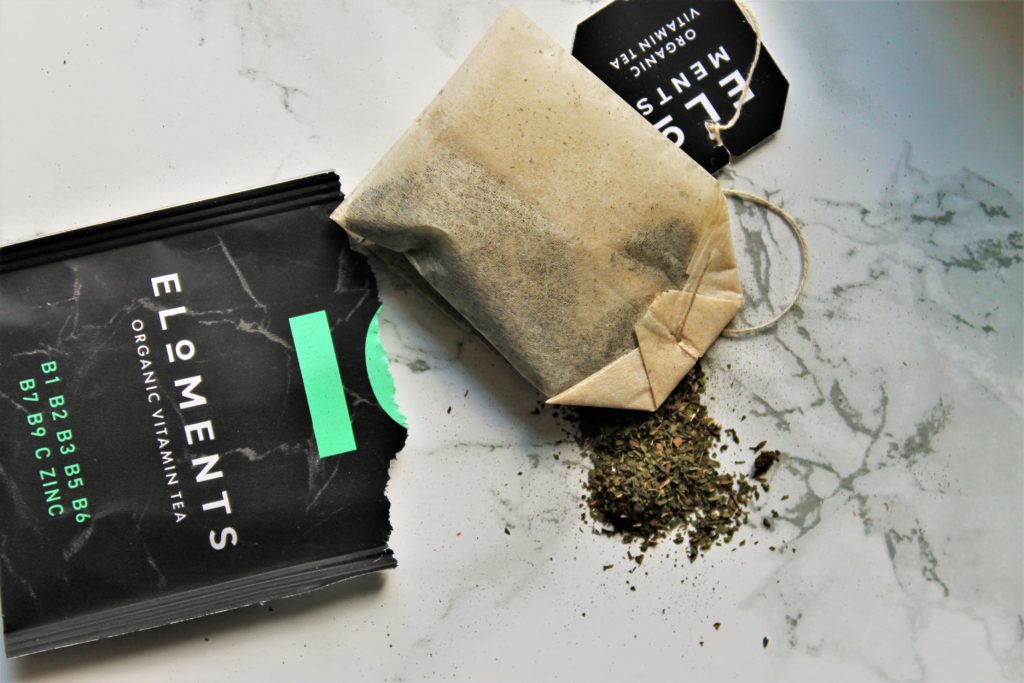 In my last Eloments tea review (the highly regarded Bourbon Vanilla blend that went down much better) I covered what I thought about the idea of adding vitamins to tea. For this blend, with those dominant herbal notes, it makes sense to investigate the extracts Eloments use.
Lemon extract – high in vitamin C and has traces of B6.
Holy basil extract – also called tulsi and a traditional tea in South East Asia. Good source of vitamins A and C, plus calcium and zinc.
Guava extract – a tropical fruit with exceedingly high levels of vitamin C, plus A.
Amla extract – also known as Indian gooseberry. Good source of vitamin C and iron, plus the B vitamin complex.
Sesbania extract – a genus of plants. Eloments could use any of the Sesbania plants to contribute to the overall vitamins.
Annatto extract – an orange-red pigment from the seeds of South America's achiote tree. A great source of antioxidants and vitamin A.
These come together to provide the 9 vitamins and minerals in Eloments tea.
As for the tea quality, it's good! I love that the tea bags are unbleached, although they do allow an obscene amount of tea dust to pass through into your cup. Nonetheless, all ingredients are natural and Eloments are certified by the Soil Association. They're a good, reliable company to buy from.
Summary
Overall, this is a nice herbal tea with minty notes. If you were drinking these Eloments teas daily (for your vitamin intake or otherwise) I'm confident that over time you'd taste the herbs less as your palate adjusts.
I recommend this tea, especially for the price, but I must admit I prefer the Eloments tea blends that have more body to mask the herb extracts. Check it out on Amazon and give it a go to see for yourself.
About Me
I'm a passionate tea reviewer on an adventure to review as many teas as possible. From supermarket tea bags to premium loose leaf, I'll review anything I can get my hands on for the blog. If you liked the idea of Eloments Egyptian Mint tea, you might also like reading my Twinings Pure Fennel Tea Review which has smoother, sweeter herbal notes.