Adagio Spiced Apple Chai Review
There's this magical Christmas tree farm hidden somewhere in the back roads around where I live. Once a year, I visit this Christmas tree farm and while selecting the best tree to squeeze into the dining room corner, I sip on the best hot spiced apple juice I've ever had.
This tea took me back to that annual moment. Adagio Spiced Apple Chai is so comforting and apple-y. It reminds me of Christmas but it's perfect for autumn too – at this very moment, the apple trees outside are lacing the air with the sweet aroma of over-ripe apples as the last ones drop to the floor.
So, brew up a cuppa and settle down in your favourite fluffy socks (an autumn essential) to enjoy this apple tea review!
Spiced Apple Chai at a Glance
Blend: Black tea with apple and traditional chai spices
Flavour: Smooth black tea dominated by mellow apple pie and brown sugar notes
There's a buttery note to the aroma and flavour of this tea that just transforms it into hot apple pie. The real kind, not the mouth-burning abomination that is the McDonalds apple pie. If you're looking for an authentic tasting apple spiced tea, you've found it.
Full Review – Adagio Apple Chai
Type: Loose leaf
Tea: Black tea
Additives: Cinnamon, ginger, cardamom, orange, cloves, apple pieces, natural apple flavour, natural cinnamon flavour
Flavour Notes: Mellow, sweet apples, light brown sugar, cinnamon
Aroma: Spiced apple pie, buttery pastry, cinnamon, cloves, brown sugar
Milk or Lemon: Neither
Where to Buy: Adagio Spiced Apple Chai
Opening the packet (Adagio were kind enough to send me a generous sample in a resealable packet) the sweetness of the apples hits you first. The aroma is most definitely spiced apple pie. Buttery and sweet from the pastry, tart and juicy from the filling. Cinnamon and cloves jump out as the dominant spices.
I brewed it excitedly. You'll love the syrupy texture of this! Also, if you have a glass teapot I highly recommend using it. The tea is auburn red-orange, which just glows when the light hits it. It's quite magnificent!
The dry aroma reminds me of roasted apple stuffed with brown sugar, butter, almonds, sultanas and spices.
Then we get to the flavour. Adagio Spiced Apple Chai is one of those teas where the aroma is so spectacular that the flavour has trouble keeping up. It's quite mellow with sweet apples being the dominant flavour (the black tea drifts into the background), and hints of brown sugar and cinnamon floating around too. It's nowhere near as bold as the aroma, yet it's still very sweet and pleasant. I felt soothed once I'd finished the cup.
How to Brew Hot Apple Chai Tea
Brewing instructions are blissfully simple. 2 generous teaspoons per cup (I found 3 to be perfect for a full ingenuiTEA), 100°C water, steep for 5 minutes. I could have brewed for longer to let the apple juices flow more.
It would taste odd with milk and unless you have a spectacularly sweet tooth, you don't need to add any sugar or honey. As for when to drink this, I'd recommend late mornings/early afternoon. I did notice that the caffeine buzz was with me for the rest of the day after drinking this.
This would be a nice tea to serve to guests. Hot in chunky mugs with a stick of cinnamon to garnish. You could even try whipped cream and chocolate sprinkles to make it extra decadent. If you try anything special with this tea I'd love to hear about it in the comments.
Adagio Teas are very skilled at creating seasonal tea blends. Along with Whittard and Bird & Blend, I always check them out for new teas to get me in the mood for whichever season is coming up. I'm currently working my way through their best autumn-themed blends (including a serious number of chai blends) and I've got my eye on the Halloween themes teas too.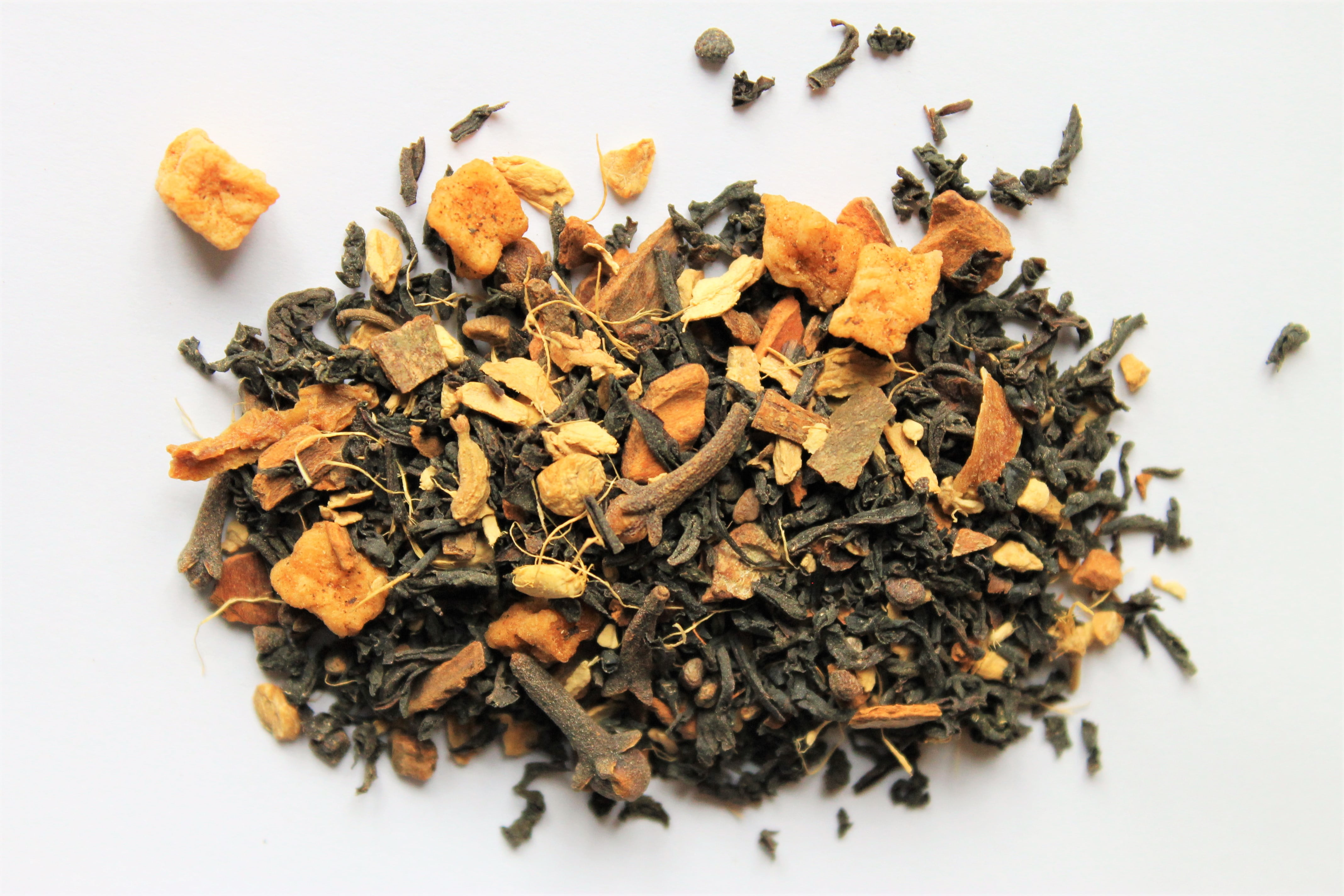 The tea is filled with whole spices, cinnamon flakes, and real apple chunks. A feast for the eyes as well as the nose and mouth!
Quality, packaging, and delivery is all exceptional. There are only a couple of things to know – they do use some flavourings in their teas. This one contains natural apple and natural cinnamon flavouring. They also offer free UK delivery over £30 which can be a huge temptation and result in wonderfully diverse orders when you only meant to try a sample of two.
Consider yourself warned.
I highly recommend this tea. It leaves you with a comforted, soothed feeling. The flavour is quite mellow and the black tea could be stronger – those are my only qualms. I recommend you buy a generous sample, brew it long and hot, then sip with friends and family.
This tea is high caffeine… but it's not that high. Especially when you compare it to Zest Spicy Masala Chai! It contains more caffeine than a cup of coffee and has that mellow spiced flavour with a hint of apple sweetness. Check out my Zest Spicy Masala Chai Review for more info.