Zest Tea Earl Grey Review
Earl Grey is such a classic and in contrast Zest Tea is all about modern Zest energy teas. I just had to give this Zest Tea Earl Grey a review to see if the 2 worlds clashed or combined well.
Zest Tea is brand new in the tea world when you compare them to the likes of Whittard and Twinings, yet they're already making huge ripples. They won the Best New Product Award at the World Tea Expo in 2015, which is pretty impressive. I discovered recently that I could find their tea on Amazon UK and avoid the hefty international shipping fee on their own website.
Zest Tea Earl Grey Blend at a Glance
Blend: Flowering orange pekoe black tea with bergamot flavours
Flavour: Bitter bergamot with a rich, warm breakfast-like tea base
This is a good Earl Grey that stays true to the classic flavours while giving you that caffeine energy boost. It's worth trying, but I wouldn't recommend drinking it regularly if you're sensitive to caffeine.
Full Review - Zest Tea Earl Grey
Type: Pyramid mesh sachet
Tea: Flowery orange pekoe black tea
Additives: Tea Extract, bergamot flavour
Flavour Notes: Bergamot, bitter, warm breakfast tea notes
Aroma: Orange zest, rich black tea
Milk or Lemon: Either
Where to Buy: Zest Tea website, Amazon
Opening the packet I was taken aback by the aroma. It has that orange aroma you get when you crush satsuma or orange peel – zesty, bitter and incredibly fresh. Quite how they've managed to capture an aroma that usually only lasts a few seconds I do not know, but it's amazing!
The wet aroma loses that orange freshness and is more recognisable as bergamot, but richer than I'm used to. Taking a sip, I get that astringent bitterness you get from the added tea extract, but it actually blends well. With the citrus bergamot flavour, a bitterness seems to fit with the fruit. The orange pekoe black leaf adds a warm body that reminds me of an English breakfast blend.
Many modern Earl Grey blends, particularly Teapigs, seem to be heading towards light teas like Darjeeling. So, it's a nice change to find an Earl Grey with noticeable body and strength from the tea. Without it I feel that the bergamot would be overpowering.
How to Brew Earl Grey
I discovered, by accident, that brewing Zest Teas at a slightly lower temperature and for a short time reduces the bitterness a bit. So, I brewed for 2 minutes and 5 seconds (rather than the recommended 4-5 minutes) at 90°C instead of boiling water. If you don't have the patience to stand there with a thermometer, just wait a minute or so after the kettle has boiled.
To really test the flavour, I drank without milk. If you like milk in your Earl Grey, you'll want to brew it for at least 3 minutes so the flavours will pull through better.
The colour is a warm orange with a hint of grey. The bergamot flavour left a little film on the top of my tea as it cooled, but that doesn't bother me. Overall, a very appealing tea to drink.
I would recommend having it in the morning, but after food. If you're not used to the high caffeine content it can go to your head and make you feel a little strange at first. Drinking Zest Tea Earl Grey with a slice of toast helps.
Why Zest Energy Tea?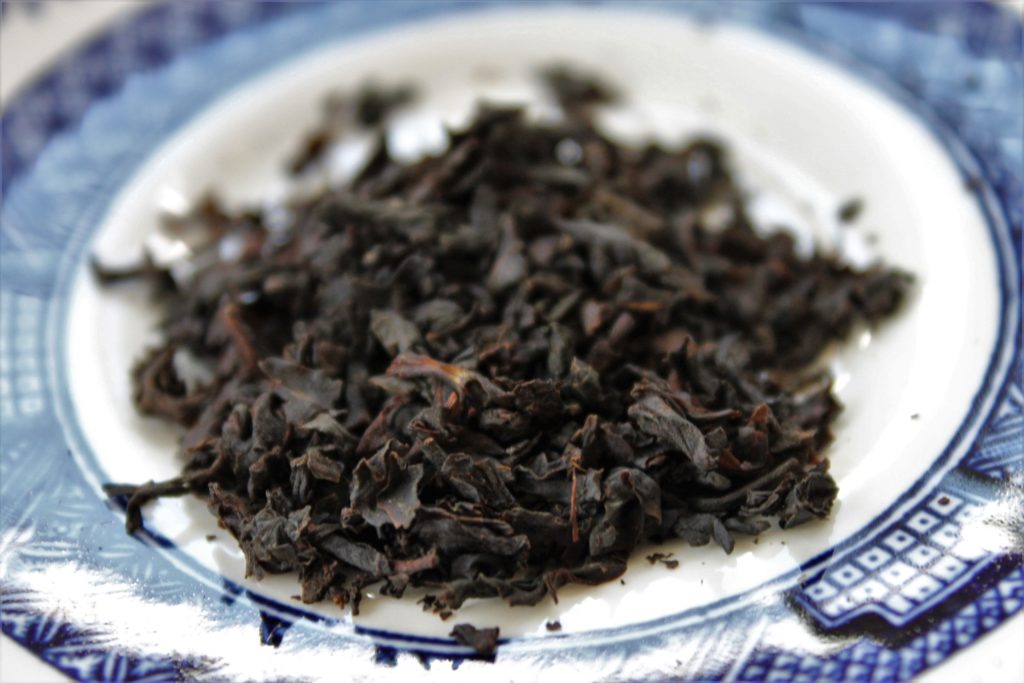 As you can see from my pictures, this tea is a decent size and quality leaf… but sometimes I'm a little unsure of it. After a decade of drinking Twinings Earl Grey (read the review) to relax, the idea of drinking an Earl Grey to boost my energy and go to work is hard to get my head around.
Nonetheless, it's an enjoyable tea to drink and you really do feel those 155mg of caffeine making you alert and focused. Zest Tea add L-Theanine to keep you calm and focused on the task at hand, without a huge crash at the end of the day.
I buy my Zest Tea Earl Grey from Amazon in the UK, but if you're lucky enough to be living in America you can find Zest Tea in stores across most states (particularly on the East coast).
Summary
I save this tea for those times when I have a mountain of work to get through and very little motivation. It always gives me the energy to power through… however, it's not an everyday drink for me. I'm just too sensitive to caffeine and generally drink tea to calm down rather than get an energy boost.
If you're an energy drink drinker (say that 10x fast), I highly recommend trying Zest Tea Earl Grey. Their teas contain almost as much caffeine as a can of Monster or other energy drink, yet when you look at the price per cup it's much MUCH cheaper and doesn't contain any added sugars.
The pyramid tea sachets are tagged and offer just enough space for the leaves to expand. The leaves are not too small, so you could use them in a tea infuser instead if you desired.
I've been drinking Earl Grey for at least a decade. So, I thought it was about time I put my tea addiction to good use! Here at Immortal Wordsmith you can find tea reviews for all kinds of blends from popular and quirky tea brands.
Earl Grey is Just One Classic You Should Try
I consider Earl Grey one of those classic British tea blends, along with English Breakfast and Afternoon Tea. I wrote a short guide to tea for beginners, to help you explore those classic teas and venture out into the world of tea, tisanes and infusions. Make sure you follow Immortal Wordsmith on Instagram to find out when the book launches!