What-Cha China Yunnan Golden Tippy Black Tea Review
This tea was a pleasant surprise! A sample tea added to my What-Cha Assam order. I had no idea what to expect and only the words 'China Yunnan Golden Tippy Black Tea' to give me a hint of what was in store.
I only had enough leaf for one shot at making this tea, so I opted to brew it Western style as that's what I'm most comfortable with at this point. I ended up brewing the leaves 3 times to get a full flavour profile, so if you're considering buying this you can really get your money's worth, even when you brew Western rather than gongfu.
Yunnan Black Tea at a Glance
Tea: China Yunnan Golden Tippy Black Tea, harvested spring, March 2018
Flavour: Slightly savoury black tea with a whirlwind of flavours including eucalyptus and steamed vegetables
An intriguing, adventurous black tea choice. With each steep, the leaves released new flavours (see below for a full list of those I detected) and the overall sensation left me feeling mellow, relaxed and contemplative of life and, more importantly, tea.
Full Review - What-Cha Yunnan Golden Tippy
Type: Loose leaf
Tea: Chinese golden tippy black tea
Origin: Simao District, Pu'er Prefecture, Yunnan Province, China
Flavour Notes (in order of detection): Malt, bitterness, salt, honeyed sweetness, nuttiness, wood, cream, eucalyptus, camphor, green beans, steamed vegetables, minerals, leather
Aroma: Smooth pear, light savoury/salted green vegetables
Milk or Lemon: Neither
Where to Buy: What-Cha Official Website
The first thing I noticed was that this tea doesn't have that classic black tea aroma. It doesn't smell rich and bold. In fact, the leaves even have a slight tinge of green to them. The aroma is smooth with notes of pear and this light savoury aroma. It reminds me of the "seaweed" which I believe is just salted cabbage or kale, you get with the Chinese takeaway. It's unusual but not unpleasant.
Brewed up, the aroma is saltier and subtler with a slight tannin note. It's not rich but it is making my mouth water, so that's a good sign. As it cools, I notice the aroma sweetens a little by itself.
The flavour is light, it takes a couple of sips and swirling air through the tea with my tongue before I can start to detect individual flavour notes. There's a little bitterness. I think I just caught the first brew at 3 mins 20 secs. If I brewed it again I'd stop at 3 mins exactly.
First Steep Flavours
Slightly savoury and salty with notes of wood, nuts and cream. It's also slightly malty. The aftertaste is long and has a natural sweetness that emerges about 15 seconds after you swallow your mouthful.
Second Steep Flavours
Still savoury but much less salty and more palatable. The maltiness has completely vanished and allowed more delicate notes to pull through. There are some mineral flavours emerging with tough leather, more pronounced eucalyptus, camphor and steamed green vegetables – including green beans.
The body feels like a light black tea (about the same heaviness as a good Darjeeling, I estimate) but the flavour notes are screaming green tea at me. This second steep was far easier and more pleasurable to drink.
Third Steep Flavours
The larger leaves were still curled up, so I went in for a third steep to see if they had anything left to offer. The flavours this time were incredibly subtle. I still picked up on the black tea body and steamed green vegetables, but any hint of savoury/saltiness was completely gone. Instead, it was verging on sweet and very pleasant.
How to Brew Golden Tippy Black Tea
The long, wiry black leaves were too large to fit in my tea infuser and I couldn't bear to break them up, so I used them in my teapot even though I was only brewing a cup at a time. I used 2g of tea for a half cup, as the recommended instructions were 2 teaspoons (4g) for a full cup.
Freshly boiled water, it would have been around 98°C when it hit the leaves.
First steep, I brewed for 3 minutes and 20 seconds. Pale brown colour with a tinge of green at the sides.
Second steep, I brewed for 6 minutes. Warmer red colour with brown tinges.
Third steep, I brewed for 12 minutes. Pale brown with tinge of green again – but much lighter than the first steep.
I'm not sure what I would drink this tea with. My default is biscuits, but it felt too savoury. Maybe bread and butter would play up the creaminess. Or crackers with olives, cheese and pate. A savoury platter. I'm getting hungry thinking about it.
You could go the complete opposite way. A lemon meringue or some combination of tart citrus and sticky sweetness would really lift this black tea and cut through the saltiness. If you experiment and find a food combo that works, please let me know in the comments below.
Why Buy Loose Leaf from What-Cha?
In my haste to try this small sample, I forgot to photograph the China Yunnan Golden Tippy Black Tea dry leaf, so I've pinched the photo from What-Cha's website. I can confirm that the picture is accurate, and the leaf looks identical to what I received. Quality is exceptional – I didn't notice any dust from the tea leaves so I suppose you could forgo a rinse easily.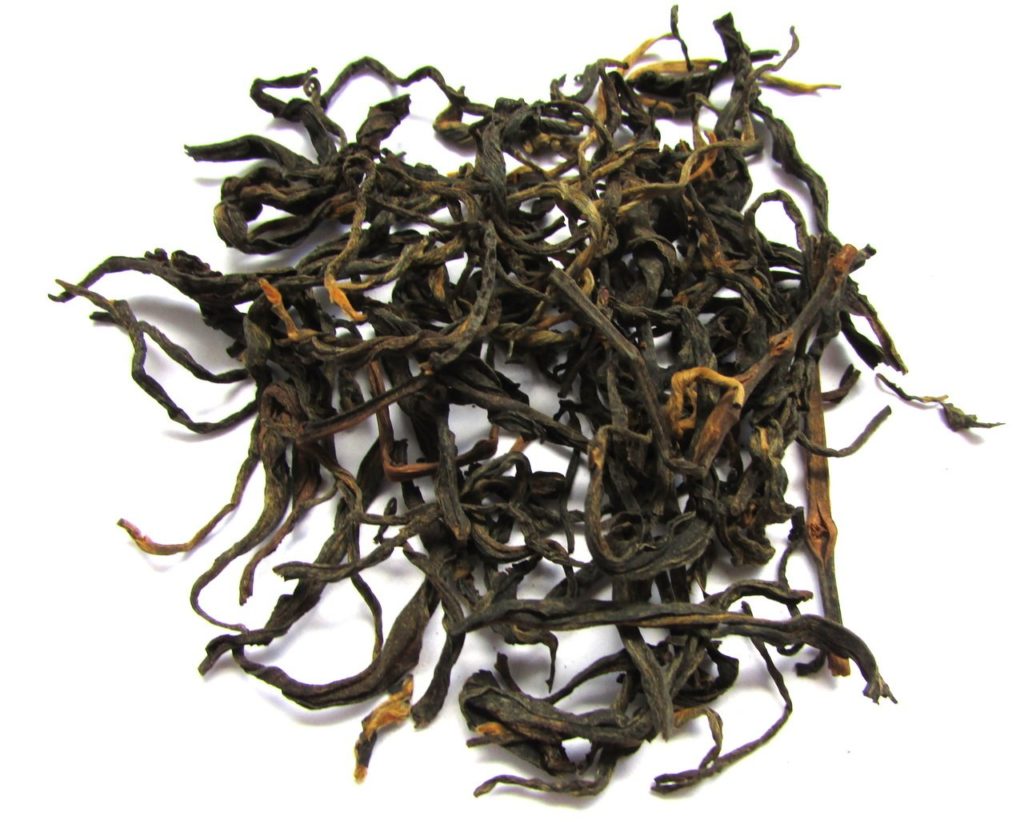 It's sourced from a specialist Yunnan tea wholesaler and arrives in a resealable packet that keeps the tea very fresh – unless you happen to get this tea as a sample, like me. Either way, it arrives in perfect condition.
I highly recommend buying tea from What-Cha, I've had a great experience there.
Summary
I would never have selected this tea myself, but I am actually very glad that I received it as a surprise sample. Reading my tasting notes, the flavours I've detected seem odd but as a tea it's balanced and when you're drinking it, the flavours don't feel strange.
Not all tea is sweet – this is a great, tasty example of a more savoury black tea. Also, it's one of the most affordable teas there is on What-Cha, so you really don't have anything to lose by trying just a small sample.
About Me
As you might have noticed, I'm not a pro at this. I just really like sharing my tea experiences with you! If unusual teas or light Chinese teas are your thing, you might also like my tea reviews of:
Sunflower Jasmine Green Tea (a sweeter but still light Chinese tea)
Ayurveda Pura Orange and Fennel Bliss (another unusual flavour combination without the caffeine)