What-Cha India Assam Kanoka Hand-Made Black Tea Review
Another Assam tea from What-Cha! This one is described as gentle and smooth with pear notes and less malt than you may be used to.
It's sourced directly from the Nath family who grow and harvest the tea in the Sonitpur district, Assam, India. I was also impressed that this is organic Assam tea, Certified by OneCert Asia, as that's something I always look out for.
This is tea that supports and gives credit to the farmers AND is organic. This is why I love buying from What-Cha – the tea is premium in every way.
Hand-Made Assam Tea at a Glance
Tea: Assamica, Tippy Golden Flowery Orange Pekoe (TGFOP), June 2018
Flavour: Light, fruity and floral Assam with gentle maltiness and notes of pear
This was a very delicate tea compared to most Assams. It has a gentle maltiness and delicate fruit and floral notes that play well together. It only lasts 2-3 steeps, Western style.
Full Review - Malty Assam Kanoka from What-Cha
Type: Whole loose leaf
Tea: TGFOP Assam black tea
Origin: Kanoka Tea Estate, Panchnoi Prajapathar, Sonitpur District, Assam, India
Flavour Notes: Light, smooth, malt, pears, honey, floral honeysuckle, peaches, sticky apricots, sultanas and fruitcake
Aroma: Malt and honey with sweet pears and fruity notes
Milk or Lemon: Neither
Where to Buy: What-Cha
Opening the packet, there's a very sweet aroma emerging from the loose leaf tea. It's sweet in a floral way, with notes of sweet, juicy pears. There's the usual malt and honey that's to be expected too – a very lovely aroma. Already you can tell it's more delicate than the typical heavy-bodied Assams.
The colour of the liquor for each steep was the same – a light, golden syrup colour. A mix of gold and amber. There's quite a bit of oily film on top of the tea in the first steep, but it didn't seem to affect the texture or flavour of the tea. It's smooth, drying and has a light mouthfeel.
Organic Assam Flavour
As for the flavour, I loved this tea. It has the caffeine strength and malty warmth of an Assam but with delicate notes and flavours to stop it becoming overpowering. I managed 3 steeps:
Slightly bitter at the back of your tongue. Maltiness, smooth and light flavours of pear and honey. Hint of floral honeysuckle.
Less malt and no bitterness. Sweeter honey flavour with light pear notes.
Even sweeter! I brewed for a longer time (timings below) and ended up with a rich Assam with a very floral aroma. The flavour reminded me of Easter fruitcake loaves drizzled in honey. Bready and fruity notes of sticky dried peaches, apricots and sultanas.
The flavour did not disappoint. The second and third steeps are more pleasant on your palate, as the bitterness evaporated after the first go.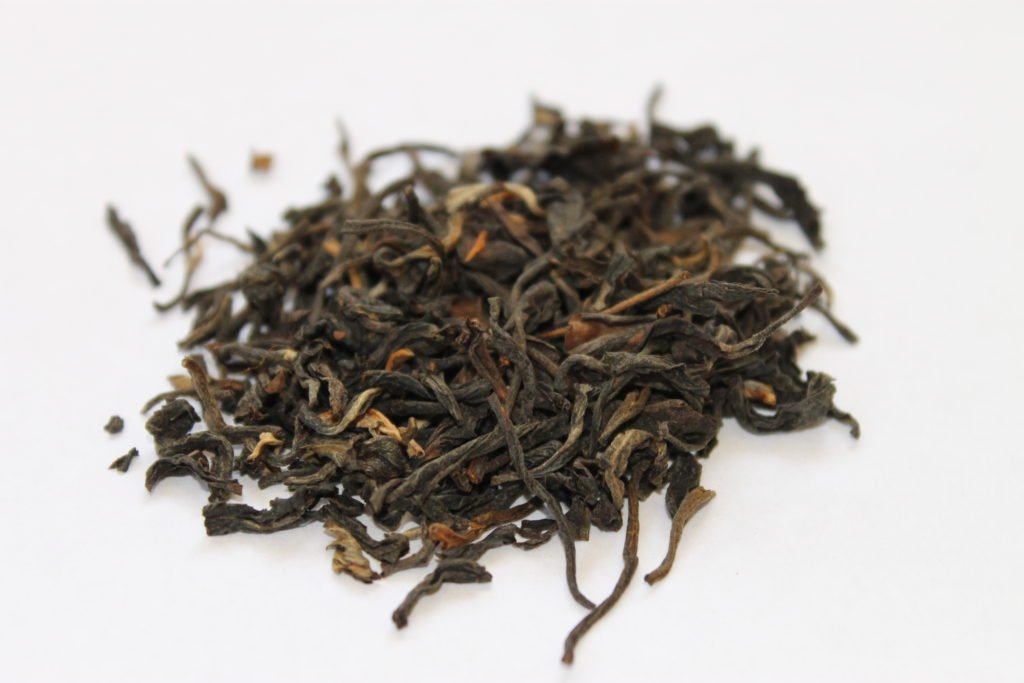 How to Brew Loose Leaf Assam
Following the temperature instructions on the front of the sample packet, brew 2 teaspoons of this tea at 95°C each time.
3 minutes 30 seconds.
7 minutes.
20 minutes.
I did attempt a 4th steep, but I was feeling tea-tired at that point so only managed a few sips. I left it on the side and got distracted – so perhaps it had 30 to 40 minutes to steep. A hint of honey was all I could detect.
You will definitely enjoy drinking this tea with something sweet. Although it's sweet enough to be a dessert tea all by itself, it has a slight drying quality and bitterness in the first steep that can be quite refreshing if you're eating something sticky and cloying.
This tea fruitcake recipe that I've had my eye on for a while now uses Earl Grey but I think this light Assam tea would work even better. If you try it, please share your experience in the comments below!
Why What-Cha?
If, like me, you really love supporting UK businesses, you'll love What-Cha. They have a wide range of teas from all over the world (I have a sample from Argentina that I'm super excited about!) and there's always information about who grew it and where.
Quality is exceptional – my pictures and tasting notes should prove that! There are also different sizes you can buy. I'm sticking with the 25g sample sizes for the moment, so I can try a little of everything. But it is good to know that when you fall in love with one of their Assams, you can buy as much as 250g in one go.
I have no hesitation in recommending What-Cha to anyone. They ship worldwide with free UK shipping on orders over £25.
Summary
I've reviewed the June 2018 harvest, so it's already 12 months old and the flavour is still delicious.
You'll love this Assam if the usual strong maltiness of Assam puts you off. It's light, refreshing and sweet with floral and fruity notes you can't say no to.
About Me
Assam tea is one of my favourites, especially when the weather is miserable (which feels like every other day this summer). You can browse other Assam teas that I've reviewed using the tags below, or just use my Tea Review Index to quickly find a specific tea that you're looking for.
If you enjoyed reading this or found it helpful, please consider donating! There's no lower limit and every penny or cent helps us keep the blog running.