Twinings Pure Green Tea Review
Twinings were always a staple in the tea cupboard at my family home. We always entrusted them with our daily Earl Grey or English Breakfast. They do the classic quite well for what is primarily a tea bag brand. So, I thought I'd give their Pure Green Tea a go, to see if the Twinings simplicity and quality transferred from black tea to green tea.
It's a super simple green tea but my experience with loose leaf green teas in the past tells me that although simple, a plain green tea can be quite complex.
I put Twinings Pure Green Tea to the test.
Twinings Green Tea at a Glance
Full Review - Pure Green Tea Bags
Type: Tagged paper filter tea bag
Tea: Sencha green tea
Flavour Notes: Fresh green tea with notes of grass and hay
Aroma: Musty, warm and green
Milk or Lemon: Lemon for a touch more flavour
Where to Buy: Amazon or Twinings Official Website
This green tea was a little musty when I first opened it, but I don't think that was because it's past its best. When you finely chop or crush the tea leaves to go in the tea bag, they do get a bit dusty. I also know that this sencha tea has been pan-fired after it was steamed in the traditional Japanese way, which naturally gives it a warmer aroma more like hay than fresh cut grass. So, the musty aroma is natural.
The flavour was more delicate than I'd expected. Usually green tea in tea bags over-extracts very easily and ends up tasting astringent even with a short steep at a low temperature. Instead, it was very subtle with that typical green tea freshness, and with light notes of hay and grass.
It's not strong or overly memorable but it's certainly pleasant. The mouthfeel is smooth but a little musty. It's warming and comforting.
How to Brew Pure Green Tea
I brewed this tea for 1 minute and 30 seconds with water at exactly 80°C. The instructions on the green tea packet was very similar – up to 2 minutes brew time with water left to cool for a minute.
I wouldn't drink it on an empty stomach as it's a bit too fresh, but it isn't too strong either. It brewed up into a clear golden tea liquor with a hint of green. You could pair Twinings Pure Green tea well with sweet foods, as I think the sweetness would go nicely with the slight mustiness of this tea.
Why Twinings Tea Bags?
Twinings describe this blend as refreshing and earthy with a distinctive flavour. I'm not sure I'd describe it as distinctive as I thought it was quite plain, but I could agree with earthy and refreshing at a push.
"Springtime signals the first flush of our pure green tea. As dawn breaks and the dewy mist hangs in the air, the first buds and leaves are picked to lock in the fresh green flavour. Gentle sencha steaming and pan firing brings a light, toasty flavour to the tea, for a cleaner, more refreshing taste. Once given as a precious gift in China, let this gentle tasting blend be a gift from us to you."
I like that there's a little bit more of a description about this tea compared to their Assam. Sometimes Twinings can be a bit vague about their tea origins and how it's processed, which puts me off them. 
Twinings Pure Green Tea bags are full of a finely chopped, dusty leaves and stalks of Sencha. There are health benefits to drinking green tea from the amino acids and antioxidants contained in the leaves… however Twinings Pure Green Tea benefits will be at a minimum. When the leaves were chopped, the tea oils containing those healthy particles would have leaked out. That's why loose leaf green tea tends to be better for you.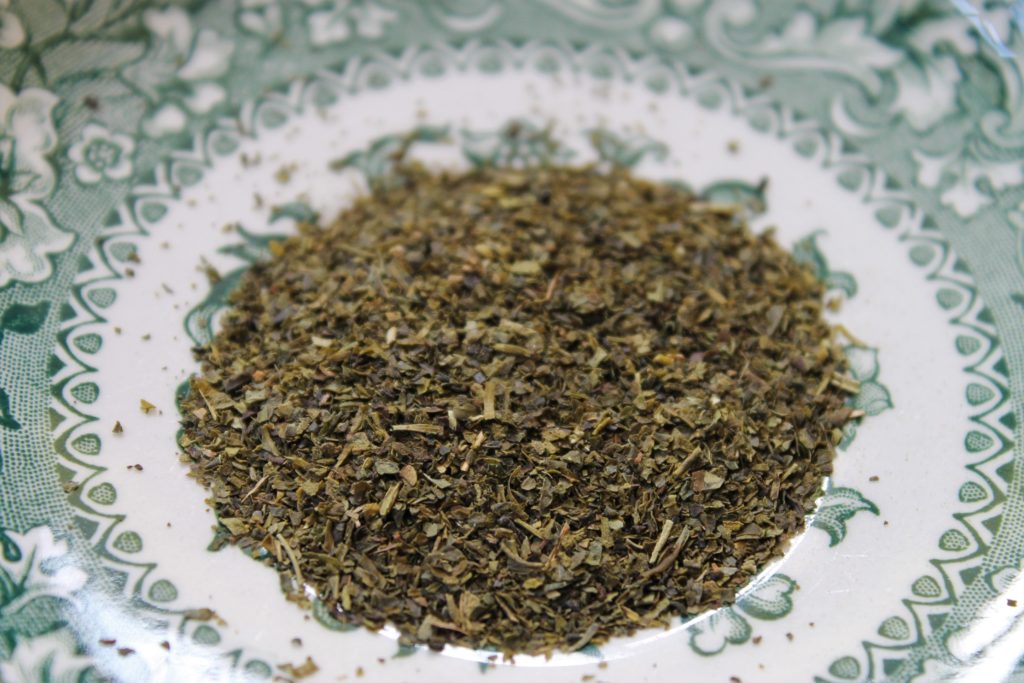 Summary
I would drink this tea again. In fact, I'm pretty sure several restaurants I eat at serve this exact green tea. It's popular and I can see why. For the price, it's pretty good and a great way to enjoy that classic green tea flavour without the bitterness that usually accompanies it in green tea bags.
About Me
I must admit, over the past year I've developed a real love for green tea. After years of drinking cup after cup of black tea with milk, it's lovely to have something refreshing! If you're looking for something similar to Twinings Pure Green Tea, I recommend:
Ahmad Tea Jasmine Romance (a good introduction to Jasmine green teas)
Whittard Mango & Bergamot (sweet and juicy flavoured green tea for summer)
Whittard Rose Bloom Flowering Tea (a natural nutty flavour and a beautiful display)