T2 Melbourne Breakfast Tea Review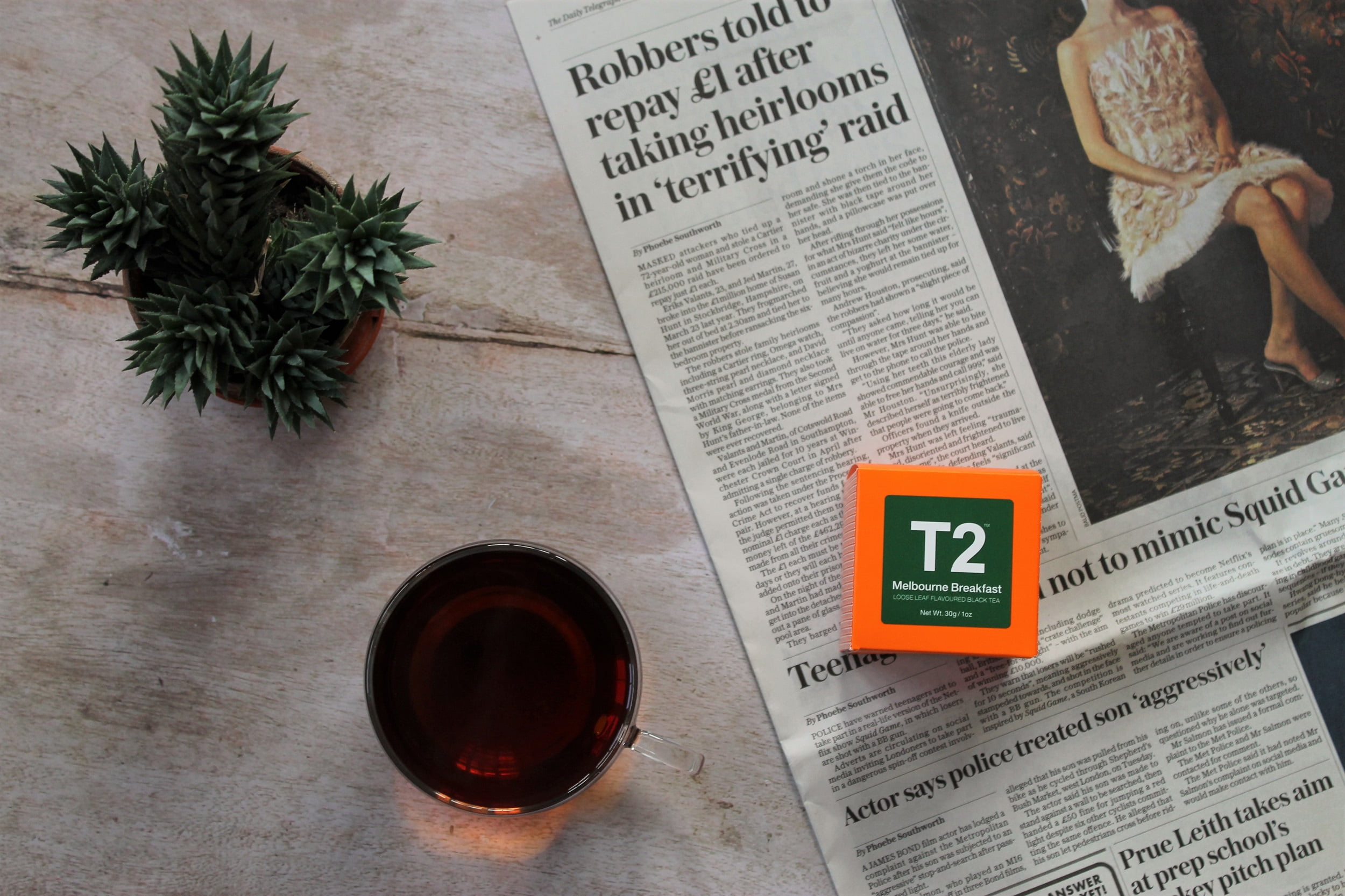 I don't know about you, but my morning routine isn't complete without a good strong cup of black tea. My tastes have changed over the years, from Twinings Everyday to more interesting and high-quality breakfast teas from smaller brands. But today, I'm looking at something a little sweeter – T2 Melbourne Breakfast.
This is a hearty breakfast tea made of black tea leaves and vanilla. It's included in T2's hall of fame box set and is one of the best-selling blends from their brand.
I purchased the loose leaf version and have been testing it out to find the perfect brewing method. Below you can find my tasting notes and places you can buy it online too.
T2 Melbourne Breakfast Tea at a Glance
Blend: Black tea with vanilla flavouring
Flavour: Strong tannins from the black tea, minimal body, and a rich warm vanilla sweetness
This tea is pleasant, although it is quite light. I prefer to drink this tea without milk, enjoying the natural malt of the tea and rich sweetness from the vanilla. It's quite simple but indulgent at the same time.
Full Review – T2 Melbourne Breakfast
Type: Loose leaf
Tea: Black tea
Additives: Natural vanilla flavouring, artificial vanilla flavouring
Flavour Notes: Strong tannins, light malt, sweet, vanilla, warm
Aroma: Whisky, malty, tannins, almonds, sugar, cream, alcohol, vanilla
Milk or Lemon: Milk, if brewed strongly
As soon as you open this tea, it hits you. At first I thought it was almonds and sugar, with a little whisky poured over the top. Then I remember that this tea is all about vanilla! The black tea offers a little tannin note to the aroma but is mostly dominated by this sweet and creamy aroma that is undeniably vanilla. There's also an alcoholic edge, which may be from the artificial vanilla flavouring (or intentional, who knows).
It brews into a rich amber brown tea that's quite light, so I decided to sip it without milk. The aroma from the brewed tea has lost a lot of that complexity and is just undeniably, excruciatingly, lovingly sweet.
The flavour is not what I expected. The malt from the black tea is subtle and is mostly just dominated by tannins. It also has no body, which is usually essential for a breakfast tea. It's watery and only develops in flavour towards the end of your sip.
This is ultimately why it didn't score as highly as it should. The tea has plenty of flavour, but no body behind it. It's a bit like digging into a bowl of ice cream only to realise it's dairy-free sorbet: it's still pleasant and very sweet, but it isn't quite the hearty and satisfying experience you were expecting.
How to Brew Loose Leaf Breakfast Tea
Typically, you should brew a breakfast tea really strong and dark, then add lots of milk and sugar. That doesn't really work with T2 Melbourne Breakfast because the vanilla will become so sweet it's unbearable.
Use 2g of tea per 250ml mug and boiling water straight from the kettle. To sip without milk (which is quite pleasant) then brew for 2 minutes. If you want to add a splash of milk, opt for up to 5 minutes. You could also use this tea to create a tea latte – brew a small amount strongly and then top up with hot, frothy milk.
If you add sugar to this tea, it may kill you.
The perfect breakfast food pairing would be a salty, smoky bacon sourdough sandwich, maybe with a bit of ketchup. The savoury and sharp elements would contrast amazingly against the sweetness of the tea (not unlike having bacon with pancakes and syrup).
T2 are an Australian tea brand and this tea is inspired by Melbourne, the Australian city (not the Melbourne estate in Chelmsford, which is what I always think of when I hear "Melbourne"). The city is all about style and individuality – this tea is certainly unique! I haven't come across a tea that's soaked in vanilla in quite the same way.
T2 haven't declared where this tea is from, but at a guess I'd say Sri Lanka. The leaves aren't all whole, but in general the quality appears to be good. As for the vanilla, it's a mix of natural flavouring and artificial flavouring. In my experience with T2, they are never afraid to add artificial ingredients which does concern me a little. If natural vanilla flavouring works, why bother adding artificial too?
I imagine it has something to do with the longevity of the flavouring (artificial may last longer) as well as enhancing the sweetness. I know vanilla is naturally sweet, but this tea was somehow even sweeter than I imagined.
The packaging is okay. If you opt for the cube style packaging from T2, the inner tea will be wrapped in plastic and isn't resealable. I haven't had the opportunity to try the loose leaf tins, but I hope they are plastic-free.
This is a pleasant tea and certainly one that I won't ever forget. If you are mad about vanilla, then this tea may be a dream come true. Given the lack of tea body and tooth-aching sweetness, I am unlikely to pick this up again as a breakfast tea. Instead, I will save it for an indulgent afternoon treat.
You can find it on T2's official UK website using the button below. It's usually available on Amazon too (scroll back up to find that link).
Looking for something sweet but not too sweet? I recommend you read my review of Janat Muscat tea. It's flavoured with grapes and is quite subtle, with a little sourness and bitterness to contrast with the sweet fruity flavour.