T2 China Jasmine Tea Review
I am incredibly excited to tell you about this tea – it's my highest rated of the year so far, which is a huge deal! T2 China Jasmine tea is a true classic with virtually no faults to be found. It's smooth, fragrant, and delicious from the first sip to the last.
Get ready for an epic tea review and find out where you can buy T2 China Jasmine green tea for yourself online.
T2 Jasmine Green Tea at a Glance
Full Review – T2 China Jasmine Tea Bags
Type: Tagged pyramid sachet
Tea: Green tea
Additives: Jasmine petals
Flavour Notes: Soft, fragrant, light, refreshing green tea
Aroma: Bright Chinese green tea, fragrant jasmine
Milk or Lemon: Neither!
I'm reviewing the tea sachet version of this tea, but I'd recommend you pick up the loose leaf. Either way, you still get whole leaf tea… but loose leaf just gives you more control over how you brew it and how much leaf you use.
It has a classic jasmine tea scent from the very start. Bright Chinese green tea creates the body, which is mellow and smooth with notes of hay (definitely not grassy or umami in any way). Then the jasmine petals kick in, with that slightly sweet and slightly drying sensation that makes this tea so good for cleansing the palate.
The colour of the tea liquid is a mellow gold colour too.
When I took that first sip, it took me straight back to every celebratory meal I've spent in a Chinese restaurant, where they somehow can brew jasmine green tea a million times better than I've ever achieved at home… until now.
I want to say it's like drinking liquid gold, but that would imply a rich, heavy flavour (in my mind at least). But this tea is perfectly light and fragrant. Perhaps it's like drinking the air like it is nectar from a garden at midnight.
Okay, I'll stop with the poetry now.
How to Brew T2 China Jasmine Green Tea
I used 80°C water and brewed for exactly 2 minutes. This was following the instructions from T2 and it is spot on for me. It wasn't too weak or too strong, but I am known for liking my teas on the weaker side so don't be afraid to brew for 3 minutes instead.
Jasmine green tea is consumed without milk or any sweetener – it's perfectly balanced by itself.
As for when to drink it, I'd recommend after or with dinner but not too late in the evenings. Because it's such a calming drink, it's tempting to have it just before bed… but there's a caffeine kick hidden in the cup. Just be cautious.
T2 are a fairly large brand. They go for professional yet fun vibes rather than keeping it small and personal. I love their branding with the block colours and matte black packaging.
As for the tea quality, it's very good. The whole leaf filling the tea sachet seems to be in better shape than my usual Whittard's jasmine green tea.
When it comes to organic and Fairtrade certifications, T2 certainly have a lot of info on their website. Up to 60% of the tea leaves were sustainably sourced in 2019 and they're aiming to be 100% sustainably sourced by 2021 with all their tea and other ingredients. T2 is also a certified B Corp, which says a lot about how they run their company too.
TLDR; you should be impressed!
I highly recommend this tea to everyone and anyone. I'm considering buying a megaphone and shouting about it from the top of a building. It's the best jasmine green tea I've ever tried and I fail to see how anyone could ever dislike it.
I bought this tea on a whim (in TK Maxx of all places) but you can find it on T2's official UK website using the button below. For international buyers, it's also available on Amazon (see the link above).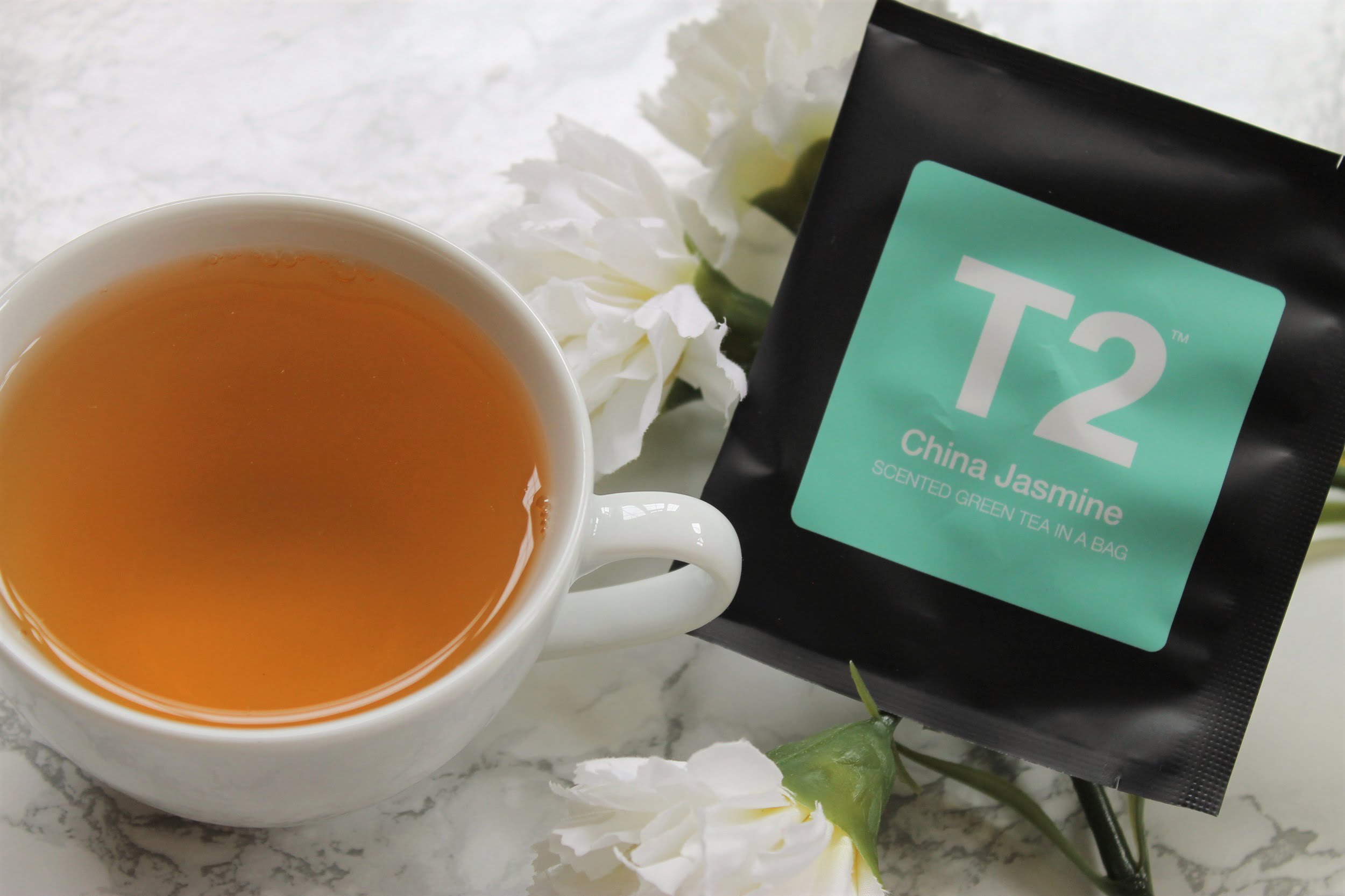 A superb tea base with a thoughtful single flavouring can be the recipe to an excellent cup of tea. I don't think Santee quite achieved that when I reviewed their White Tea with Cherry offering, but it was a mildly pleasant tea nonetheless. Sure, it doesn't stand up to how great T2 China Jasmine is, but as an affordable alternative it has potential.