Izzy's 3 Favourite Iced Tea Recipes for Hot Days
It's too hot! I'm dying in this weather; all I can do is lounge about and sip ice cold tea all day. Actually, I shouldn't be complaining. Iced tea in hot weather is heavenly!
You can easily make cold brew teas to enjoy in the heatwave with teabags you probably have at home already. These are 3 really simple iced tea recipes that I enjoy and I'm sure you will too.
Cold brew them in the fridge the night before, or ice them on the day by pouring the hot tea over ice. The trick with iced tea recipes is to use teabags, as loose leaf tends to take a lot longer to infuse and you need to use twice the amount you usually would.
Earl Grey + Citrus
Citrus fruits like lemons, orange and limes are super refreshing on hot days and are the classic companion for black iced teas. I like to boost the citrus with bergamot rich Earl Grey. If you don't usually drink black tea without milk, this is a great way to try it – cold brewing prevents the tea getting too dark and bitter, while the cordial really lifts it with sugary sweetness.
1 Earl Grey teabag (I'm using Twinings Earl Grey)
Dash of citrus fruit cordial (I'm using lime cordial)
Cool water
Ice cubes
It's super simple. To cold brew, place the water, earl grey teabag and cordial in a glass, bottle or pitcher that fits in the fridge. Mix it all together and place in the fridge overnight.
For a quicker infusion, boil your water and brew the teabag normally. Then, add the cordial and chill in fridge for a few hours.
I use cordial because it's naturally sweet and sugary, so I don't need to spend ages dissolving sugar in my tea to get it to the right flavour.
Pour into tall glasses, serve with ice and a slice of lemon.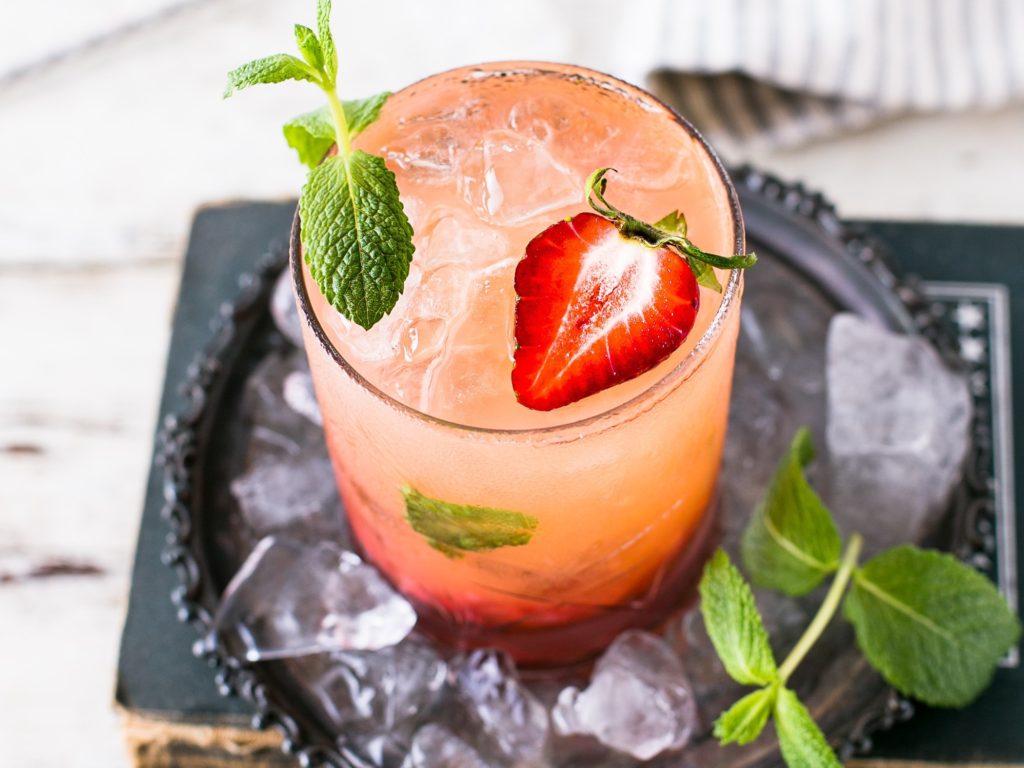 Berries + Fizz
There are so many berry tisanes and tea mixes. Raspberries, strawberries, blueberries, currants, and more exotic berries, like acai, are all excellent. Look for other tart, summery ingredients like hibiscus, apple, peaches and pineapple too. I love berry and green tea blends, but black tea also goes great in this recipe.
Place your teabag(s) and water in the fridge overnight to cold brew. You want it to be quite strong and tart and berry-y as you're diluting it with fizz afterwards, so add multiple teabags if the brew is usually quite weak when hot.
Add a handful of berries to a tall glass and drop the ice cubes on top to slightly crush them. Fill 2/3 with your iced tea and top with your fizzy drink of choice. Garnish with a mint leaf (or add these with the berries if you want to make it minty throughout). Drink through a straw to suck up those crushed berries at the bottom!
I'm going raspberry crazy this summer as we have a few raspberry canes in the back garden fuelling me.
Green Tea + Peach
Finally, this is kind of my cheat iced tea. This is Whittard's Peach Bellini, a new blend for summer 2019 that's been expertly crafted for iced tea recipes. The green tea is grassy and fresh while the peach is juicy and naturally sweet. It doesn't need anything added, you just have to be patient!
I'm using my teapro 3-piece glass infuser to brew the loose leaf in water and easily extract it when it's finished – read more about the infuser in this teapro subscription review. I'll be sipping this at the weekend to stay cool in the heatwave.
Whittard have some excellent ice tea blends this year, including:
Limoncello (zingy caffeine-free lemongrass)
Tropical Punch (fresh green tea and tropical mango)
Mojito (bright mint, lime, lemon and cinnamon)
Moscow Mule (fiery ginger, lemon balm and peppermint)
White Sangria (fruity apple, pineapple, mango and ginger)
If you'd like more tea reviews, iced tea recipes and tips from me (I'd love to write something just for you) please donate to my Tea Pot Fund! Donate as much as you're comfortable with, there's no lower limit.