Hampstead Wild Rosehip & Hibiscus Tea Review
Today I've got my hands on Hampstead Wild Rosehip & Hibiscus tea. It's days like this that I consider reviewing my tea iced rather than hot… but that wouldn't be fair to you, my readers. Seeing as I've reviewed teas hot for years now, it wouldn't be a fair comparison to start cold-brewing or icing tea today.
Nonetheless, this tea will be epic iced and is ideal for the hot summer months (or weeks, as it usually is in the UK) when hot tea is too much.
Let's dig in and discover what this fruit-flavoured herbal tea is all about.
Hampstead Tea Rosehip Hibiscus at a Glance
Blend: Organic rosehip and organic hibiscus – that's it!
Flavour: Pleasantly tart and berry like, with a gentle floral note
Don't let the pretty pink packaging fool you. This herbal tea packs a punch! It has a vibrant tart and juicy flavour, leaving a drying sensation in your mouth. There's only a slight hint of sweetness too.
Full Review – Hampstead Wild Rosehip and Hibiscus Tea
Type: Individually wrapped tagged paper filter teabag
Tea: Rosehip, hibiscus
Health Benefits: Re-energise, boost immune system
Flavour Notes: Pleasantly tart, berries, floral
Aroma: Slightly sweet, tart berries, sour
Milk or Lemon: Sugar, if desired
Where to Buy: Amazon or Hampstead Tea
Ripping open the packet, there's a distinct lack of aroma coming from this tea. It's odd, but not necessarily a bad sign. Some teas just need a little water to bring them to life!
That's definitely the case with this tea. Hampstead Tea describe the colour as garnet, but I found it to be more ruby berry red. It's also crystal clear, which I personally find very inviting over a cloudy coloured tea.
You will not believe the flavour.
Rather than being sweet berry-flavoured, it's tart and rich with a sour note that reminds me of citrus fruit. The hibiscus is the main flavour here, but the rosehip adds a gentle note. It's a delicate floral hint that makes this tea something special. I really love it!
About halfway through the cup, the juiciness gives way to a drying sensation in your mouth. It can also catch in your throat, despite the overall smooth texture.
This tea would be perfect for an after-dinner treat, when you want something full-flavoured but aren't in the mood for a sweet dessert.
How to Brew Wild Rosehip and Hibiscus Tea
This tea is an herbal tea, despite the hibiscus lending it berry-like tartness. So, use 100°C boiling water and let the teabag steep for 3 to 5 minutes. This tea gets strong, so stop at 3 minutes and take a sip – you can always pop the teabag back in, if it's not strong enough for your tastes.
I used 1 teabag, which contains 1.5g of tea, in 250ml of water. If you're using a very large mug (or cold brewing this tea) then use two teabags at once.
The vibrant tart sourness is why I enjoyed this tea so much, but you could certainly add a teaspoon of sugar if you have a particularly sweet tooth. Although, it may take several teaspoons to balance out the tartness entirely.
This tea is wonderful. Made with just rosehip and hibiscus, it's effortlessly simple yet has such a vibrant flavour. The ingredients are quite finely chopped within the teabag – see my photo below – but that's not so much a problem with herbal teas compared to Camellia sinensis teas.
Furthermore, I really like that the two main ingredients are certified organic and Fairtrade. The teabags themselves are made from unbleached, plastic-free materials. They're safe for home composting.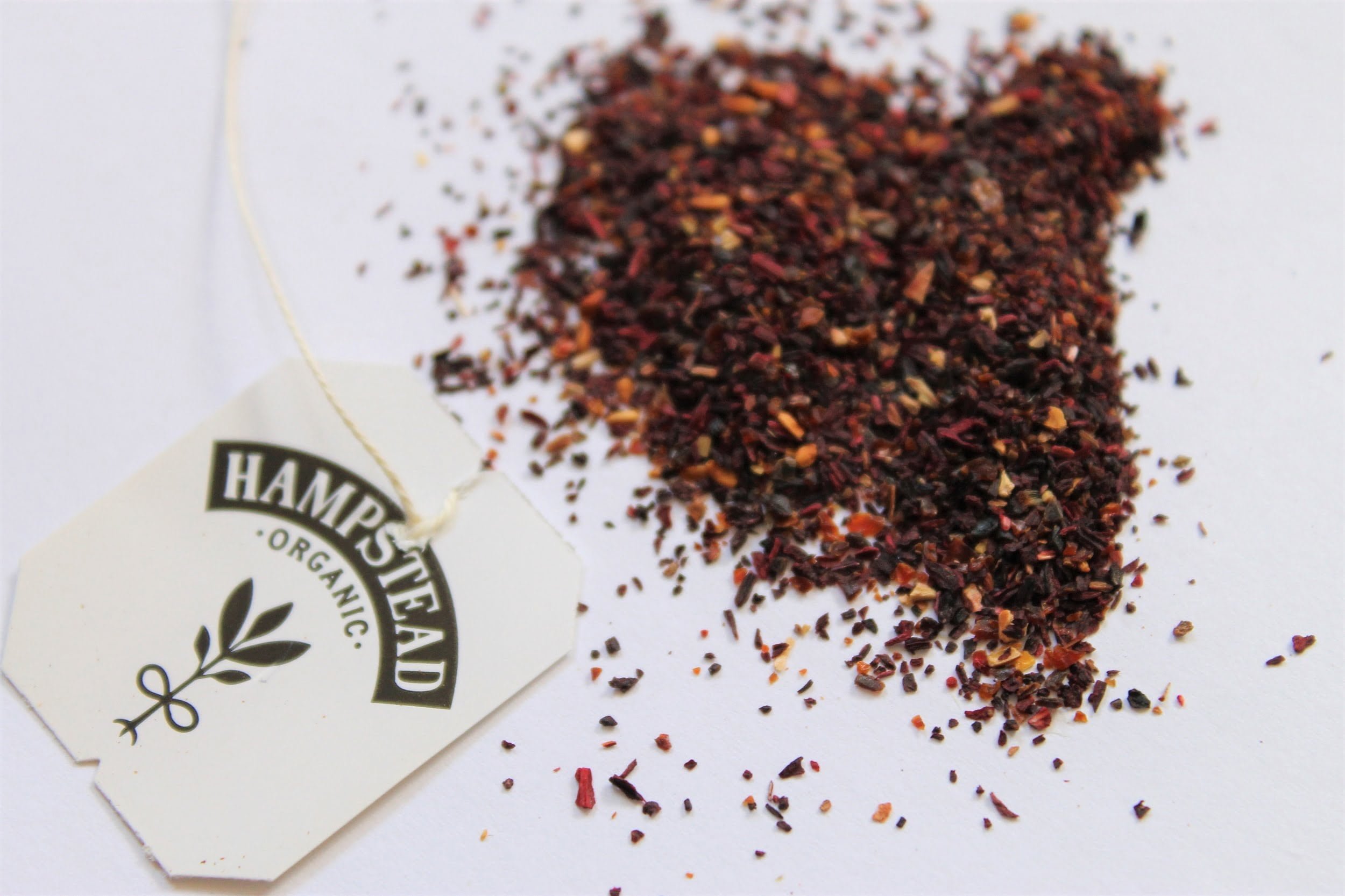 Rosehip and Hibiscus Health Benefits
Hampstead label this tea as re-energising and I can see why. I did find the flavour to be really uplifting and it added some much-needed colour to my day.
As for quantifiable health benefits, rosehip and hibiscus are both sources of vitamin C which we all know is great for your immune system. Bear in mind, however, that vitamin C does not do well with heat, so the act of brewing the tea in hot water will drastically reduce the amount of vit C you can get from it.
If you want to try a tea that has higher levels of vitamins and minerals, and can actually be used as a supplement, take a look at my Tea+ reviews.
Overall, this tea is deliciously simple. I highly recommend Hampstead Wild Rosehip and Hibiscus tea to anyone who likes fruity teas… but doesn't want something overly sweet. It really does have a punchy flavour. Of course, it's totally caffeine-free too.
Although I've linked to Hampstead's website above, the best place to buy this tea is usually Amazon as there are better delivery options.
The pretty pink of this tea colour and packaging reminds me of my astrology tea flask, which comes in white, black or pink. It's ideal for taking your tea on the go, and even has a chamber for loose leaf tea if you want to broaden your tea-drinking horizons.