Hampstead English Breakfast Tea Review
It's almost July as I'm reviewing this tea, so breakfast is usually a cool affair. Yoghurt, fruit, and iced tea, rather than toast or a full English. But nonetheless, Hampstead English Breakfast tea is on the agenda so it's scrambled eggs for me this morning!
This is my third Hampstead Tea review and so far, I've loved their traditional line-up and herbal line-up equally. As tea companies go, Hampstead are a shining example of what responsible, ethical and environmentally friendly companies should look like.
Learn more about what makes Hampstead special below, but first let's dig into my review of their English Breakfast blend.
Hampstead English Breakfast Tea at a Glance
Origins: Black tea from India and Africa
Flavour: Simple, smooth and rich with the perfect balance of maltiness and tannins
This is a wonderful English Breakfast tea by Hampstead. It doesn't have any qualities that make you go "wow" but at the same time, it has achieved a balance of malt and tannin that few English Breakfast blends achieve. Well done, Hampstead!
Full Review – English Breakfast Teabags by Hampstead
Type: Tagged paper filter teabags
Tea: Black tea
Origins: Organic and Fairtrade farms in India and Africa
Flavour Notes: Malt, smooth, rich, gentle, classic
Aroma: Light malt, tannins, sugar, malted milk biscuits, smooth
Milk or Lemon: Plenty of milk
Where to Buy: Amazon or Hampstead Official Website
I love the red colour that Hampstead have gone with for the packaging of this tea. Like phone boxes and double deckers, it's just so British. I usually associate red tea packaging with pure Assam tea (I have Twinings Assam to thank for that) but what could be better for an English Breakfast tea?
The aroma from the dried tea leaves (inside the non-bleached paper teabag) is a light note of malt and tannins. It's notably sweeter in aroma than other English Breakfast teas that I have reviewed.
Once it has brewed to a good strength and you've added a splash of milk – achieving that perfect tea brown colour – the aroma develops into a perfectly smooth black tea scent. It's malty, like a malted milk biscuit, and has absolutely no bitterness that I can detect.
The flavour is just as marvellous! It's malty, smooth and rich… yet somehow gentle on the palate rather than bold like an Assam tea. Hampstead English Breakfast tea is undoubtedly a classic with a silky-smooth texture and drying quality in the aftertaste that makes it an ideal tea to drink with a heavy meal (e.g. a fry up).
Overall, I think that Hampstead have done a great job here. The tea itself doesn't have any amazing qualities that make it stand out. Instead, it's a masterfully balanced blend that is smooth, rich and bitter-free to the last sip.
Spectacular.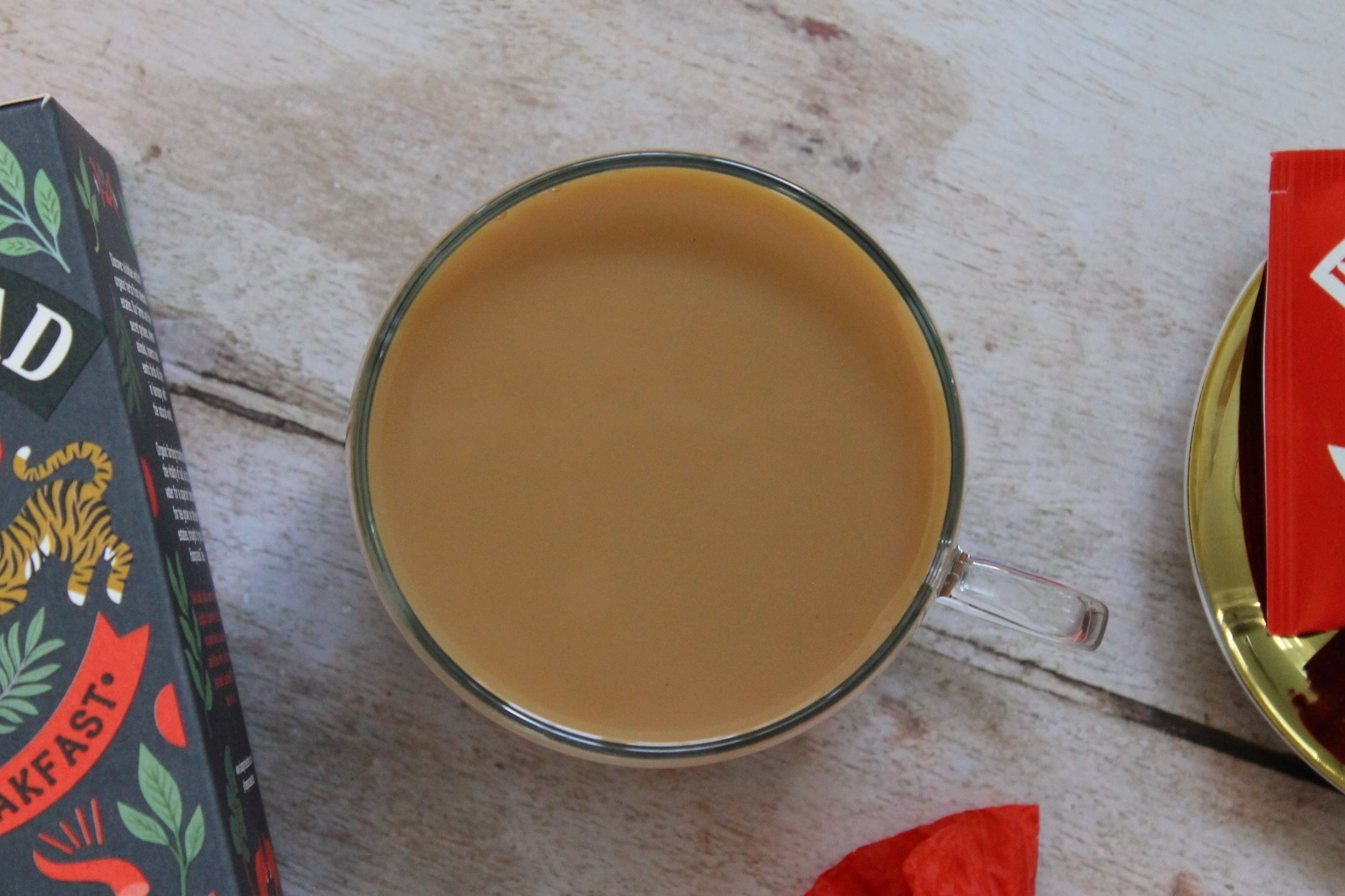 How to Brew Hampstead English Breakfast
Confession time. This is not the first time I've tried this tea. In fact, the box was already half empty by the time I got around to reviewing it. That says a lot about how much I like it!
My previous experience brewing this tea meant that I knew exactly how to brew it to perfection. For me, a 4-minute brew time in 250ml of boiling water from the kettle is just right. This tea is smooth enough to drink without milk, but you're really missing out if you don't add a splash at least.
Some teas, like a Darjeeling tea or Earl Grey, are equally nice with lemon as they are with milk. But English Breakfast tea is not like that. It's designed to be consumed with milk and I find that it really lifts the sweetness of the tea too.
You can use regular dairy or opt for a dairy-free alternative. Unsweetened soy milk is my go-to.
Why Hampstead Organic Tea?
Hampstead sent me a range of their teas when I won a giveaway they hosted on Instagram. Lucky me! I've actually fallen in love with the quality and ethics of this brand since then. The tea in this English Breakfast blend is both organic and Fairtrade certified. While it's not biodynamic like some of the other teas in this range, it's still very eco-friendly and ethical nonetheless.
The black teas used in this blend are from Africa and India. This is fairly traditional. The gold-standard for an English Breakfast blend is usually Assam India, Kenya, and Ceylon (Sri Lanka). So, I think it's safe to assume that Hampstead have hit two of the big three.
Overall, this tea is a wonderfully simple yet satisfying English Breakfast tea that really hits the spot. I've reviewed the teabag version of Hampstead English Breakfast tea, which is available from Hampstead's UK website or it can also be found on Amazon. I've included a link to the Amazon page below.
In case my regular readers haven't noticed yet, I now have a teaware shop right here at Immortal Wordsmith! It's an absolute pleasure to work with some talented businesses around the globe to provide a range of cool teaware items. For adding a little sugar and stirring in the milk, you need a teaspoon for Hampstead English Breakfast tea. Take a look at my Portuguese Tea Spoons if you want to take your teagame up a level.