The 10 Best Hibiscus Teas for Hibi-Lovers
Hibiscus tends to split opinions. Either you love hibiscus teas or your hate them! Hibiscus has a very tart and fruity flavour, which is unusual as it's made from the petals and blossoms of the hibiscus flower.
When added to tea blends, hibiscus can often be overpowering. It takes a real tea master to incorporate hibiscus into a tea well. Thankfully, I've reviewed many such teas over the years here at Immortal Wordsmith.
This is my list of the top 10 hibiscus teas for hibiscus lovers.
Yes, the best plain hibiscus tea I've ever tried was this one from Teapro. It arrived as part of the Herbalism subscription box, but you can also buy it separately. With plain hibiscus teabags, you often find that the hibiscus inside is chopped to tiny pieces. But not this one! Teapro hibiscus leaves the blooms whole, so you can see that they are dried flower blossoms. Furthermore, you can get 2 good steeps from them.
I also like to use the spent hibiscus blooms as food. I roll them in sugar and have them on top of porridge with a little extra honey for sweetness. It's delicious.
Best Rooibos Hibiscus Tea Blend
This is a tea that I haven't tried yet, but you can be certain it will be in my first order from The Wee Tea Company! This blend is named Cherry & Berry Rooibos. It contains rooibos, elderberries, and hibiscus blooms among a list of other natural flavours and ingredients. The Wee Tea Company describe it as "undeniably intriguing" with sweet and sharp flavours that enhance the rooibos base. It tastes a little like a caffeinated tea, but rooibos is entirely caffeine-free.
I recently wrote an article about the difference between decaf tea and caffeine-free tea.
Best Festive Hibiscus Tea
Whittard of Chelsea always do a handful of tasty festive teas around Christmas time. In 2020 they released Figgy Plum Pudding tea for the first time and I'm so excited to see it making a repeat appearance in the years to come! Whittard Figgy Plum Pudding is a blend of apple, plum and fig with festive spices (meaning they've gone a little crazy with the cinnamon). What really stands out in this blend is the hibiscus. It creates the most gorgeous red colour and deep, fruity aroma. It's not to sweet so maybe add a teaspoon of honey to this one.
Best Fruit Hibiscus Blend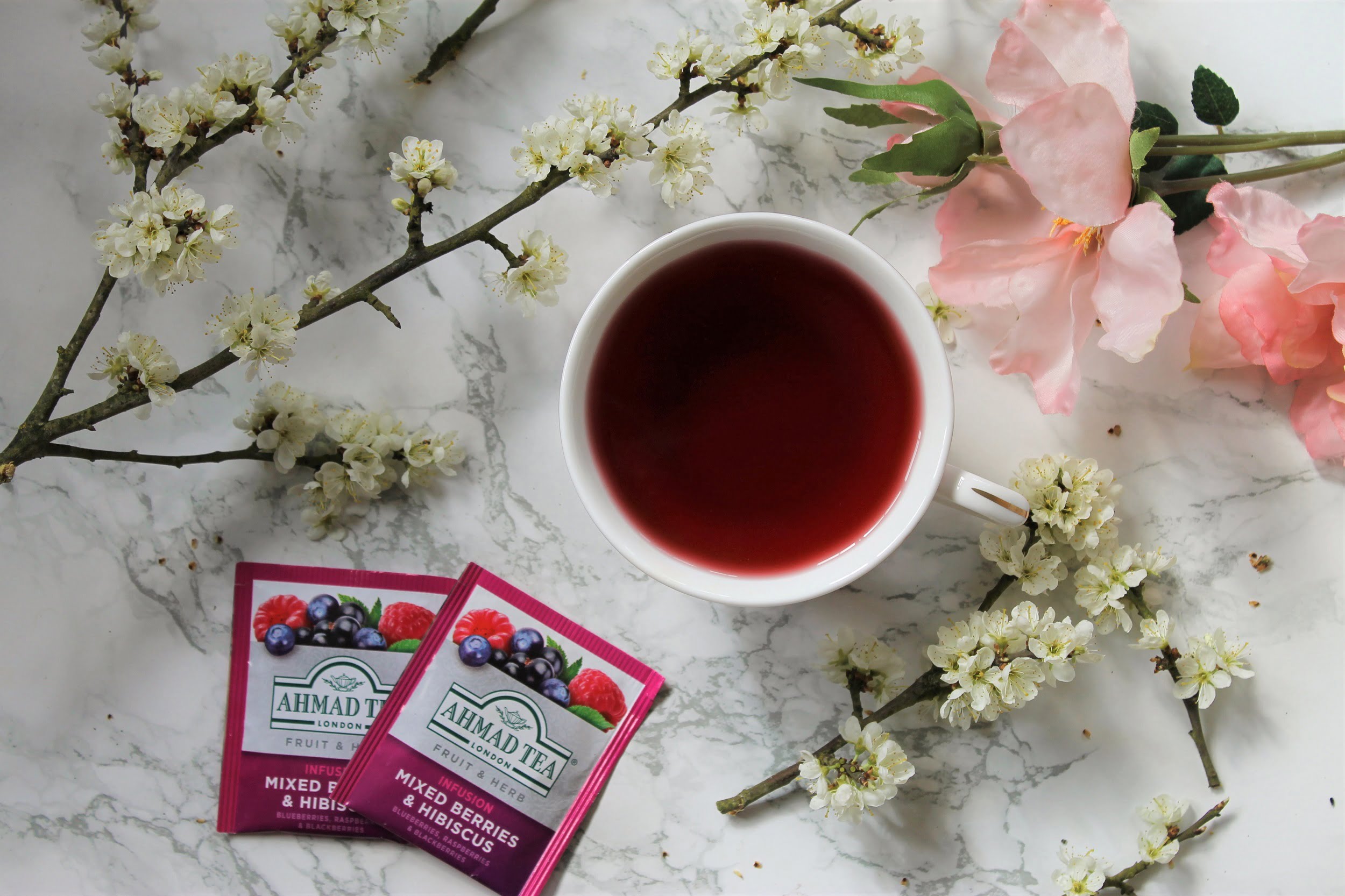 Taking a break from the loose leaf tea for a minute, let me recommend a brilliant hibiscus teabags tea for you! Ahmad Mixed Berries & Hibiscus is a really simple blend of hibiscus and fruits to create a sweeter, less tart hibiscus tea. The fruits all melt together so it's hard to pull out any individual flavours – it's best just described as mixed summer berries. As mentioned in my hibiscus tea review, it's very juicy and refreshing rather than drying as some hibiscus tea blends can be. It's also wonderful iced in the hot summer months.
I am just dying to try this tea from the Cocoa Social Enterprise CIC! This tea is called Hibiscus Cacao Tea and it's a blend of cacao shell, cacao nibs, hibiscus, and various fruit and leaf pieces. It doesn't contain any dairy, nuts, artificial flavours (or natural ones for that matter), added sugar, palm oil… the list goes on. It's a really healthy and natural way to get your chocolate dose.
The richness of chocolate combined with the tartness of hibiscus is going to be a massive hit. It's just like raspberry goes with milk chocolate! Hibiscus and natural cacao are a match made in heaven. It's sold through Not On The High Street in the UK.
Best Summer Iced Hibiscus Tea
As soon as July hits, there's iced tea in my fridge 24/7. I like to always have both a caffeinated and caffeine-free tea on ice. One of my favourite fruit and herbal tea blends to ice is also a brilliant hibiscus flower tea blend. Whittard Rhubarb Punch uses the tartness of hibiscus amongst other flavours to really bring that rhubarb flavour to life. It tastes just like the real rhubarb we grow at home and with a spoonful of honey, you'll instantly be reminded of the last rhubarb crumble you ate. Read the full review or check the price below.
Hibiscus and black tea is a tricky combination to get right. Both have very bold flavours and they can battle it out in a way that isn't friendly for your tastebuds. But it is certainly achievable, as I discovered in my tea review of the fabulous T2 French Earl Grey. Combining a quite delicate black tea with hibiscus, bergamot and an assortment of flower petals creates a really beautiful mix. There's richness from the tea, fruitiness from the hibiscus, and floral perfume notes from the flowers. Together they are *chef's kiss*. I recommend buying the loose leaf from T2 rather than the teabags. It's better value for money.
To be completely honest, I haven't tried this tea yet but I've come very close to buying it a few times! Twinings Lemon, Rosehip & Hibiscus contains white hibiscus rather than red hibiscus. There are many different varieties of hibiscus and white and red just happen to be two that we like putting into tea. You'll still get some of that tart hibi flavour, but the tea won't brew into a dark red colour. Twinings pair the white hibiscus with fresh zingy lemon and the citrusy flavour of rosehip to create a very refreshing fruity blend.
Best Hibiscus and White Tea Blend
White tea can be quite delicate, but it's also typically sweet (check my review of the Teapro White Gold box to see what I mean). So, the combination of sweet white tea with tart hibiscus can really work. Tiesta Tea Pineapple Sangria expertly blends pineapple, hibiscus, blueberry and white tea to create a tropical fruity beverage. It also contains mango, beetroot, and red currant to boost the tropical flavours and tartness. At the time of writing this article, it's a best-seller on Amazon too. I haven't been able to find it in the UK, but if you're in the US it will be easy for you to get your hands on it.
Best Everyday Hibi Fruit Tea
I'm ending with a very simple fruit tea that tastes a lot like a simple hibiscus tea, but with a little more depth. Loyd Cranberry & Raspberry is a fruit tea in pyramid teabags. It's really easy to brew and creates a tasty tea every time. If you want a simple red hibiscus flower tea to brew in the evenings as your late-night tea, then this is the one for you. Read my full review on the Immortal Wordsmith blog or check to see if it's currently available to buy with the button below.
What is hibiscus tea good for?
There have been studies that have found hibiscus is good for reducing cholesterol and even improving kidney health, but it's hard to link these health benefits to a daily cup of hibiscus tea. Talk to your doctor for medical advice!
What are the side effects of drinking hibiscus tea?
Drinking too much hibiscus tea can give you an upset stomach, as it's quite a strong flavour and has a laxative effect. Hibiscus may also lower your blood pressure, which you may want to avoid if you already have low blood pressure. It has a very strong red colour that can dye your "waste" red too, so don't panic when you glance down at the pan.
Can I drink hibiscus tea every day?
Yes, you can. There are no known long-term side effects caused by consuming a cup of hibiscus tea every day. If you drink litre after litre of it, however, you might experience some of the side effects listed above. But a cup or two won't do you any harm. If you have any worries, call up your doctor for a chat.
When is the best time to drink hibiscus tea?
Hibiscus tea is nice to drink in the afternoons and evenings, as a refreshing caffeine-free beverage. It won't keep you awake at night and thanks to the sweet flavour, it can help combat any sugary cravings you have.
Hibiscus is a flowering plant, Hibiscus sabdariffa, from which we harvest the calyx of the flowers to dry out and make into an herbal infusion or tea.
What does hibiscus taste like?
Hibiscus tastes surprisingly fruity! It has a dark red berry flavour – juicy, sour, tart, and slightly sweet. It reminds me of red currants, raspberries, and rhubarb wrapped into one.
Can you eat hibiscus flowers?
Yes, you can eat hibiscus flowers or make them into tea and consume them that way. I strongly advise that you buy hibiscus flowers from a reputable seller online, rather than picking and eating fresh hibiscus flowers in the wild/your garden.
Yes, hibiscus tea is recognised as a safe tea to drink. WebMD does note that it may be possibly unsafe to consume during pregnancy. If you are pregnant, then talk to your doctor about which herbal and fruit teas are safe for you to consume. Ginger is a good one!
Does hibiscus tea have caffeine?
No, hibiscus tea does not contain any caffeine. Unless the hibiscus has been blended with a caffeinated tea (e.g., black tea, green tea, or white tea) then it won't provide a source of caffeine.