Whittard Limoncello Tea Review
Whittard Limoncello tea is a light, refreshing, caffeine-free summer blend inspired by a famous alcoholic drink.
Limoncello: a zesty lemon liqueur from southern Italy. Fresh, lemony and very boozy!
Available in a limited edition illustrated tea tins (that I can never resist collection) I gave it a go hot and cold over summer 2019.
Whittard Limoncello at a Glance
A very light and refreshing lemon and herb tea. It's not as strong and punchy as you'd expect from the name, but it's certainly replenishing and sweet rather than sour and sharp.
Full Review - Limoncello Summer Tea
Type: Loose ingredients
Ingredients: Lemongrass, lemon peel, apple, apple pomace, sweet blackberry leaves, flavouring, citric acid
Health Benefits: Relieve anxiety and improve heart health
Flavour Notes: Gentle lemongrass, lemon zest, herby, woody and slightly sweet
Aroma: Hot, tart, lemon juice with a sharp edge and woody undertone
Milk or Lemon: Neither
Where to Buy: Whittard Official Store or Amazon
Pop open the airtight double-sealed tea caddy and you're met with the sweet-sharp scent of lemon zest and lemongrass. It's bright yet slightly too sweet to be entirely natural. It hints that there's some added flavouring or other sweet ingredients blended in.
It brews into a pale, watery orange-yellow colour. It's slightly yellower than lemon juice but just as cloudy and inviting. I like the tartness that develops in the aroma after it brews.
The flavour is very gentle, unlike real limoncello. It's sweet and light lemongrass and lemon zest with woody herbal notes. There's no sourness or bitterness at all, with a light apple body underneath and sweetness that rushes in your mouth in the aftertaste.
It's super pleasant and refreshing, especially brewed cold which highlights the sweetness a little better.
How to Brew Lemon Tea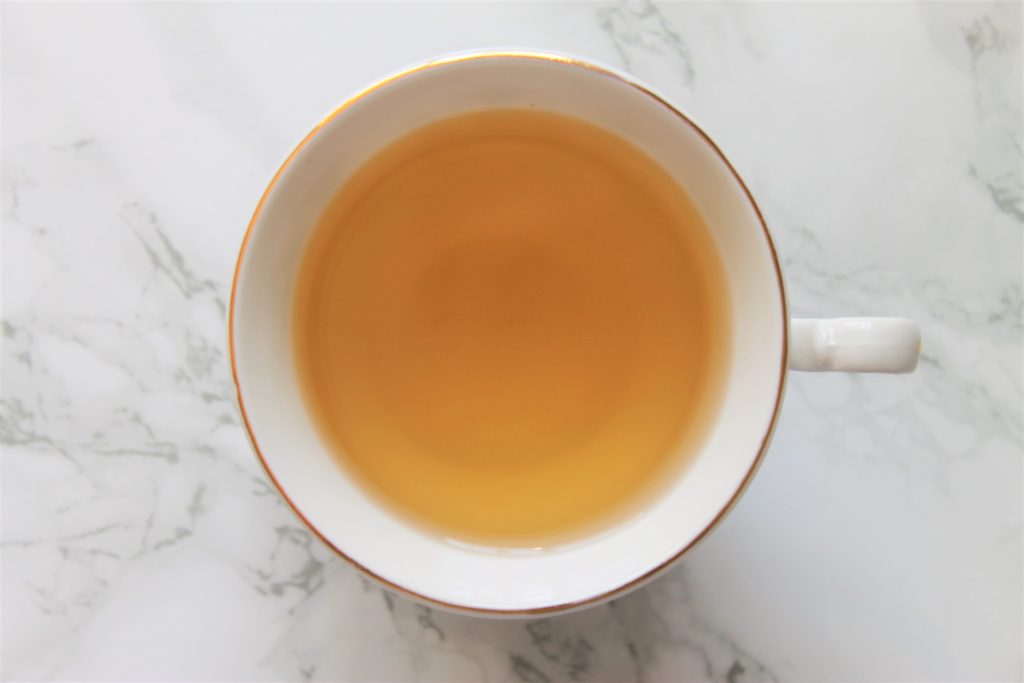 To make it hot, use 1 heaped teaspoon for 1 mug and pour over boiling water. Leave it for at least 3 minutes as it's quite weak. I'd also recommend using a tea bag (you can get some eco-friendly and cost-saving reusable ones) as the thin lemongrass pieces tend to fall right through a mesh infuser.
Cold brewing needs at least 24 hours with 2 teaspoons minimum. It takes forever! You need some serious planning to make sure this iced tea is ready for you when the weather gets hot.
It's a common theme I've noticed with more woody herbal infusions and light fruit teas like Limoncello. Very juicy and dark berry teas infuse in just a few hours if you need something while you wait for Whittard's Limoncello.
It goes nicely with lunchtime sandwiches of pastrami and rocket, to sweeten and contrast with the bite.
Why Whittards Loose Tea?
Whittard is always a good place to find seasonal teas – from summer to autumn to winter, there's usually a tasty new blend available that suits the mood.
Limoncello is part of 3 summer teas, the others being Peach Bellini and Tropical Punch (at the time of writing, I've not yet reviewed that one but make sure you check the blog in case it's been posted since). All are quite nice but they do rely on some added flavourings besides the natural ingredients.
The tea is loose inside a very attractive caddy. I almost want to drink all the tea at once so I can reuse the caddy to plant some flowers – or maybe lemon balm.
It's hard to go wrong with Whittard. The quality is at least good, at most quite fantastic, and the flavours are usually spot on. I do recommend shopping in-store rather than online if there's a store near you. The shipping from Whittard is never free unless you're willing to spend a sizeable amount, plus in-store there are sometimes extra discounts that aren't online.
Lemongrass Tea Health Benefits
Lemongrass and lemon peel, the 2 main components of this tea are great for your daily vitamin C intake. We all know that's good for boosting the immune system and strengthening your whole body… but there are other benefits too.
Lemongrass, particularly the zesty aroma you get when you make it into a delicious tea, is good for soothing anxiety. I always find jasmine and chamomile to be best, but if you're running low on those you could substitute Whittard Limoncello tea for your evening cuppa instead.
I also think this tea would be great for your heart health. Lemongrass lowers cholesterol levels, while apple (the ingredient that forms the body of this tea) reduces the risk of heart disease, hypertension and even diabetes.
This tea is free of added sugar (although the fruit ingredients will release natural sugars) so it's a hell of a lot better for you compared to lemonade or real limoncello.
Summary – Whittard Limoncello
This is a nice tea, it's pleasant and hard to say no to. Nonetheless, I do feel like it's missing that final ingredient to make it pop. Perhaps a drop or two of gin would cheer it up! If you don't want to buy it at Whittard, you can…
About Me
I'm an avid tea reviewer, working through as many herbal blends and traditional teas as possible. If you're looking for other lemon teas to try, I'd recommend:
Twinings Lemon and Ginger Tea (great for colds and flu season)
The London Tea Company Earl Grey (light lemony bergamot)