Whittard English Rose Black Tea Review
Roses are beautiful, but they aren't always tasty. It takes a master tea blended to create a perfect rose tea! This week, I'm reviewing Whittard English Rose tea to find out if it's one of those perfect teas, or if it falls short.
In Turkish delight, rose is one of my favourite flavours. However, too much flavouring and it goes from delicate and floral to soapy and overpowering very quickly. I've had some disastrous rose black teas in the past, so I sipped with trepidation the first time I tried this tea.
Here's what I thought of it.
Whittard English Rose Tea at a Glance
Blend: Black tea with rose petals and buds
Flavour: Smooth, rich black tea with a hint of rose fragrance
Delicious! The black tea base is quite heavy and the rose flavouring is light, so ultimately this isn't a delicate tea. Instead, it would be great for washing down heavy foods during afternoon tea.
Full Review – Whittard Rose Black Tea
Type: Tagged paper filter teabags
Tea: Black tea
Additives: Rose petals and buds, flavouring
Flavour Notes: Smooth, plain black tea, rose fragrance
Aroma: Powdered sugar, natural roses, Turkish delight
Milk or Lemon: Neither
Where to Buy: Whittard Official Website or Amazon
I've got two different wrapped teabags of Whittard English Rose: the standard range ones and the collectible Alice in Wonderland artwork ones. Both contain just black tea and rose flavouring. If you want the version of this tea with rose petals and buds in it, you need to select the loose leaf option.
English Rose tea smells so good! There's something sweet and sugary about it, like powdered sugar dusted Turkish delight. It's not an authentic, natural rose scent, but it's very nice nonetheless.
It brews into a mid-brown tea colour. Don't be put off when it brews to quite a dark colour – the flavour isn't overpowering.
You need to take a few sips for the flavour to develop. Once it does, you'll love the smoothness of the black tea and fragrance of the rose. It's delicious!
If there wasn't rose flavouring, I'd suggest drinking this tea with milk. It's that dark and rich. So, it's not overly refreshing and delicate, but it is very tasty and great for drinking with cakes or sandwiches.
This is a black tea, so go ahead and using boiling water fresh from the kettle. Brew the tea for 3-4 minutes. I like mine at 3 minutes, but don't be afraid to brew for longer – this tea doesn't get overly bitter with long brew times.
Whittard recommend drinking this tea with scones, cream and jam at the village fete. I second that! So yum. Any cake or pastry of your choosing will go great with this tea.
It doesn't need milk, lemon, honey or any other sweetener.
Whittard of Chelsea are great for flavour and leaf quality. Even though I'm currently reviewing the finely chopped tea bag version of English Rose, I've also had the pleasure of trying the loose leaf. Both are equally tasty, but the loose leaf is so much better.
Loose leaf teas can be re-steeped, making them cheaper per cup, and they also look amazing. Serving rose tea in a glass teapot where you can see the petals and buds floating gracefully, is the best way to start an afternoon tea session.
If you get the chance, go for loose leaf Whittard English Rose tea, but don't feel disheartened if you end up with teabags instead. You're in for a mouth-watering experience.
Yes, I highly recommend this tea. It's so lovely for afternoon tea, especially if you love the delicate scent of roses. I like to buy my Whittard tea directly from Whittard, as they use totally biodegradable packaging. You can also find this tea in loose leaf and teabag format on Amazon, which is usually the faster option for international orders (Amazon link above).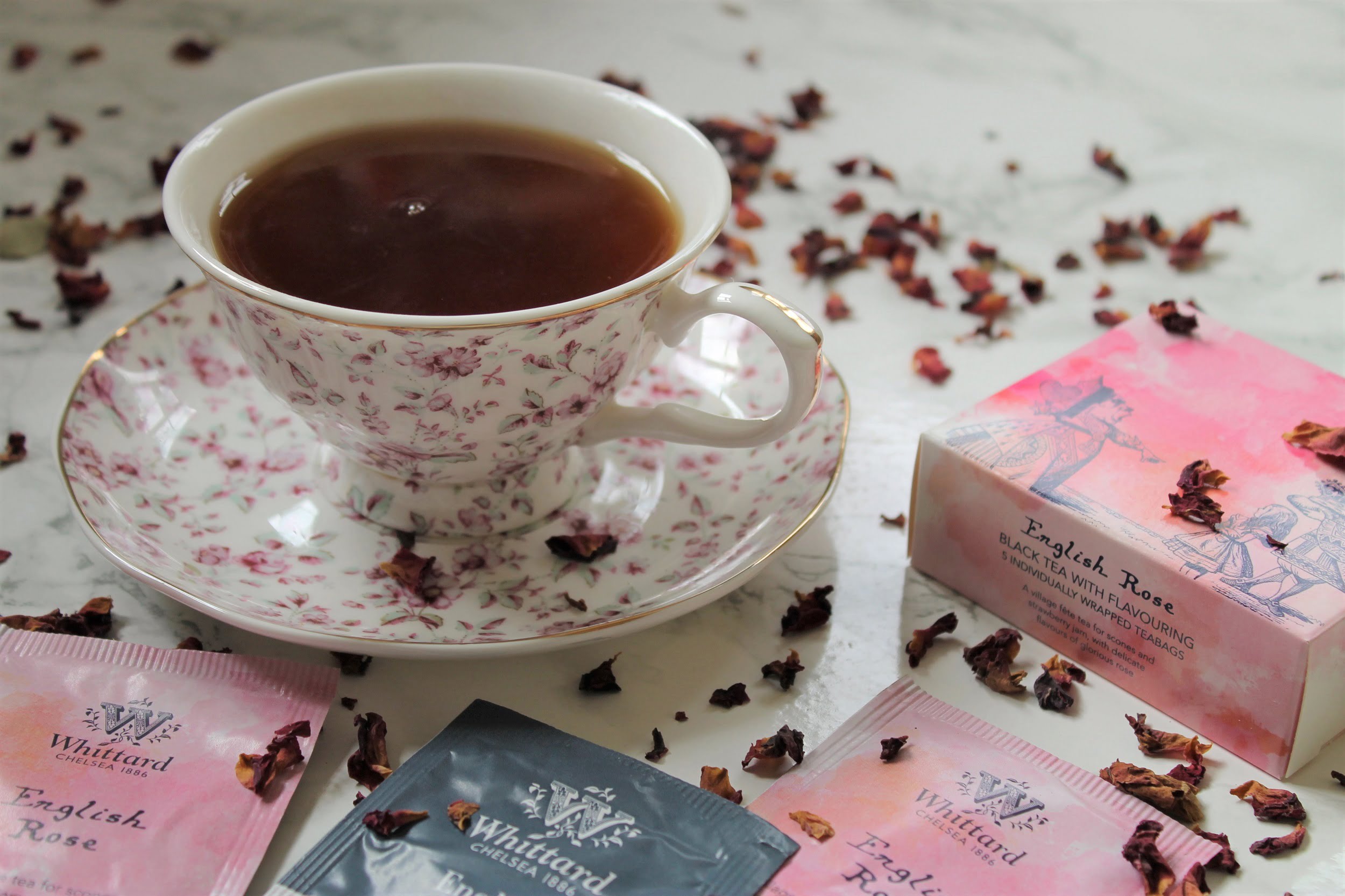 Rose is a common tea blend ingredient, particularly with black and green tea bases. To find similar rose tea reviews, you should head to my Tea Review Index. This is where all my tea reviews are logged so you can quickly find something tasty to sip.