Whittard Chelsea Garden Tea Review
Whittard Chelsea Garden tea seemed like the most appropriate tea from my stash to review on Valentine's Day! This is a smooth blend of white tea and rose petals, which could either be amazing or terrible.
White tea can be beautifully sweet, mellow and complex… if it's high quality. As Whittard of Chelsea have finely chopped with Silver Peony grade white tea, I have my doubts. Regular readers at Immortal Wordsmith will also know that I'm quite fussy about rose flavours. Too much rose really turns a tea into a soapy mess!
So, let's delve into this full tea review with our fingers crossed.
Whittard Chelsea Garden Tea at a Glance
Blend: White tea with rose petals and flavouring
Flavour: Mellow and simple white tea with delicate rose aroma
Whittard of Chelsea's Chelsea Garden blend is smooth, soft and gently fragranced with rose petals. It reminds me of a day spent in the garden during those last days of spring, when summer is just on the horizon. Delicious.
Full Review – Whittard Rose and White Tea
Type: Tagged paper filter teabag
Tea: 'White peony' white tea from China
Additives: Rose petals, flavouring
Flavour Notes: Light, mellow, smooth, sun-scorched leaves, stone fruits
Aroma: Warm rose perfume, sugar, pollen, fresh, grassy, rose garden
Milk or Lemon: Neither
Where to Buy: Whittard of Chelsea or Amazon
I am reviewing the teabag version of Chelsea Garden, but I highly recommend you try the loose leaf version instead. The leaf size and whole rose petals make it a visual spectacle, which is really lost with the bagged version of this tea.
Regardless of which format you buy, Whittard Chelsea Garden has a sweet aroma, with notes of roses, sugar, pollen, and fresh cut grass. It really does smell like a rose garden in the soft springtime sun.
After brewing this tea quite lightly, you're left with a slightly cloudy golden yellow tea with a richer aroma. The roses develop into a warm rose perfume scent, with only slight sweet and grassy notes.
If you are expecting pungent rose notes in the flavour, you'll be disappointed. The roses in Chelsea Garden create a great aroma, but it's the white tea that really shines through in the flavour. You'll find it quite light, mellow, and smooth with notes of stone fruits and hay (or sun-scorched grass and leaves).
Overall, it is incredibly pleasant and very drinkable. Rose tends to make teas taste soapy and quickly becomes overpowering, but Whittard have used the ingredient sparingly and achieved fantastic flavours as a result.
How to Brew White Tea with Rose Petals
To brew this tea, boil your kettle and let the water cool to 80°C in your cup or mug. Use 200ml of water, 2g of tea (or 1 teabag), and let it steep for just 2 minutes. If you like a stronger flavour, brew for an extra minute.
A quick brew at a low temperature draws out the delicate flavours without scalding the white tea – which would cause the tea to become bitter.
This tea doesn't need milk or sweetening. You can serve it with sweet treats, however. I think plain shortbread would be a nice pairing.
I am a huge fan of Whittard of Chelsea and always pop into their outlet store when I'm passing by. They have a brilliant range of classic teas and I find that their summery tea blends like Chelsea Garden are particularly great.
Whittard do occasionally use flavouring, and this is one of their flavoured blends. Thankfully it must be very subtle because I couldn't detect any flavour that couldn't be assigned to either the white tea or roses.
I applaud Whittard for selecting white peony grade white tea for this blend. This tea naturally has more mellow, stone fruit notes compared to the sweeter melon-like flavour of silver needle. My only issue is that to create these teabags, the leaf is finely chopped. As aforementioned, I always recommend opting for the loose leaf version if available.
Use my button below to find the loose leaf on Whittard's official website, and you'll immediately see the difference when you compare their photo of the loose leaf tea blend to my photo above.
This is a wonderful tea and even if you're unsure about rose flavours, I recommend you try it. I also think it makes a great introductory tea to white teas in general. Just make sure you brew it at the slightly lower temperature, and you'll get fabulous results every time. The best place to buy this tea is Whittard's official website, but you can also find it on Amazon.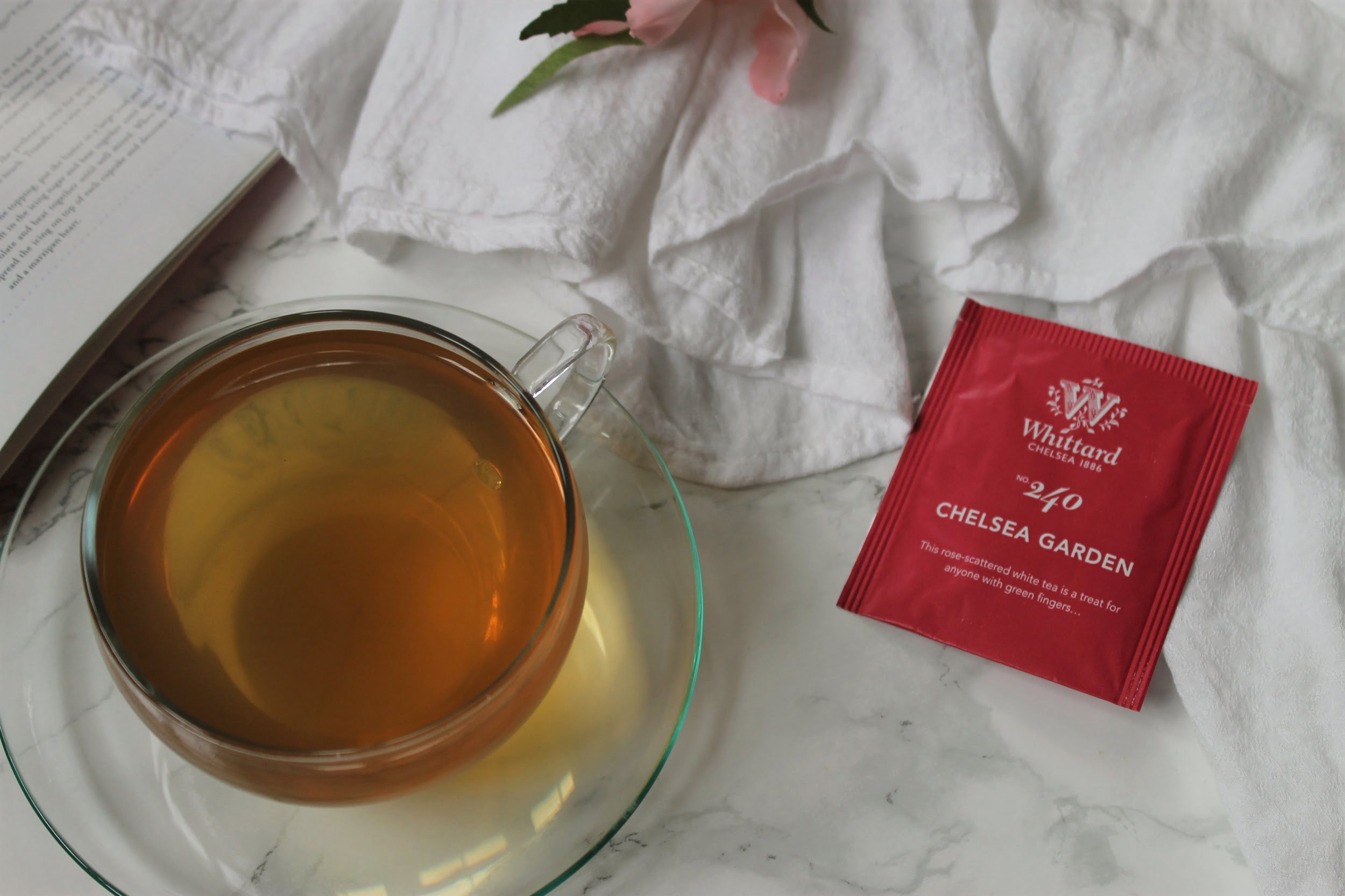 Writing about rose gardens and the way spring turns into summer has me craving some delightfully sweet and refreshing teas. If you need a fruit tisane to sip in the evenings, or just want to avoid caffeine during the day, then I recommend checking out Twinings Mango & Strawberry Tea next.