Umi Tea Sets Peach Blossom Tea Review
Can I just say a massive thank you to Umi Tea Sets for gifting me this delicious tea? Peach blossom tea is completely new to me. In fact, I'm pretty sure I've never seen a peach tree in real life (the one in Kung Fu Panda does not count, by the way) so I had no idea what to expect.
I am really impressed with the quality of this tea and the packaging. Make sure you check out my photographs of the experience below as you read my full review! In this article, you'll find out what peach blossom tea tastes like, how to brew it best, and some information on the tea brand.
Umi Peach Blossom Tea at a Glance
Blend: Peach blossoms
Flavour: Grassy green leaves and buds
This is a delicate tea with a sweet and floral aroma. The flavour is more green, it reminds of spring buds and new leaves, with a slight bitter note.
Full Review – Umi Tea Sets Floral Tea
Type: Loose leaf
Ingredients: Peach blossoms
Health Benefits: Digestive "detox"
Flavour Notes: Earthy, green, buds, bitter
Aroma: Blossom, green buds, spring breeze
Milk or Lemon: Honey
Where to Buy: Umi Tea Sets Official Website
Umi Tea Sets sell this peach blossom tea in this really cool tea caddy by Colorful Tea. I love how fresh it keeps the peach blossoms! When you first open it up, the instant aroma of soft floral blossoms hits your noise. Hints of green buds, fresh leaves and general springtime vibes are delicious.
It brews into a pale lime green yellow tea colour. It's so fresh and vibrant. Strangely, it loses those floral notes once it has been brewed. The aroma of the brewed tea is of green tea – slightly grassy and with that spring green buds smell.
The flavour has a distinct earthy bitterness – it's quite strong but it's not unpleasant. The body of the tea is quite light and those sweet green grassy notes pull through as well. Overall, with that slick and hydrating texture, this tea has healing vibes.
How to Brew Peach Blossom Tea
The key with peach blossom tea is to be strict. Use 1 teaspoon of blossoms, which is roughly 1g of tea. The blossoms are light and delicate… but they pack a punch.
So, pour boiling water over the 1 teaspoon of blossoms and let it brew for just a couple minutes. Whatever you do, don't brew for more than 3 minutes! Read why below.
Also, this tea is quite refreshing and green. It pairs nicely with sweet, fruity desserts and pastries. Peach tart or peach cobbler come to mind.
Umi Tea Sets are a great brand. They have a wide range of teas, many from China, and their herbal/floral range is particularly impressive. If you're looking for a simple floral or herbal tea, you can find one on their site. Besides peach blossom tea, you'll also find peony tea, red lily tea, Kunlun snow chrysanthemum tea… the list goes on.
As for this tea, you can see from my photos how great it is. It's made of pure whole peach blossoms and a few twigs that have snuck into the blend. I love that. It gives you a sense of nature. This is a very natural tea – no flavouring or additives, just pure peach blossoms.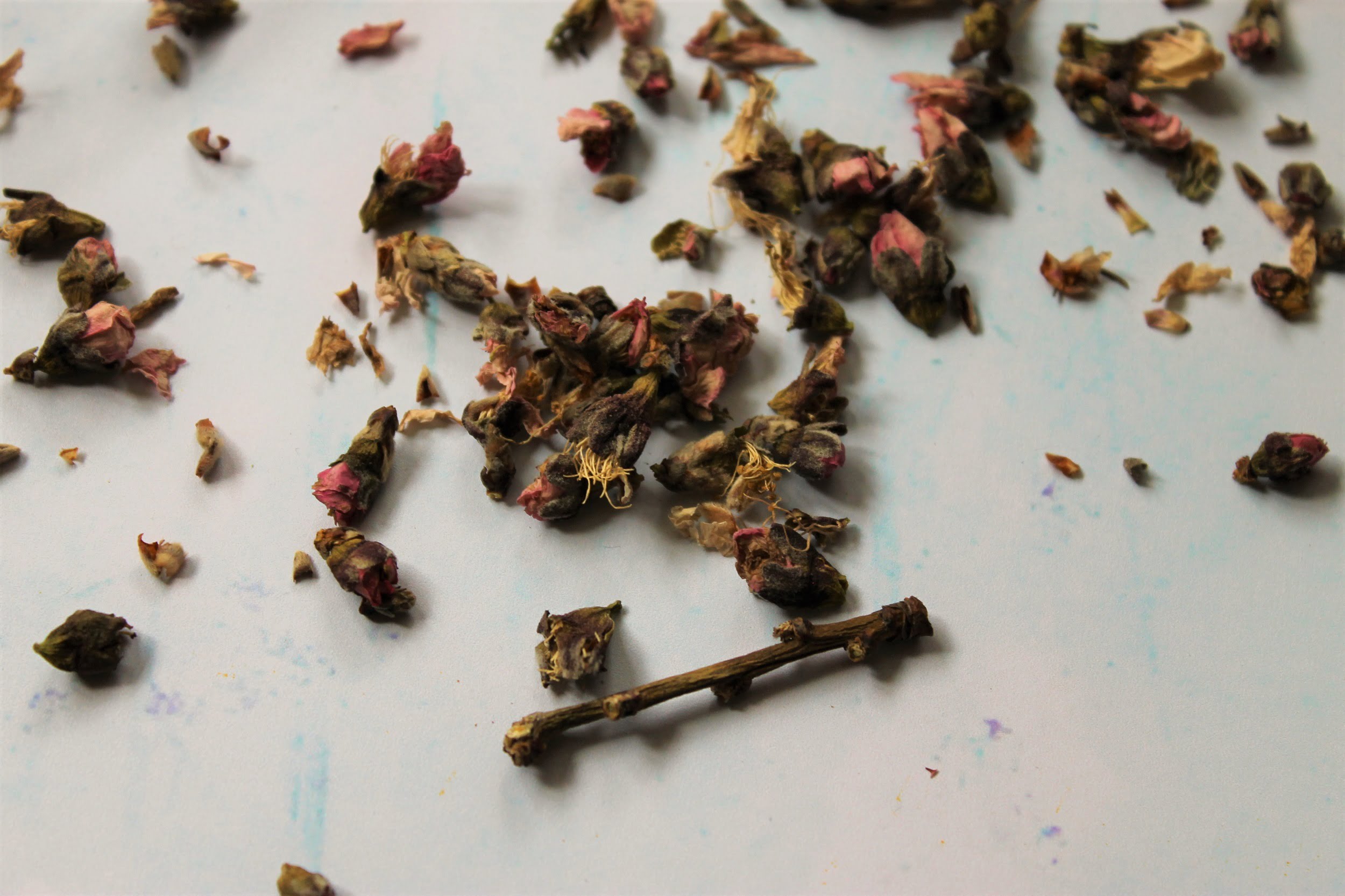 Peach Blossom Tea Health Benefits
From my own personal experience and the description by Umi Tea Sets, peach blossom tea is really good for flushing out your system. If you catch my drift. So, if you need to flush out your system, unclog the drains and "detox" your digestive system, then a good cup of peach blossom tea will sort you out.
This is why I recommend you brew just 1g of tea per cup, and only brew for 3 minutes maximum. The effects are quite strong!
This is a lovely tea that's a visual treat and it's so healthy for your body! The best place to buy Colorful Tea Peach Blossom is at Umi Tea Sets. Make sure you follow them on Instagram and check out their online store using the button below or link above.
Looking for more healing flower teas? Check out my Tea Review Index to discover more teas that I've reviewed. Oh, and don't forget to follow me on Instagram @izzysden so I can share my newest tea adventures with you!