Twinings Earl Grey Tea Review
My first ever cup of tea as a kid was a Twinings Earl Grey. I never thought much of it until I realised all my friends only ever drank PG Tips. And so, I spent hour after hour trying to convince my school friends that there was something better.
After the first cup, they never looked back.
With those fond memories in mind, I'm writing my first tea article as a Twinings Earl Grey tea review.
Even now, there are 2 reactions I get when I'm caught drinking Twinings Earl Grey in public.
The first is, "oooh, fancy" followed by some terrible Stephen Fry impressions.
The second is, "Twinings? How common" followed by a snobby list of luxury tea brands with ridiculous names that I "simply must" review instead.
The truth is, Twinings is neither a luxury brand nor an ultra-cheap blend. It sits comfortably on supermarket shelves right between Tetley and Taylors of Harrogate. It's not cheap, but it's not out-of-budget either.
And Earl Grey tea is not the drink of rich folk! It's one of the most popular tea blends across Europe (and the third most popular in the UK) and ANYONE can try it, no matter where you are in your tea journey.
It's surprising how something as simple as black tea combined with bergamot (a lemon-like citrus fruit) can be such a huge hit.
Here's my honest review of Twinings Earl Grey tea bags.
Twinings Earl Grey at a Glance
Unfortunately, Twinings let me down. No 5-star award today.
Full Review - Twinings Earl Grey
Once brewed, this tea is a warm colour with a hint of grey. The aroma is unmistakable but not overpowering. It's absolutely impossible to resist taking a sip!
Type: Square bagged (filter paper)
Tea: China black tea
Additives: Bergamot flavouring (4%), natural lemon flavouring with others (1%)
Flavour Notes: Citrusy, lemony and delicate with a slightly bitter overtone
Aroma: Floral
Milk or Lemon: Black or with semi-skimmed milk
Where to Buy: Supermarkets, Amazon and Twinings Official Website
This is a Twinings Earl Grey tea bag review – not loose leaf. It's more convenient and, in my experience, with a high street brand like Twinings it's not worth the extra cost for loose leaf. Leave that for a more luxurious brand. Frankly, I don't have time to be messing with loose leaf for a standard cup of Earl Grey during the work day.
From a Twinings tea bag you expect convenience and a good flavour. I got that. The second you open the foil sealed bag, you get a small waft of bergamot. It's subtle but strong enough that I know it's going to taste fresh.
How to Brew
I brewed twice, once to enjoy black and the other to enjoy with milk. The Twinings recommended brew time for their Earl Grey tea bags is 2-minutes but for a soothing black tea it only needed 54 seconds. For a slightly stronger tea to have with semi-skimmed milk, I brewed for 1 minute and 37 seconds.
It tastes better served black.
There's a delicate taste of bergamot that's unmistakable. It dries out your tongue like a dry wine and lingers for a while. It's not sweet and I'd imagine it starting to taste sour if brewed for too long. It's delicious – I always have and always will love it.
You lose some of those subtle notes by adding milk. Also, the stronger you brew in order to add milk, the more pungent the bergamot oils get. Regardless, it's still a pleasant drink.
Don't use full-fat milk or you'll lose even more of that delicate flavour.
I wouldn't have this particular Earl Grey brand with lemon, although many other Earl Greys taste divine with a small slice. It would be too acidic with the citrusy edge of the bergamot and lemon additives.
Why Twinings Earl Grey?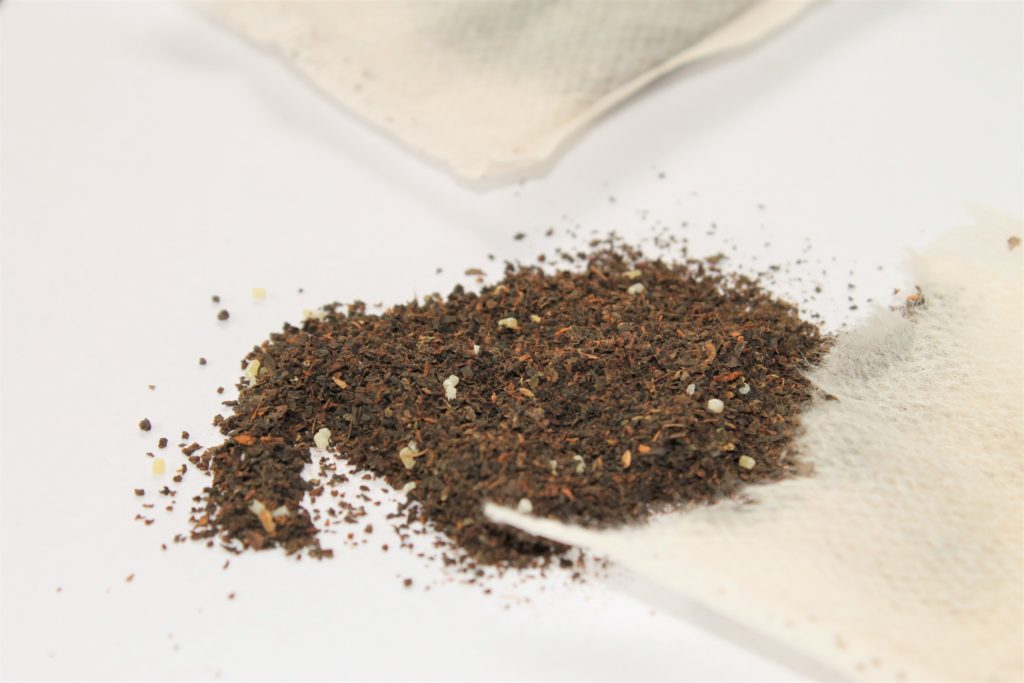 I picked Twinings for the quality and the price.
As I found out, you shouldn't pick Twinings if you want to know anything real about the tea. I was so excited to open up my new box of Earl Grey… and then disheartened at the very generic information on it.
So, I did some investigating.
I first emailed Twinings about the origin of the tea used in their Earl Grey blend. If you look at the box, it's only listed as black tea and customer support could only narrow this down with the vague statement "our Earl Grey tea uses China black tea".
I'm not impressed with this. They might as well say their Earl Grey is flavoured with citrus fruits grown somewhere in Europe.
For such a huge and well-known brand, I want a bit more care and attention put into the origin of their tea leaves. I'm sure Twinings wouldn't source tea from irresponsible tea estates, but the vagueness does suggest there's something they don't want to advertise.
Note that their statement doesn't say "organic" or even "selected by our team" or any other lame marketing/greenwashing term to appease my curiosity. It gives me the impression that Twinings just don't care.
Perhaps they buy in bulk from suppliers all over China. I realise the amount of tea they process must be phenomenal… but surely, they do keep track of who grows their tea?
It's 2019 and consumers, including myself, care about where the tea is from, who picks it and what impact that is having on the world.
Summary
I would recommend this Earl Grey blend as an everyday staple for those that drink it regularly. I would also recommend it to beginners, as it highlights the very core of what Earl Grey is: black tea and bergamot.
If you're looking for a more complex flavour, try Twinings Lady Grey tea or a different Earl Grey blend with cornflower, jasmine and other flavours.
If knowing where your tea originated is important to you, don't buy from Twinings! Try tea brands like Teapigs or English Tea Shop instead.
About Me
I'm Izzy and tea is my passion.
Unlike those stuffy tea-testing experts, I care more about enjoying a cup of tea than giving strict marks with rigid criteria and telling you how it "should" be drunk. I'm not qualified beyond my passion to try every possible tea. I'm not considered an expert. And I'm certainly not going to judge you on whether you add milk before or after (that's a whole different story).
So just relax, sit back with a cup of your favourite tea (prepared however you like), and enjoy my tea adventures and reviews.