Tea Musketeers Avalanche Andrea Tea Review
Today, I'm reviewing a new tea from a brand-new (to me) tea brand! Tea Musketeers approached me on Instagram and very kindly sent me a sample pack of their teas. If you're based in the US, you'll have the opportunity to buy them from Tea Musketeers directly.
As you're about to find out in my review, Avalanche Andrea isn't just a delicious black tea blend. There's a great story behind the name that I'll dig into deeper.
First, let's delve into what this smoked tea tastes like and how best to brew it.
Avalanche Andrea Tea at a Glance
Blend: Lapsang black tea with chocolate and spices
Flavour: Smooth and smoky black tea with cocoa notes and tingling spices
Oh wow, this tea is truly stunning. It reminds me of standing in front of the bonfire on a chilly autumn night, sipping a hot chocolate. Seriously amazing!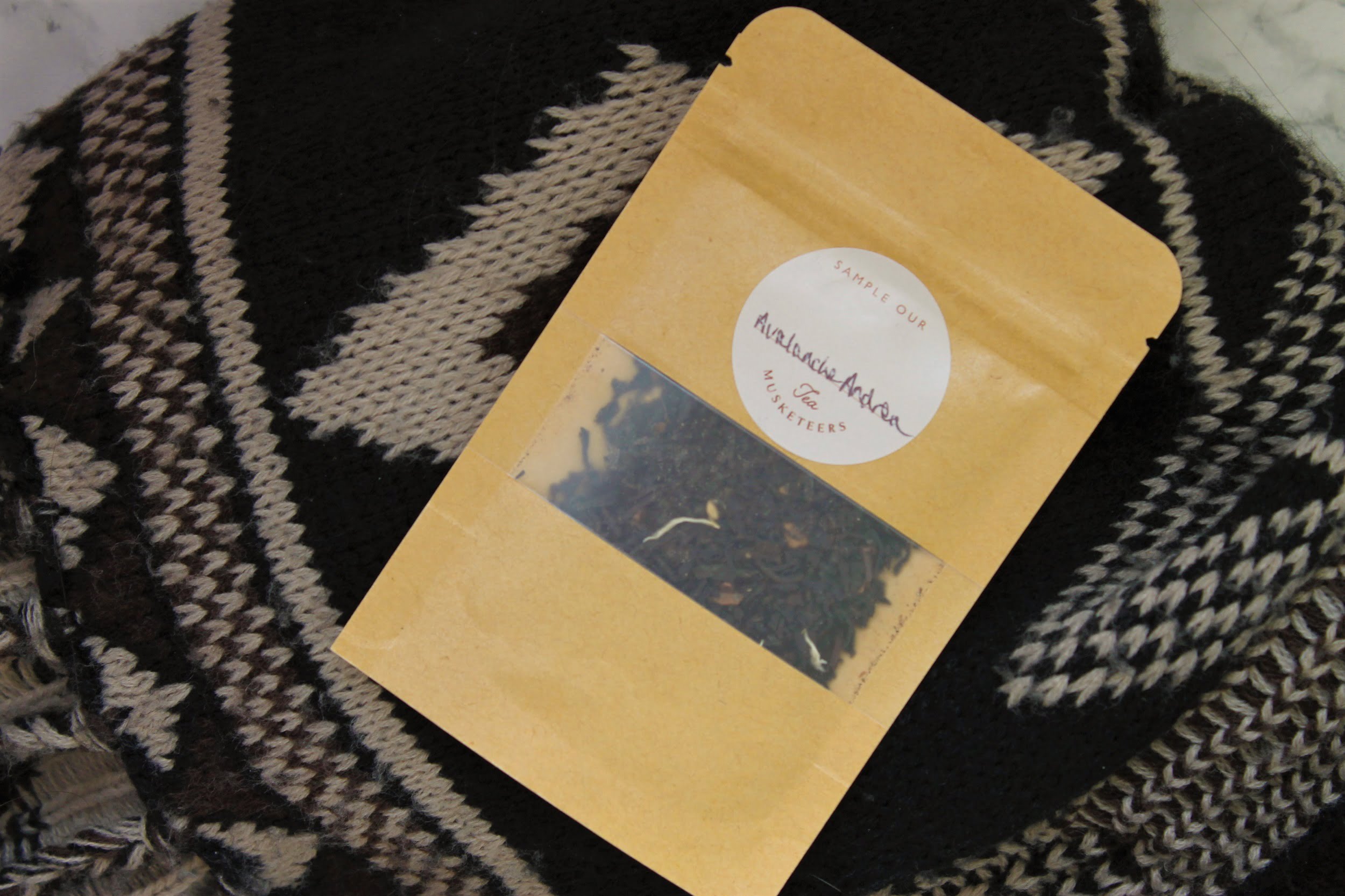 Full Review – Tea Musketeers Avalanche Andrea
Type: Loose leaf
Tea: Lapsang black tea
Additives: Ginger, cocoa beans, cinnamon, cardamom, pepper, clove, nutmeg
Flavour Notes: Smooth black tea, smoky, sweet, cacao husks, mixed spices
Aroma: Campfire smoke, hot chocolate powder
Milk or Lemon: Neither
Where to Buy: Tea Musketeers Official Website (US only)
This tea is available as loose leaf and it arrives in a small sealed packet. Thankfully, the packet is resealable so you can keep this tea fresh and bright.
Instantly, you're hit with an amazing smoky aroma. It's like standing in front of a campfire or bonfire in a wooded area – notes of smoked pine wood and earth come through at first. But there's also a sweet chocolate note that's hard to ignore. If you love fall/autumn, you will love this tea.
It brews slowly into quite a pale tea liquor, but don't let that fool you. The flavour is strong! The black tea is lapsang, so it's smooth but also very smoky. The sweet note of the chocolate comes through too, but it's not too sweet. It reminds me of dark cocoa powder used in baking – cacao husks, maybe.
As for the texture, it's really slick and smooth. The mixed spices are subtle, but they leave a tingling sensation on your tongue in the aftertaste.
All in all, this tea is an experience. I loved every moment.
How to Brew Lapsang Chocolate Tea
I weighed out 2g of tea to brew in 200ml of water. This is roughly the size of a teacup. If you're using a larger cup or mug, then you can use a bit more leaf – up to 4g.
Fill the kettle with fresh water and bring it to a boil. Pour over the tea leaves and let it brew for 3 minutes. It doesn't darken beyond a light caramel brown colour.
As you can see in my photographs, I paired this tea with traditional Scottish shortbread. It was amazing! Any cookie or biscuit would be lovely with this tea. If you want to go the extra mile, you could try s'mores…
Tea Musketeers are a lovely tea company based in Oregon, a place I've always wanted to visit. They make their tea blends in small batches and care deeply about creating high-quality teas. Drinking one of their blends is a luxury experience.
This tea blend contains spices, cocoa, and of course the lapsang smoked black tea. Tea Musketeers describe it as a "true treat" and I wholeheartedly agree.
Tea Musketeers Avalanche Andrea was inspired by Andrea (a friend of this tea company), her time spent in the Glacier National Park (that's in Montana), and evening spent drinking hot chocolate (yum).
This is a fantastic tea and one that I will be savouring every sip of. Currently, Tea Musketeers are selling this blend in the US. You can check out their website using the button below or link above. There's a list of stockists and you can buy it from the site directly.
Give it a try!
This is another tea that I'll be logging in my Tea Review Index. This is where you can find all of my teas logged and categorised. If you're looking for something new, that's the place to go! Don't hesitate to leave a comment below too – I'd love to hear your thoughts on Tea Musketeers Avalanche Andrea.