Tea Famille Garden Waltz Tea Review
This July is getting hot! With my sunhat on, I'm enjoying the weather in the garden. And what better tea to sip and review on a sunny day like this than Tea Famille Garden Waltz. I was first gifted this tea from Tea Famille along with a range of other blends. Due to the pandemic, the tea brand hasn't actually launched yet.
So, besides the name of this tea, I know very little about it! You can see in my photos that it's either a green tea or white tea. I initially thought it may be white peony, the second grade of white tea, as it unfurls into buds and new leaves when brewed.
But after tasting it and examining it further, I'm more confident that it's an unusually mellow and warm green tea. As for the floral element, my best guess is jasmine based on the shapes of the flowers. I've compared it to marigold, chrysanthemum and rose petals – but jasmine fits best.
Anyway. Let's get on with the review!
Tea Famille Garden Waltz Tea at a Glance
Blend: Chinese single origin green tea with jasmine petals
Flavour: Mellow floral notes with sweet stone fruits and hay
This is a gorgeous tea. It's not grassy or green in the slightest. The floral notes are mellow and rich with this delicious stone fruit note underneath it all. Apricots, sunshine and flowers in the garden.
Full Review – Garden Waltz Green Tea
Type: Loose leaf
Tea: Chinese single origin green tea
Additives: Flower buds (most likely jasmine)
Flavour Notes: Jasmine, marigold, daisies, roses, stone fruits, apricots, hay, sunlight
Aroma: Astringent grassy undertones, jasmine, daisies, honeydew melon, perfume, hay apricots, stone fruits
Milk or Lemon: Neither
Where to Buy: Tea Famille Official Website
Carefully opening the packet, the floral aroma will hit you first. There's definitely a note of jasmine (one of my favourite floral flavours in tea) but there's also more complex floral notes. Roses and daisies also enter the mix, which is why I'm not 100% confident that the flower pieces in this blend are actually jasmine.
It brews into a light peachy yellow colour. There's a little tea dust that ends up in the bottom of your cup, but not enough to catch in your throat or alter the texture of the tea.
And the aroma from the brewed tea is just spectacular. Floral sweet notes are more pronounced and perfumed, with added notes of honeydew melon, apricots/stone fruits, and hay. There's also that smell that's hard to describe – the best way I can put it into words is to call it sunshine. When the sun is hot and the grass is baking and turned yellow, that's the sensation this tea gives. The texture of this tea is slick and smooth too.
Overall, it reminds me of sitting in the garden at the height of summer, smelling the flowers and reading good books.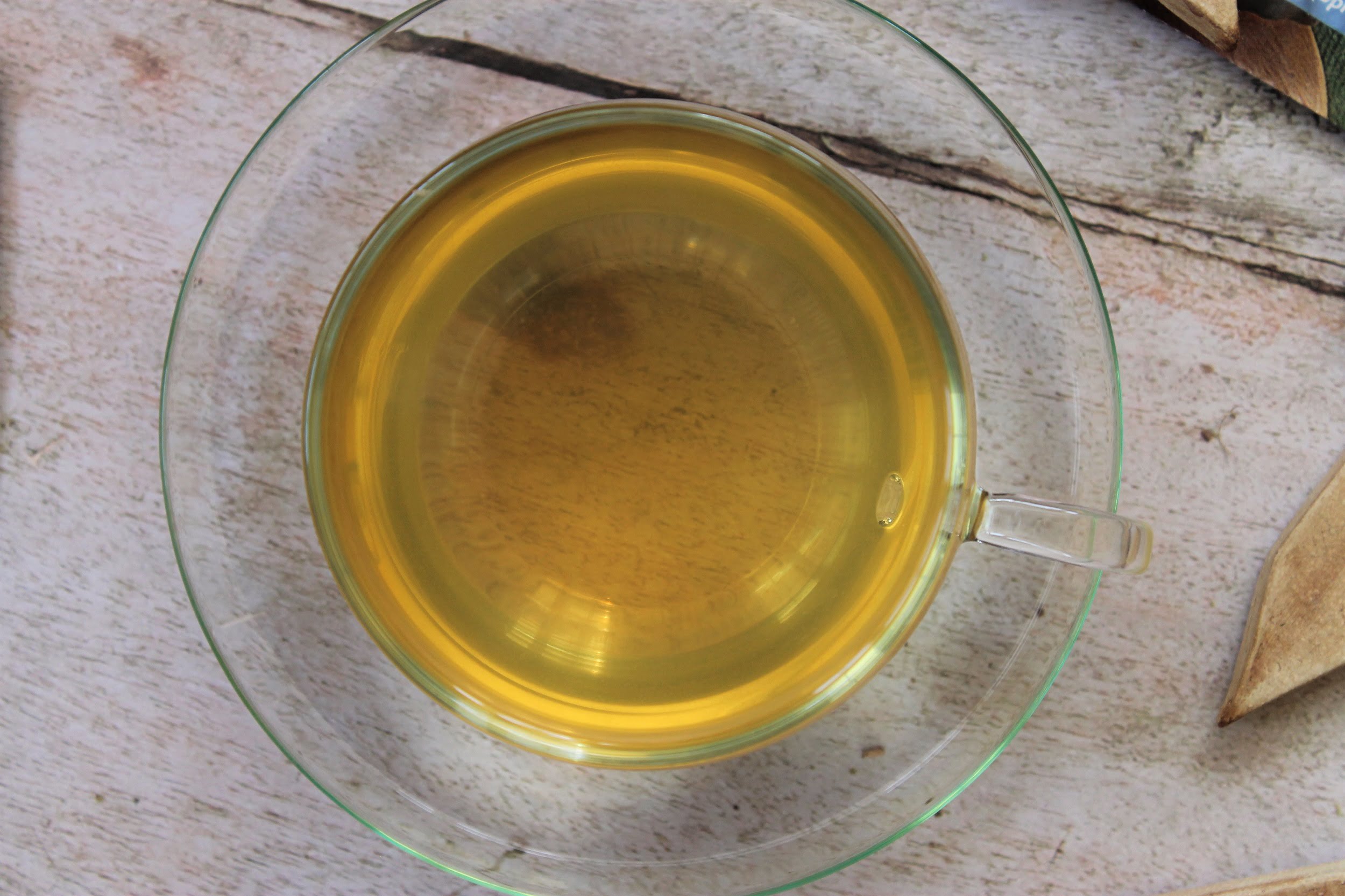 How to Brew Garden Waltz Tea
I am 95% confident that this tea is green tea, so use water at 80°C to prevent scalding the leaves. In the off chance it's a white tea, brewing at a slightly lower temperature is recommended anyway.
I use 2g of the loose leaf, 250ml of water, and let it steep for 3 minutes. This produced a great tasting cup, but some of the floral notes were a bit strong. So, I recommend you brew for 2 minutes and 30 seconds, take a sip, then brew for 30 seconds more only if needed.
You don't need any milk, sugar, sweetener or food to consume with this tea. It's perfectly balanced and fulfilling as it is.
If you've already clicked my links to visit their official website, you'll have noticed that their teas aren't available to buy yet. It's a real shame because these teas are delicious, and I hope that they can move forward with an official launch soon!
In the meantime, I can confirm from my own experience that their tea quality is exceptional, and the packaging ensures it stays super fresh and bright.
To summarise, this fresh and sweet green tea is truly amazing. It doesn't have the typical grassy notes you expect – instead, sweet floral notes and stone fruits grace your senses and whisk you away to a lovely summers day.
If you're looking for something similar, Whittard of Chelsea's Mango and Bergamot green tea springs to mind. There are plenty of single origin green teas and tea blends that mix fruit and floral flavours together perfectly – head to my Tea Review Index to discover them.