Pure Leaf Black Tea with Berries Review
Berry flavours are often matched with green teas. Kusmi Green Tea with Strawberry is one of my favourites, for example. But Pure Leaf Black Tea with Berries is here to change all of that! I was gifted this tea from a friend and have been eagerly waiting to review it for the blog.
It's mostly available in America/Canada, but if you're extra lucky, you might find a box or two over here in the UK.
In this tea review, find out what this Pure Leaf blend tastes like, how best to brew it, and some interesting info on the origins of the tea and ingredients.
Pure Leaf Black Tea with Berries at a Glance
Blend: Kenyan black tea with mixed berries
Flavour: Smooth and plain black tea with red berry notes
There's something about this tea that reminds me of caramel! The black tea is smooth and quite plain, the berry notes are tasty but generic, and the texture is quite lovely. Overall, not a bad cuppa at all.
Full Review – Red Berries and Black Tea
Type: Tagged pyramid sachet
Tea: Long leaf Kenyan black tea
Additive: Dried strawberries, dried blackberries, dried raspberries, dried red currants, hibiscus, rosehips, blackberry leaves, natural flavours
Flavour Notes: Smooth, sweet, plain, mixed berries, creamy, honey
Aroma: Tannins, black tea, red currants, hibiscus, apple, caramel
Milk or Lemon: Sugar or honey
Where to Buy: Amazon
I'm not a huge fan of the plastic tub that this tea came from – but I think Pure Leaf have updated the packaging for this tea recently, so you might find it in biodegradable packaging instead. Regardless, the aroma of the tea is fresh and sweet. The black tea has strong tannin notes and the fruity smell is mainly red currants, hibiscus, and sweet apple.
It brews into a mild orange-brown tea colour. You can tell immediately that it's too light and delicate to drink with milk.
And the aroma. Oh my. There's a caramel note to it that's just delicious. The red currants and hibiscus continue to be only distinct fruity notes I can pull from it though.
The flavour isn't as great. The black tea is smooth but quite plain. At least it's not bitter. As for the fruits, there's quite a generic berry flavour. I think this is because there are so many different fruits in the blend that you can't separate them. What I really love, however, is this slightly honeyed or creamy texture to the tea. It has a thick mouthfeel that's just so good.
This is 100% a dessert tea.
How to Brew Pure Leaf Black Tea
Use boiling water for this tea, and make sure you put fresh water in the kettle. Re-boiling old water won't do the flavour and favours. I brewed my tea for 3 minutes, but you can brew for a little longer. This tea is quite subtle and gentle, so it's forgiving with longer brews.
Milk will taste strange with the berry notes, so just don't add any. A teaspoon of sugar, honey or sweetener would be nice though.
I'd recommend drinking this tea after lunch or dinner, as a sweet treat. Don't forget that this tea contains caffeine, so don't have it too late in the evenings if you're extra sensitive to caffeinated drinks.
Why Pure Leaf Pyramid Tea Sachets?
One of things that drew me to this tea was the single origin black tea. It's from Kenya and although it's not whole leaf, the leaf pieces are still quite large. Often with tea blends containing fruit or flavouring, the black tea is lower quality or from a variety of sources as the tea blenders can get away with it. The flavours of the fruit will mask it.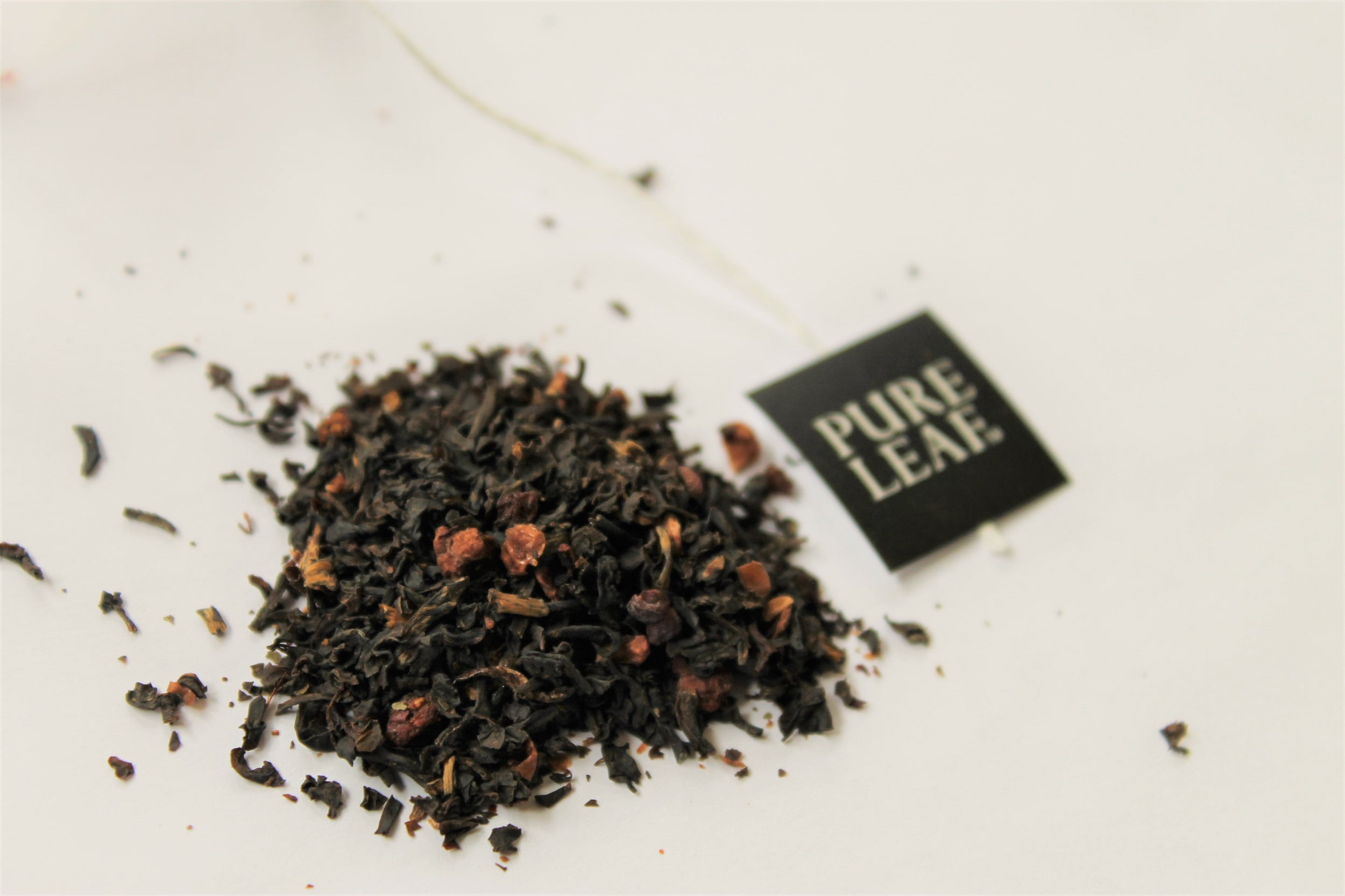 That's why Pure Leaf is so good. They also have Rainforest Alliance Certified their tea, which is good news for tea workers and the environment.
When you rip open a pyramid tea sachet, you can see that there's a mixture of both natural flavouring clumps and real dried berry pieces. All in all, not bad.
Pure Leaf Black Tea with Berries is a very nice tea and even though there are areas that could be improved, overall it's smooth, tasty and hard to put down. You can find it on Amazon using my affiliate links above or the button below.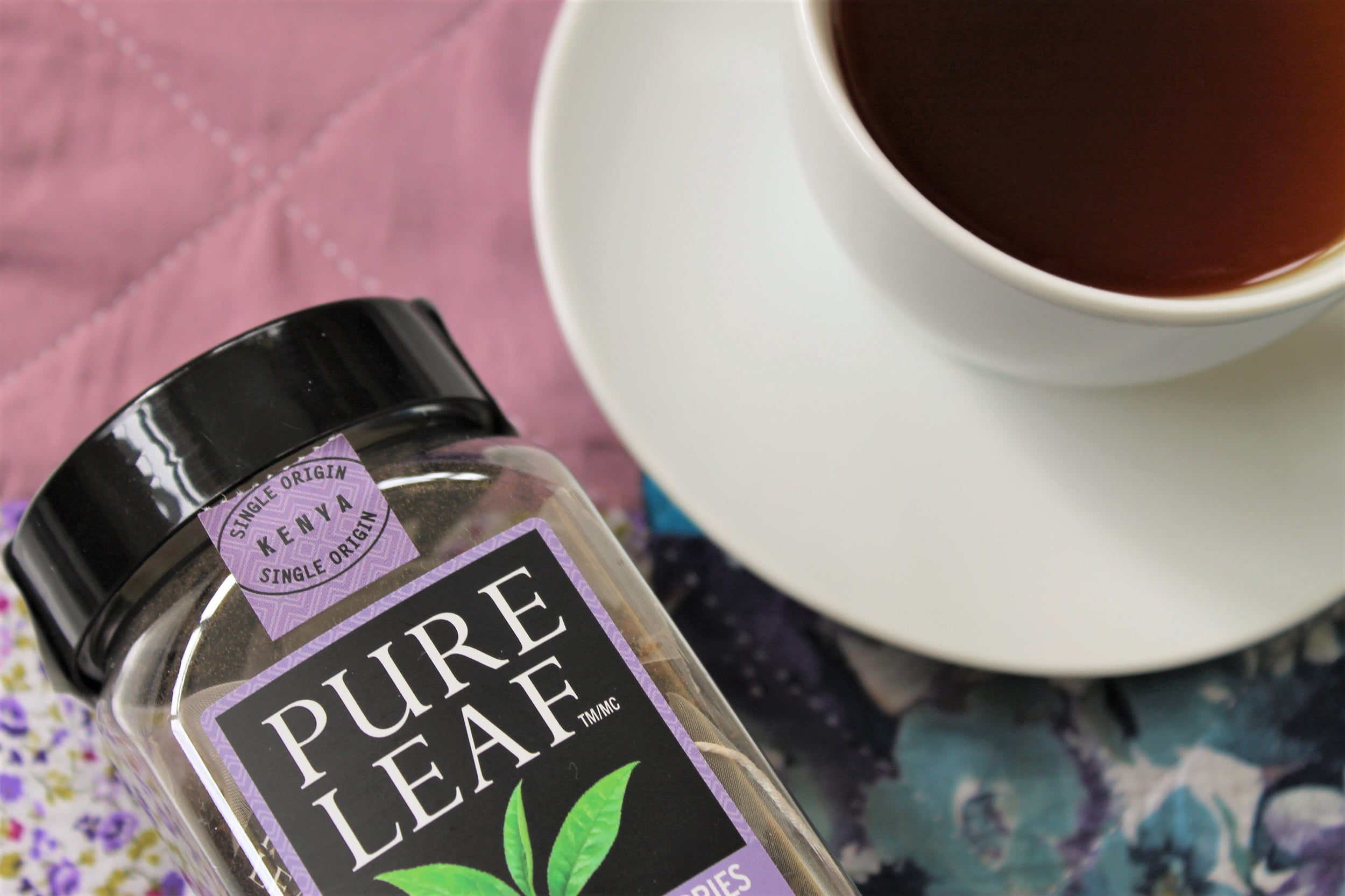 Black tea and fruit is a great combination – almost as good as green tea and fruit in my opinion! To find all the teas I've reviewed in one place, check out my Tea Review Index here. There's something for everyone. Oh, and don't forget to subscribe to our mailing list for monthly updates on what's new.