Niederegger Marzipan Black Tea Review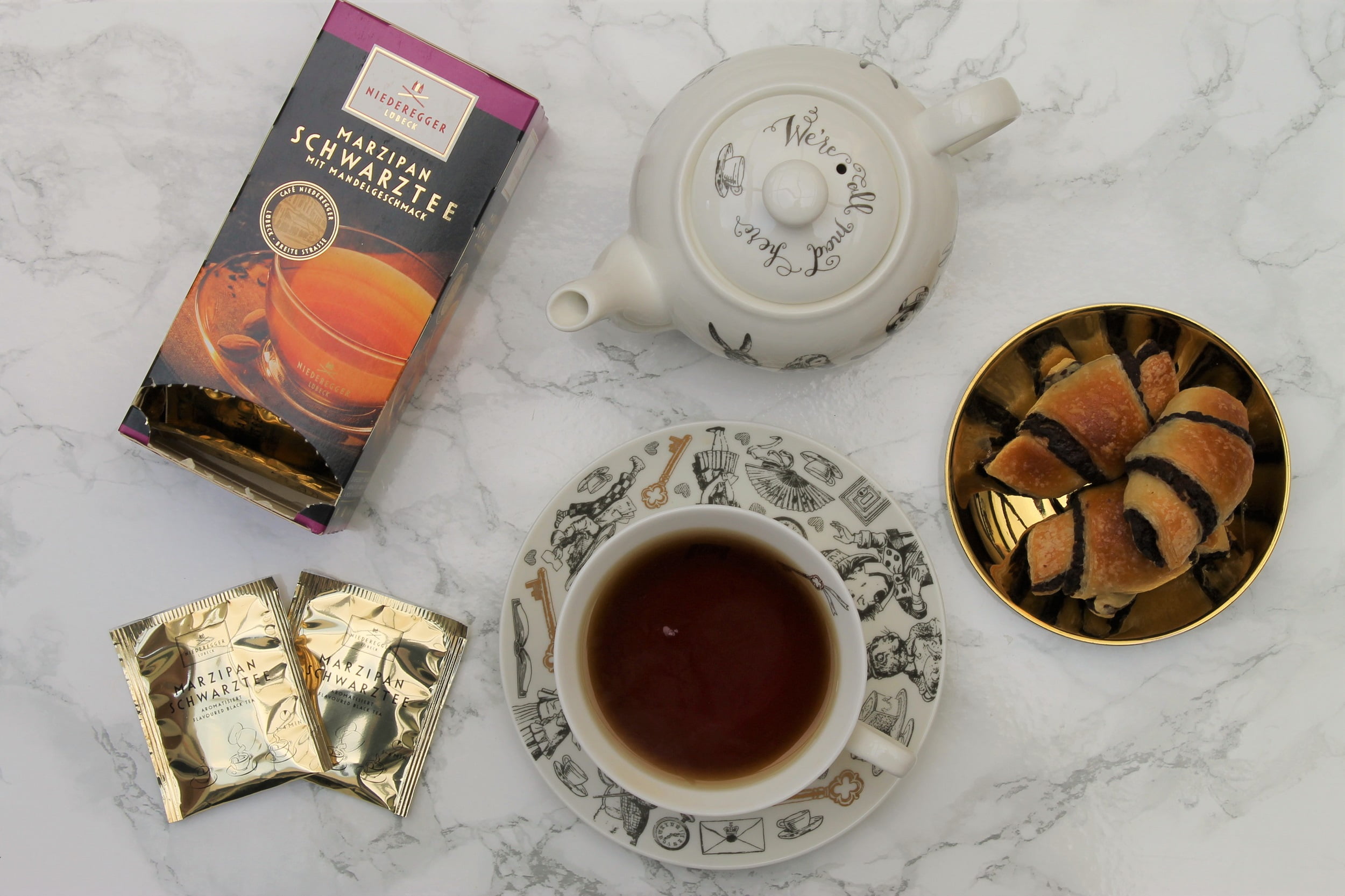 I stumbled across a box of Niederegger Marzipan tea in a quirky tea store and I just had to try it. This German brand is well-known for their marzipan. So, as you'd expect, the almond marzipan element of this tea is fantastic!
If you are looking for a delicious dessert tea or extra-special treat, then this would be a great choice. In my full review of Niederegger Marzipan Black Tea (Marzipan Schwarzee Mit Mandelgeschmack, in original German) you'll find out what this tea tastes like. I'll also guide you through how to brew it and where it's available to buy online.
Niederegger Marzipan Tea at a Glance
Blend: Black tea with almond and vanilla flavouring
Flavour: Smooth black tea with an incredible marzipan flavour
The combination of rich black tea with sweet vanilla and nutty almond is unbelievably good. It really does smell and taste like marzipan. I highly recommend this tea to anyone with a sweet tooth.
Full Review – Almond Flavoured Marzipan Black Tea
Type: Tagged paper filter teabag, individually wrapped
Tea: Black tea
Additives: Almond flavouring, vanilla flavouring
Flavour Notes: Smooth black tea with almond marzipan, not too sweet
Aroma: Strong amaretti, alcohol, black tea, almonds
Milk or Lemon: Neither
Where to Buy: Amazon
The aroma is strong. SO STRONG. Instantly you're hit with the unmistakable aroma of amaretti when you open the tea wrapping – sweet almond syrup and alcohol. It's very powerful, so you'll ever love it or hate it. I love it, as a shot of Disaronno and Coke Zero is one of my all-time favourite drinks.
Don't expect a really dark tea when you brew this. It's not the kind you need to drink with milk. Instead, it brews into a mid-brown caramel shade – crystal clear and bright. The steam from the cup is more balanced now. The amaretti note has mellowed to sweet almonds and the black tea tannins have made an appearance.
As for the flavour, it's amazing. And no, it's not too sweet. The black tea has a slight drying quality to it, but the almond and vanilla flavouring contrast perfectly. Like goldilocks, you've just stumbled on a blend that's just right.
The mouthfeel from this tea is hydrating and slick. It really coats your tongue and almond notes linger long into the aftertaste.
How to Brew Marzipan Flavoured Black Tea
Unwrap one teabag (each contains 1.75g of tea) and place it in your mug. Pour over boiling water and let it brew for 3 to 4 minutes. I like my tea on the light side, so I brew for 3 minutes maximum.
Niederegger Marzipan tea is wonderfully flavoured but the black tea base is quite light. Adding milk would be a mistake.
If you have a crazily sweet tooth, you could add some honey or sugar to this tea. I don't think it really needs that though. Biscuits or pastries are highly recommended, however.
Drink this tea as an after-dinner treat, but not too late in the evening. Black tea contains caffeine, which could keep you up at night.
Why Niederegger Lubeck Tea Bags?
Although Niederegger aren't a tea brand (they're more well-known for their delicious marzipan) the quality of this tea is great. Sure, the tea particles are CTC and there's only flavourings added, rather than vanilla seeds and almond flakes… but does that matter when it tastes so good?
I think not.
The Niederegger seal of quality is on the box and the shiny gold wrappings around each teabag just add to the experience. Drinking a cup of Niederegger Marzipan tea is a luxury experience – just not necessarily one for a tea fanatic.
If you're into single origin teas and finding the highest quality of tea leaf, it will disappoint. But if you adore marzipan and want a tea that tastes amazing above all else, then it's perfect.
This tea is fantastic and don't let the German packaging put you off. This tea is available on Amazon which usually means it's available to a range of countries – including the US and UK. Use the button below or find the link above to check if this marzipan flavoured tea is available to buy where you are.
Hmmm. What to drink next. I know – why not check my Tea Review Index? This is where all my tea reviews are categorised so you can quickly jump to what you are looking for. Whether you are hunting for almond flavoured tea blends or want a higher quality black tea, the index is the place to find what you are looking for.