Mlesna Nuwara Eliya Tea Review
Don't you just love stumbling across a new tea brand? I spotted a box of Mlesna Ceylon teas on a visit to TK Maxx (before the UK went back into lockdown) and just couldn't resist trying them out.
This tea, Mlesna Nuwara Eliya Tea, is not the first that I've tried from this region. Basilur are another tea brand along side Mlesna that source a lot of their teas from Ceylon, so this area of the blog is growing quite fast.
Anyway, here is my full review of this single origin tea, and my first experience with the Mlesna tea brand.
Note: this specific tea by Mlesna is hard to come by, so I've linked to a Mlesna Ceylon taster tea set instead to whet your appetite.
Mlesna Nuwara Eliya Tea at a Glance
Full Review – Mlesna Ceylon Black Tea
Type: Tagged paper filter tea bag
Tea: Black tea
Origin: Nuwara Eliya, Sri Lanka
Flavour Notes: Robust, smooth, rich
Aroma: Bright, slightly sweet, hints of floral notes and grapes
Milk or Lemon: A dash of milk
Where to Buy: TK Maxx, Amazon (mini taster set)
What you'll love about this tea is that it has character. Yes, it's easy to brew as a teabag. And yes, it's a standard everyday black tea with an affordable price tag. But it's still somehow unique.
The dry aroma from the tea bag is bright, but not light. It has subtle floral notes and hints of grape among that rich classic black tea aroma.
It brews into a very dark, rich brown tea colour with honey amber notes. I love how the aroma changes – you lose those subtle floral and grape notes but it's still a complex medley of rich, smooth black tea.
When you take that first sip, you'll be surprised at how robust the flavour is after those initial bright, floral notes. It's smooth, rich and has a slight tannin note but no overpowering astringency. It brews fast and goes will with milk (I probably won't drink it black again).
How to Brew Nuwara Eliya Tea Bags
Mlesna's instructions for their Nuwara Eliya tea is to use fresh, boiling water and brew for 3 to 5 minutes. I would stick with 3 minutes if you plan to drink it black, or 4 minutes if you're adding milk.
This is quite a robust tea, so you don't need to brew it for very long to get a full-flavoured cup.
I've been having ginger biscuits with this tea, but really any sweet food item will work well with the natural sweet note in the tea aroma. Try fresh fruit (figs spring to mind) if you're drinking this tea black, or cakes and pastries if you're drinking it with milk.
Mlesna are a tea company based in Sri Lanka that exports to countries around the world. Founded in the 1980s, they're a relatively new tea brand (when you consider the likes of Whittard and Twinings have been around for a century) and strive to offer exclusive teas of a superior quality. They have the Ceylon symbol of quality stamped on each tea bag wrapper, but no certifications for Fair Trade or organic standards.
Marketing spiel aside, Mlesna is pretty standard if we take a closer look at what's in the tea bag. It's finely chopped, so it brews very quickly.
I do like that it's a single origin tea, however. And while it might not be from a single tea estate, it still shows the characteristics of the region in general.
This was a really nice tea that I enjoyed drinking in the afternoons. It has some subtle unique flavours that set it aside from your usual daily black tea, which certainly make it worth trying! I have struggled to find a place online to buy Mlesna Nuwara Eliya tea by itself, so I've linked to a taster set of different teas from Mlesna that should include some similar options.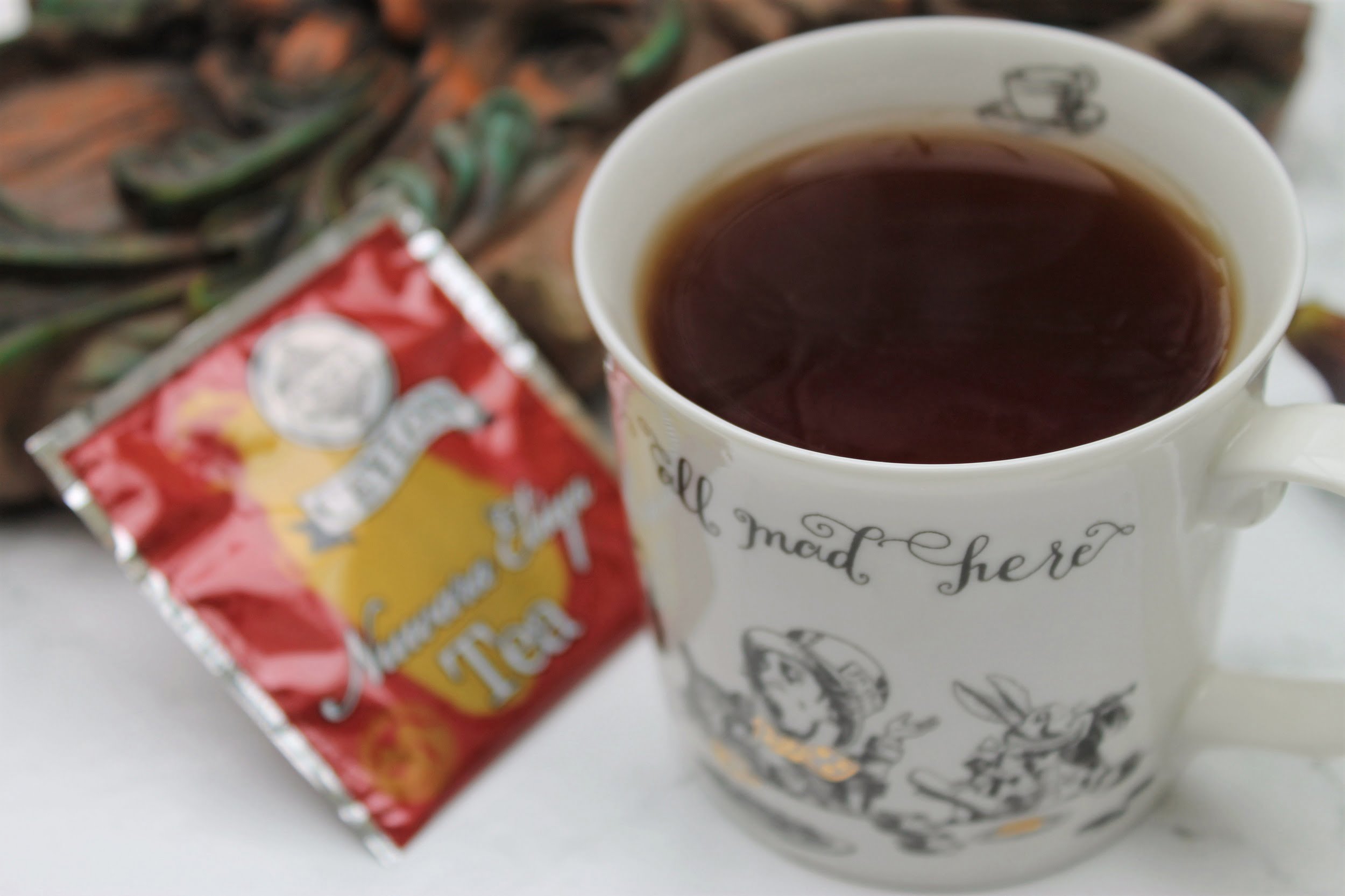 Did you know you can continue your journey of Sri Lanka without even leaving this blog? I recommend you read my Basilur Ruhunu tea review next to discover another great Sri Lankan tea in easy-to-brew teabag format.