Ayurveda Pura Saffron & Cardamom Delight Tea Review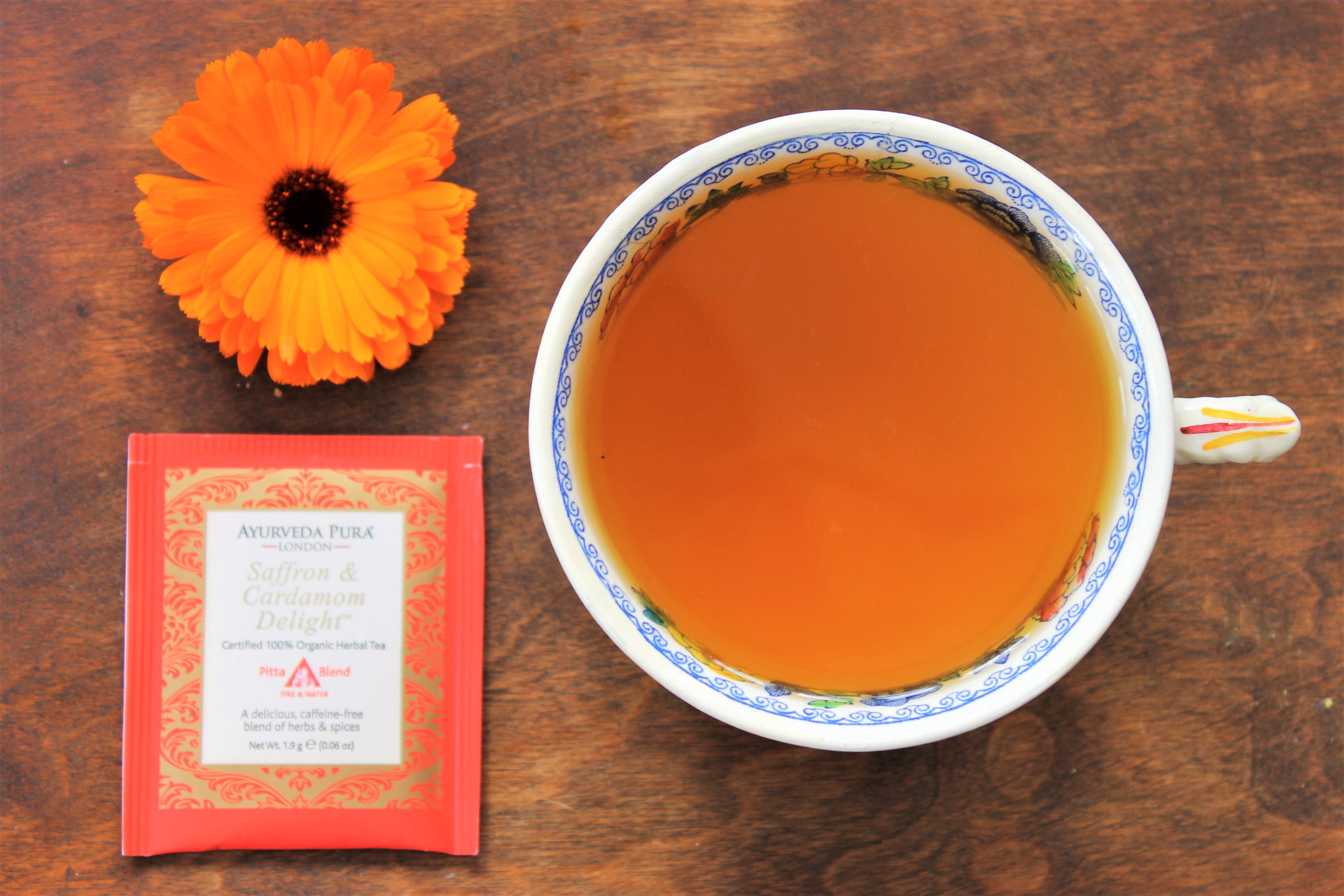 There are two main reasons you'd buy this herbal tea. First, because you're interested in the medicinal Ayurvedic system. The other is probably for the Ayurvedic anti-inflammatory tea properties (more on that below).
One reason you wouldn't choose this tea is for flavour. As you'll see below, it's pleasant enough… but it just lacks that kick. It lacks a strong, unifying flavour.
This is my review of the Ayurveda Pura Saffron and Cardamom tea bags. It's not for healing my soul or soothing inflammation, it's out of pure curiosity that I've been trying these unique herbal blends to discover how they taste and the effect they have on me.
Cardamom and Saffron Tea Bags at a Glance
Blend: Saffron and cardamom with mixed spices and ginger
Flavour: Mild mixed spices, warm and comforting
Like the other blends from Ayurveda Pura, this herbal brew lacks a distinct flavour.
It's quite mild, tasting simply of mixed herbs and spices. If you're familiar with saffron kahwa (Kashmiri green tea with saffron and spices), then you might enjoy this tea!
Full Review - Ayurvedic Cardamom Tea
Type: Tagged paper filter tea bag
Ingredients: Fennel seeds, cinnamon, cardamom, ginger, cloves, saffron flower
Health Benefits: Better digestion and soothes internal inflammation
Flavour Notes: Mixed herbs and warming spices with subtle anise
Aroma: Curry spices, warm cardamom, quite watery
Milk or Lemon: Lemon or sweetener
Where to Buy: Amazon
Opening the packet, I'm hit with savoury spices. It's a similar nose tickling experience to opening the curry powder tin. It's not something I've had in a tea before, but I like it. It's characterful and inviting.
I brewed it following the sachet instructions, which are the same for each of the 4 teas included in the packet. I'm mindful of the ginger listed as an ingredient as that can get quite powerful when brewed for too long…
But I shouldn't have worried. The resulting tea was quite watery. The colour is a musty yellow, reminding me of mustard with a hint of orange. The wet aroma has lost its character, it's watery and bland. I can detect something herby but it's too dull and with too many components to detect a single flavour as the dominant one. Actually; I can't pull out the individual spices listed at all. They all merge together in a bland unsatisfactory mess.
I take a sip. The flavour is much like the aroma – pleasant, spicy and herby. But rather than popping with flavour, these notes are very watered down. There are many spices in here, you can tell that instantly, but nothing bold or bright enough to leave a mark.
How to Brew Ayurvedic Tea
I brewed this tea for 6 minutes using boiled water. It was just at drinking temperature when the brewing was over. You could experiment with boiling the tea bag in water over a stove to maintain the heat for 6 minutes. Just be careful as the paper tea bag is not overly strong.
For me, this was more palatable than other herbal teas because it's quite low on the anise-flavoured herbs. That meant I could comfortably sip down half a cup early in the morning.
I would be very interested in seeing how this tea turns out as a cardamom chai tea, as the ingredients have everything you need to make a delicious, milky chai.
No foods spring to mind as obvious accompaniments to Ayurveda Pura Saffron and Cardamom tea. You could always fall back on a classic malted milk biscuit! Oddly, I am really tempted to pair this with a spicy vegetable samosa…
Why Ayurvedic Herbal Tea?
I was attracted to this tea for several reasons; it's available in a selection box so I could try multiple teas without spending a fortune, and it's also seemingly good quality.
The ingredients are all certified organic by the Soil Association and there are no added flavourings or sweeteners.
This is a Pitta blend, designed for the Pitta body type although anyone can drink it with any body type. I like that Ayurveda Pura has different teas for the different Dosha's, for example, their Orange and Fennel Bliss blend is the best tea for Vata Dosha. I explain more about what this means in the orange and fennel review.
Opening the tea sachet, there are crushed herbs. No problem here, that won't impact the flavour like broken tea leaves will. However, it could make the spices duller as they go stale more quickly – this could be why the tea lacked flavour.
Summary
Overall, Ayurveda Pura Saffron and Cardamom tea was nice. It's mild, warm and has a pleasant mix of herbs and spices. I'd definitely recommend trying it if you enjoy chai tea but want something without caffeine. Also, don't be afraid to brew these tea bags for a super long time to infuse out as much flavour as you can!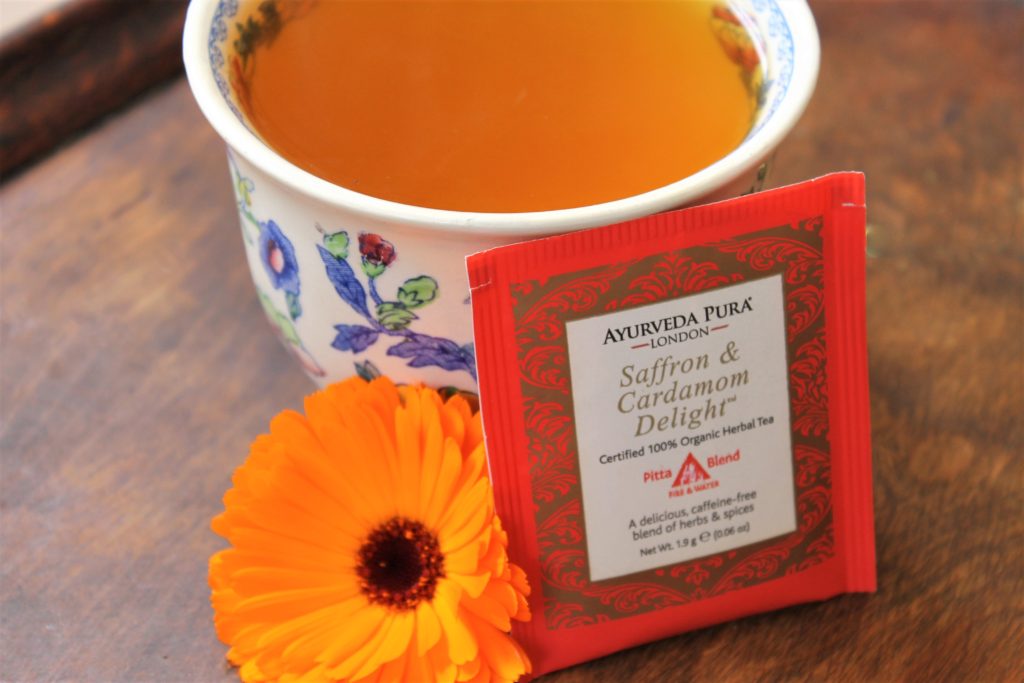 About Me
I can't handle heat in my food but I do love spices. I've reviewed several spice-based blends for the Immortal Wordsmith blog. I recommend having a look at these teas or browse my entire tea index to find something you'll love.
Cinnamon and Ginger Spice (another warm and spicy tea but with a green tea caffeine kick)
Pukka Detox Tea (questionable health benefits but still a very nice herbal brew)
Pukka Lemon Ginger and Manuka Honey (warm spices for when you're feeling under the weather)